College Station is witnessing an exciting new regime. No, not that clique their former Heisman Trophy-winning player (sorry, Drake) parties with. Texas A&M football is as hot as it's ever been, and currently they sit sixth in the Associated Press Top 25 Poll.
As impressive as they've looked at times, do they deserve all the hype? More importantly, do they have what it takes to continue ascending into the College Football Playoff picture? Here's why you should bet on the Aggies to grab one of the four slots come December:
Aggies have one of the best passing attacks in the country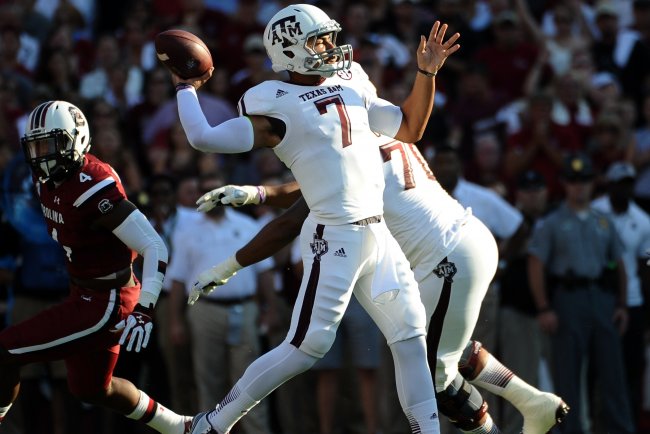 Rainier Ehrhardt/Associated Press
Before this week's games commence, Texas A&M will have recorded the fifth-ranked passing offense in the FBS, averaging 401.2 yards per game, as documented by NCAA.com. Yes, Kenny Hill's stellar play has a lot to do with their superiority through the air.
As a quarterback with the third-most passing yards in the country, the sophomore has shown maturity and discipline that very well could get his team all the way back to the Metroplex for all the marbles, where he excelled as a stud for prep powerhouse Southlake Carroll.
The show is more than just Hill, however. The Aggies have a slew of sure-handed, speedy receivers to complement shifty running backs as options for their QB to throw to. Hill has the luxury of being more system-oriented in his approach behind center mainly due to the array of weapons in his arsenal.
Redshirt freshman Ricky Seals-Jones and true freshman Speedy Noil are the 5-star young guns. Texas natives Josh Reynolds and Edwin Pope provide length and quality depth at the position. Malcolm Kennedy is the big-play senior, a peak performer who has replaced Mike Evans more than admirably. The offensive line is top notch as well, considering starting left tackle Cedric Ogbuehi is projected as a first-round NFL draft pick by many.
A&M defense has talented players with room to improve over course of season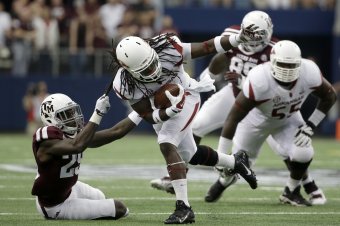 Tony Gutierrez/Associated Press
Though not as dominating, the defense has some athletes that will continue to get better. They've given up their fair share of yardage but have come up strong in clutch situations. The biggest one this year was stuffing Arkansas' gargantuan offensive line and running attack on the Dallas Cowboys' home field.
Pete Roussel of 247sports.com gave an in-depth examination of how Texas A&M defenders are learning on the fly and adjusting to their opponents when it matters most.
Freshman Garrett Myles has the ability to become a serious pass-rushing threat. Middle linebacker Jordan Mastrogiovanni is steady. If cornerback De'Vante Harris grows into the guy you can put up against the other squad's top wideout, taking pressure off shaky senior Deshazor Everett, the D could easily fit on the coattails of its mighty offensive counterparts for an exciting ride.
Will Texas A&M be a College Football Playoff team?
Their schedule will validate them due to playing in the SEC
They passed their first quiz in an overtime win versus the Razorbacks. Many more will arise by the end of the regular season for the Aggies, which is exactly why you should bank on them proving their worth as a playoff team. Next, they face Magnolia State divisional foes back-to-back in the Mississippi State Bulldogs and Ole Miss Rebels; both teams are ranked. Then, the Aggies will have to travel to Tuscaloosa.
The reality is, due to the fact that the SEC (especially the Western Division) is so stacked, if Texas A&M is able to come out only slighted scathed, they would have to be a logical pick as a premier postseason participant.
Take, for example, if the Aggies fall to Mississippi State on the road this weekend but go on to win their remaining regular-season games. After all the dust settles, it is not silly to assume that they will have beaten at least five top-tier SEC teams ranked 15th or better in any of the major polls.
Even if they got upset in the SEC Championship, how would it look to leave them out of the tournament after accomplishing such an awesome feat?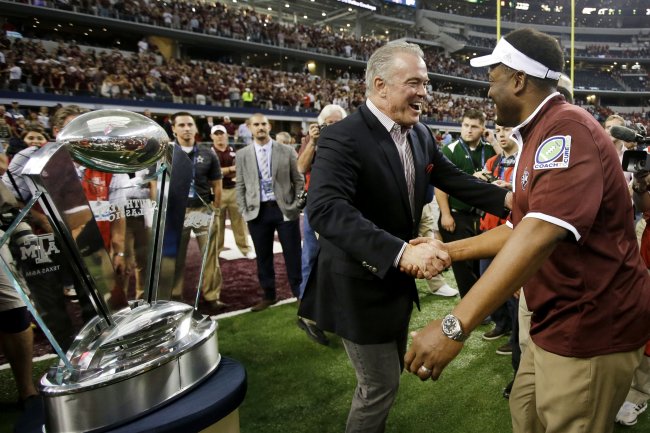 Tony Gutierrez/Associated Press
Texas A&M football, under the guidance of mastermind Kevin Sumlin, meets the requirements when you look to identify a College Football Playoff contender. Powerful offense? Check. Ability to make key stops in key situations on defense? Check. Magical signal-caller? Check. Leadership? Check that, too.
When you add into the equation a juggernaut conference—and specifically division—that they're battling in, it's honestly a no-brainer. Pencil in the Aggies for the four-team battle royale coming later in 2014.
Star ratings courtesy of 247Sports.com.