A college football season that has been starved for meaningful showdowns will hunger no more this week. The good stuff finally is about to be served, including the marquee clash between No. 3 Alabama and No. 11 Mississippi.
So far, we've seen No. 1 Florida State on the ropes against Clemson and North Carolina State, No. 2 Oregon in danger of losing to Washington State and a host of other top teams flirt with early season disasters.
But seismic outcomes that shatter the playoff picture have been lacking.
That serene start to the 2014 season is done. Eight games this week will pit ranked teams against each other, and one other will match a top-10 team with an undefeated opponent.
The meat and potatoes will be dished up, at last, instead of more cupcakes.
So who's on center stage?
Arizona at Oregon
Oregon gets the drama started on Thursday night against unranked but also unbeaten Arizona. The Ducks might wear pink cleats for this game, but it's the red zone that will be on their minds as they seek to avenge a 42-16 loss to Arizona last year that saw them utterly fail to convert their 506 total yards into points.
"They played a whale of a game last year and they beat us, but we did a lot of dumb things, too," Oregon offensive coordinator Scott Frost said Saturday, according to Andrew Grief of The Oregonian. "We turned the ball over five times in that game and you're not going to beat anybody doing that. All credit to them but we have to clean it up."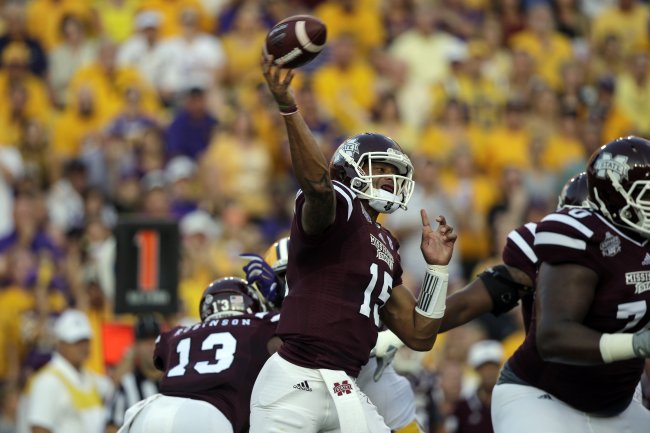 Gerald Herbert/Associated Press
Alabama at Ole Miss and Texas A&M at Mississippi State
Saturday conceivably could be the biggest day the state of Mississippi has ever had in college football.
Ole Miss hasn't won the Southeastern Conference title since 1963 and Mississippi State claimed its lone championship all the way back in 1941. But both schools will be playing at home as they seek to prove they are genuine contenders this year.
Ole Miss, 4-0 for the first time since 1970, understandably might have had Alabama on its mind during an ugly 24-3 victory against Memphis on Saturday. But the Rebels defense allowed only 104 total yards and will be stoked to beat the Crimson Tide for the first time since 2003.
Alabama has superior personnel but that may all go out the window because of the emotions. ESPN's College GameDay will be making its first-ever trip to Oxford, and Ole Miss fans could be the X-factor. Bo Wallace has been steady since throwing three picks in the first half against Boise State, but he'll need to thrive on the atmosphere and not let the pressure get to him in this high-stakes contest.
No. 12 Mississippi State is coming off its first win at LSU since 1991 and is undoubtedly anxious to prove its first road victory against a top-10 opponent since 1986 was no fluke. The Bulldogs will get that chance against No. 6 Texas A&M, which looks vulnerable after needing overtime to survive against Arkansas.
Dak Prescott has as eye-catching a two-dimensional game as any quarterback in the nation. Beating A&M would give Mississippi State its greatest credibility since the Jackie Sherrill era and strengthen the case that the Bulldogs have the tools to come out of nowhere and contend for the national title the way Auburn did in 2010.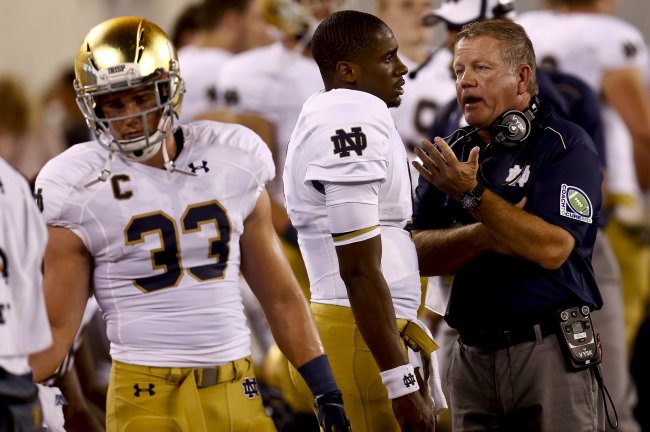 Jeff Zelevansky/Getty Images
Stanford at Notre Dame
Is Everett Golson worthy of his growing hype as a Heisman Trophy candidate? The Notre Dame quarterback's 25 consecutive completions against Syracuse say yes. His four turnovers in that game, including a humbling one that came while attempting to spike the ball, say no.
Now the stout Stanford defense that has yet to yield more than 13 points in a game gets a chance to cast a vote while traveling to South Bend. This game also should shed plenty of sunshine on whether Golson can outduel Jameis Winston when the Fighting Irish visit Florida State on Oct. 18.
No. 9 Notre Dame is 4-0, but has yet to face a top-quality opponent while playing a schedule that's heavily back-loaded.
A victory against No. 14 Stanford would illuminate the FSU matchup as a key factor in deciding who goes to the College Football Playoff. A loss would shift the importance of this game to Stanford's Nov. 1 date with Oregon.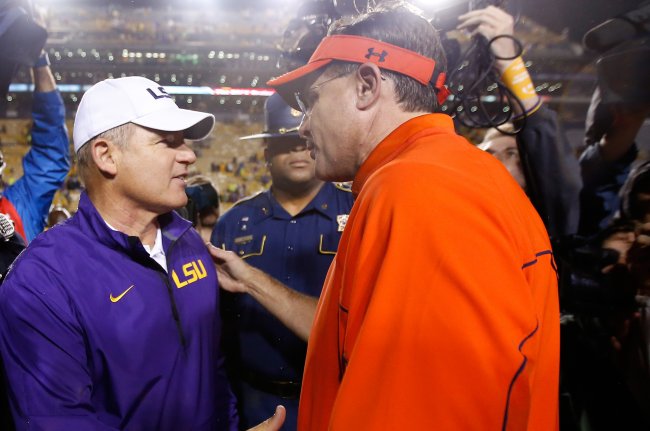 Chris Graythen/Getty Images
LSU at Auburn
The case can be made that No. 5 Auburn is getting the least respect among teams ranked in the Top Five.
The Tigers weren't given much credit for a road win against ranked Kansas State (including from me). And with hindsight, the Auburn defense seems a lot more impressive. It held Arkansas to 153 rushing yards, back before the Razorbacks went on to run for 438 against Texas Tech and 285 on Saturday against Texas A&M.
So the defending SEC champions and near-national titlists of 2013 may be in the mood to make a statement against a 15th-ranked LSU team that's still sorting out quarterback issues.
Nebraska at Michigan State
A bruised knee and a lopsided score meant unbeaten Nebraska pulled Ameer Abdullah in the third quarter Saturday. So that meant Abdullah ran for, ahem, only 208 yards against Illinois. But the Heisman candidate should be ready to prove himself at No. 10 Michigan State in a game that will help determine who's the Big Ten's best hope for the College Football Playoff.
In its three victories, No. 9 Michigan State has outscored opponents 174-35. But if the Spartans are going to become a serious part of the playoff conversation, they need a signature win that will make voters forget they let a lead slip away against Oregon. No. 19 Nebraska presents that opportunity.
Best of the Rest
No. 4 Oklahoma shouldn't have much trouble handling TCU, especially with the Sooners coming off a bye week. But the 25th-ranked Horned Frogs are unbeaten after humiliating Southern Methodist by the count of 56-0, and they'll be playing at their house.
The Southern California-Arizona State confrontation looked interesting until ASU eliminated much of the intrigue while getting hammered 62-27 by UCLA.
Speaking of No. 8 UCLA, if the Bruins can register another wipeout against 3-1 Utah on Saturday, their Oct. 11 home date with Oregon will take on even greater playoff implications.
Tom Weir covered college football as a columnist for USA Today.