Anyone with an iota of football knowledge needs only one quick glance to appreciate the amazing talents of reigning Heisman Trophy winner Jameis Winston. But the same qualities that have made Florida State's quarterback sensational on the field are playing a significant role in leading him astray when he's away from the game. That's the opinion of sports psychologist Mitch Abrams, author of Anger Management in Sport.
"In order to be successful in sports, you have to ignore your fears," Abrams told me during a phone interview this week.
"If athletes were afraid, the things they do would be hard to do. The problem is that off the field it can be dangerous to themselves and other people around them."
So the same fearless attitude Winston needs to succeed on 4th-and-goal also can give him the borderline arrogance to take center stage outside the Florida State Student Union and spew gutter language, the act that led to his one-game suspension last Saturday.
Abrams writes a "Sports Transgressions" blog for Psychology Today that the magazine's website describes as focusing "on the social dynamics and clinical underpinnings of athletes' behavior that crosses the line." Winston, whether it's incidents involving pellet guns or pilfered crab legs, clearly qualifies.
Winston's continued bad decision-making, Abrams told me, "Begs the question of whether he realizes how much is on the table, that he is skating perilously close to throwing away millions and millions of dollars."
"What you're seeing is a pattern that has not stopped," Abrams said. "What you have to understand is that now there's a bull's-eye on your back. And, at least from where I'm sitting, I'm not sure the consequences are severe enough to shake him. ... He has to know he could flush his entire career down the toilet."
That's the tightrope FSU is walking by reinstating Winston as its starting QB for Saturday's game at North Carolina State. Coach Jimbo Fisher assured the media this week that his guy has learned his lesson and that there will be no more outrageous behavior or transgressions.
But if Winston has a big game and regains his hero's status a week after his absence nearly cost FSU its No. 1 ranking, how will he react? Will he remember his one-game punishment, or will he think he's more untouchable than ever?
The buzzards are circling over FSU's Doak Campbell Stadium, just waiting for one more mistake to turn Winston's career into so much roadkill.
Fisher better be right, because if he isn't it likely will unleash the biggest chorus of "told you so" that has ever engulfed college football.
One more misstep by Winston could derail a career that, in terms of raw talent, is every bit as promising as the ones Andrew Luck, Robert Griffin III and Cam Newton are savoring.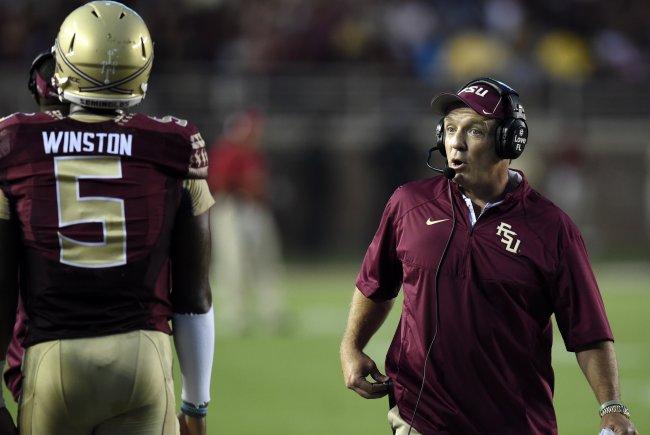 USA TODAY Sports
SI.com reports it has been told by NFL scouts and executives that Winston is now so loaded with baggage that he should forget about the 2015 draft and instead commit to cleansing his image with an additional year in college.
There can be no doubt that ESPN's ever-bombastic draft analyst, Mel Kiper Jr., will be looking to loudly justify his decision to drop Winston 22 spots on his so-called Big Board, from No. 3 to No. 25 overall for the NFL draft.
And while the 2012 rape accusation against Winston never led to charges, it's a still-simmering piece of the puzzle.
Bobby Bowden also is deeply worried about the 20-year-old athlete who has become the face of the FSU program the coaching legend took to the top of college football. Interviewed by WYCW-TV in South Carolina, Bowden expressed his concerns:
Are you kidding me? Dang right I'm worried. Yeah. I don't think anybody likes what they have seen off of the field. These instances, you know, you expect them to end because he keeps saying I've learned my lesson. I won't do it again and yet, they keep cropping up. So I hope he's learned his lesson now because he has as much talent as any boy we've had come through Florida State.
Winston's teammates have rallied around their star, but perhaps the most meaningful person sticking up for him is Kevin Maguire, the father of FSU backup QB Sean Maguire. We've all seen parents who would do anything to thrust their kid into the national sports spotlight, but the elder Maguire clearly isn't one of them.
He went on record with Natalie Pierre of the Tallahassee Democrat to say just how dedicated Winston was to helping Sean get through last Saturday's pressure-packed survival in overtime against Clemson.
Before I finished talking to Sean Maguire's dad, Kevin, he wanted you to know his family's thoughts on Jameis Winston pic.twitter.com/W3IJHterqu

— Natalie Pierre (@Natalie_Pierre) September 22, 2014
There are plenty of other testimonials about Winston.
Like when he was at the an Elite 11 camp in 2011, and heard an emotional speech from former Super Bowl-winning quarterback Trent Dilfer about losing his son Trevin to heart disease at the age of five.
Winston stood up and told Dilfer that: "I think I speak on behalf of all 23 quarterbacks and everyone here in this room. You may have lost a son, but you have 24 sons right now."
Or when former FSU defensive back Lamarcus Joyner, now with the St. Louis Rams, told ESPN The Magazine he was willing to take lessons from Winston last season, even though Winston was a freshman and Joyner was a senior, because Winston was such a "natural leader."
"From the very start, Jameis is out there with the attitude of Let's get better. He's coaching defensive guys up. Like, watch the back shoulder -- whatever," Joyner told the magazine. "I can't believe I'm taking this from a freshman. But I did. We all did. I can't really explain it, but we all did. That's when I knew."
Will Jameis Winston stay out of trouble now?
But despite all the accolades that have flowed in Winston's direction the fact is that he's run out of second chances. Talent and charisma have taken him to the pinnacle of college football, but they can't overcome repeated stupidity.
WarChant.com blogger Ira Schoffel, an obvious admirer of Winston's considerable upside, may have put it best last week when he chronicled the many friendly, compelling and engaging sides he has seen from the 20-year-old while covering FSU sports. That includes seeing Winston sign tons of autographs and give fans genuine quality time while also often being the funniest guy in the room.
But Schoffel added this telling look into Winston's personality:
The problem with Jameis Winston is not that he's a bad person, as some in the media have tried to portray. The only serious offense he has ever been accused of ended without him being arrested or charged with a crime. (That doesn't make him innocent, but it surely doesn't make him guilty.) And he has had more of a positive impact, between community outreach and encouraging young children, in two years than many will have in a lifetime.

The problem is we don't really know who he is, other than a brilliant athlete with tremendous charisma and a desire to perform. We want to appreciate his great qualities, but we can't ignore the rest.

And the real problem with Jameis Winston is this: It seems there's always a problem with Jameis Winston.
And, if the folks at Florida State didn't get it right, Winston's next problem could be his last one.
Tom Weir covered college football as a columnist for USA Today.