The main message from this week's college football games is that while a whole bunch of teams have admirable survival skills, there isn't a dominant one among the contenders. And no one has shown it is entitled to take up the "We're No. 1" chant any time soon.
Defending national champion Florida State leads that pack. The Seminoles will again occupy the top spot when the polls come out, but their place atop the sport is iffy at best.
They're there because Clemson helped them stick around for an overtime victory with two missed field goals and a wild snap that took them out of scoring range.
And the Seminoles shouldn't assume all will be right when Jameis Winston rejoins the huddle. The 2013 Heisman winner has an NFL arm and Kentucky Derby legs. But he also has the capacity for foolishness that could remove him from FSU's roster at any moment, as last week's suspension-causing aria of profanity made obvious.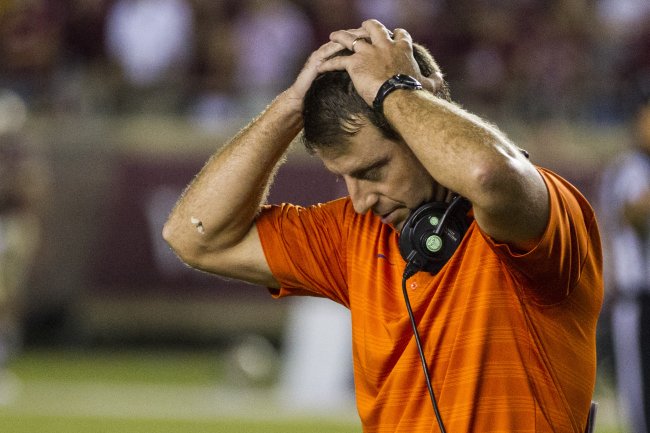 Mark Wallheiser/Associated Press
Coming out on the field for warm-ups in full pads indicates he either doesn't understand the meaning of "suspended" or is in some serious denial about misdeeds having consequences.
And as the 23-17 overtime squeaker against Clemson demonstrated, Florida State's offense can be expected to leak more oil if continued Winston follies lead to more starts for Sean Maguire. The backup threw for 305 yards but was rocky and inconsistent throughout. He also was fortunate to throw only two interceptions.
So, who's ready to seize the front-runner role?
Not No. 2 Oregon, which had trouble getting off the ropes against a Washington State team that opened the season 0-2. The Ducks yielded 31 points, suggesting the old criticisms about a soft defense are relevant again.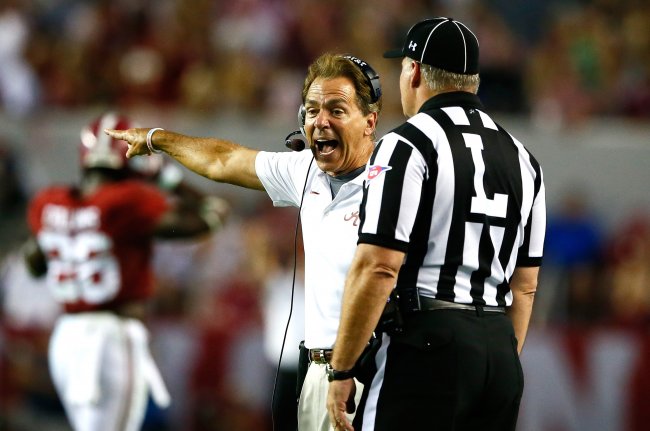 Kevin C. Cox/Getty Images
Not No. 3 Alabama, whose four turnovers against Florida had Nick Saban spewing verbal venom in the face of Blake Sims on the sidelines, even though the quarterback eventually threw for a whopping 445 yards. The Crimson Tide won big, 42-21, but with fumbles and a porous defense, they took their sweet time in finding second gear against the unranked Gators.
Not No. 4 Oklahoma, which found itself firing a few blanks before taking control to win a shootout with West Virginia by the count of 45-33. Samaje Perine ran for a beastly 242 yards, but Trevor Knight's 16-of-29 passing and early accuracy problems showed the Sooners aren't built to come from behind.
Not No. 5 Auburn, which should be counting itself lucky to have escaped Kansas State 20-14 on Thursday night. If the Tigers had been facing a sure-footed kicker, they easily could have been removed from the ranks of the unbeaten.
Maybe No. 6 Texas A&M, but only for those who are willing to invest a leap of faith in a 58-6 win over a Southern Methodist team that already has seen its coach resign.
No. 7 Baylor and No. 9 Notre Dame had Saturday off, and No. 8 LSU played as if it thought it had the night off. The Tigers were beaten at home much worse than the 34-29 score against unranked Mississippi State indicated, as Dak Prescott showed he's the best dual-threat quarterback in the SEC, with 268 passing yards and another 105 on the ground.
Jameis Winston was sent back to the locker room by Jimbo Fisher after suiting up for pregame warm-ups. #CLEMvsFSU pic.twitter.com/bOC8u3ltP9

— College GameDay (@CollegeGameDay) September 21, 2014
At this point no team out there has a clear and easy path to one of the four spots in the College Football Playoff, which is fine. Tension, drama and uncertainty give coaches migraines and ulcers, but they make Saturdays thrive in the fall.
The cloudy picture also validates the decision to have the panel that will vote on the College Football Playoff wait until Oct. 28 to release its first poll.
The current pecking order of The Associated Press poll is based more on theory than factual results. No one in the Top 10 looks unbeatable, and there's a good chance once-beaten teams can keep their playoff hopes alive, because there figures to be several of them.
We'll also see plenty of key games before the first playoff poll starts bringing the postseason into soft focus.
Notre Dame will take on Florida State and Stanford before then. Alabama will get tested by Texas A&M and Ole Miss. Oklahoma will face Kansas State and engage in the always-emotional Texas rivalry. Auburn and LSU will help shake out the always hypercompetitive SEC West race.
Even traditionally disregarded Mississippi State suddenly looks formidable, but I want to see what the Bulldogs do against Texas A&M and Auburn before believing they're for real.
Right now, not a single one of those potentially pivotal confrontations has an overwhelming favorite. And the number of undefeated teams from major conferences is still in double digits.
So thank you, Florida State, for looking so vulnerable on Saturday night.
You just sprinkled hope and optimism all across the college football landscape.
And that's a good thing.
Tom Weir covered college football as a columnist for USA Today.