Jurgen Klopp's Borussia Dortmund side opened their UEFA Champions League campaign with a 2-0 home win over Arsenal in a one-sided match in front of a packed crowd at Westfalenstadion.
The heroes on the day were Ciro Immobile and Pierre-Emerick Aubameyang, who scored one goal apiece, but there should have been more, had efforts from Henrikh Mkhitaryan been more precise.
In his post-match press conference, Jurgen Klopp gave his thoughts on Dortmund's performance, per UEFA.com:
It was a great performance from my team, it was really strong. We were brave, we were fast and we had everything we needed to win this game. If you let Arsenal have one metre of space they will hurt you. ... It was nearly perfection.
Klopp prepared the team well for this challenge, with Dortmund employing strong pressing tactics whenever the ball was lost, attempting to regain possession and striding up the field with pace on the counter-attack.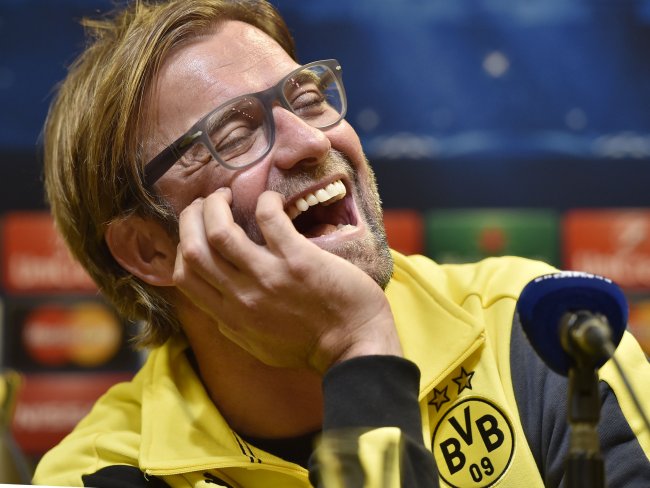 Martin Meissner/Associated Press/Associated Press
This performance expresses Dortmund's intent to pick up early points and stamp their authority on this competition over the remaining group-stage matches.
Key Points: Dortmund vs. Arsenal
As mentioned on UEFA.com, although Arsenal retained more possession—completing 396 passes to the hosts' 299—Dortmund managed to fire 24 shots to Arsenal's four.
This suggests that Klopp's men used the ball more efficiently when in possession and moved the ball up the field with pace through the likes of Aubameyang, Immobile and Kevin Grosskreutz in their attempts to unravel the leaky Arsenal defence.
This match also displayed the skills of an emerging star, with Ciro Immobile's first goal for Dortmund coming at the perfect time.
Toward the end of the first half, Immobile sparked Dortmund into life. He captured the ball, sprinted from the halfway line to the edge of the six-yard box—dodging and evading Arsenal's defensive line—before firing the ball into the corner of the net beating Wojciech Szczesny.
Arsenal were missing first-choice right-back Mathieu Debuchy, so they will be hoping to welcome him back for their remaining Champions League matches. However, it is clear their defensive line looks frail, with Per Mertesacker exposed by their midfield failings.
Will Arsene Wenger change tactics in the reverse fixture to produce a result? Either way, Dortmund look the stronger outfit capable of scoring more goals and protecting a lead.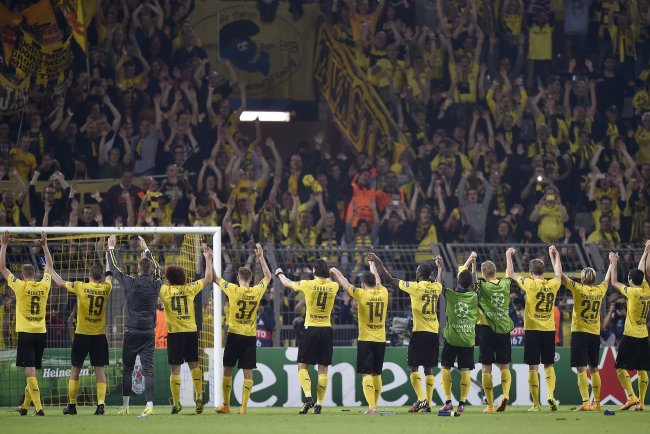 Martin Meissner/Associated Press
Juggling Act: Bundesliga, German Cup and Champions League
Dortmund are once again involved in three competitions, and their participation in each will take its toll on the team over the course of the season. This, coupled with the growing injury list at Dortmund—Mats Hummels, Ilkay Gundogan, Marco Reus and Jakub Blaszczykowski are all out at present—will mean that victory is not always easily achieved for the German club.
Dortmund have had a shaky start to the Bundesliga season with two wins and two losses. They've also had a win in the DFB-Pokal and one win in the Champions League. Their 2-0 vs. Mainz at the weekend was particularly disappointing in light of their strong midweek performance against Arsenal.
The major line-up changes were Shinji Kagawa replacing Mkhitaryan, with Adrian Ramos coming in for Immobile up front. In this game, Dortmund controlled possession with 64 per cent of the ball but lacked the pressure, pace and penetrating passes that were on show on Tuesday.
Based on the games played so far and the juggling act of competitions, it raises the question: Can Dortmund go all the way in the Champions League this time around?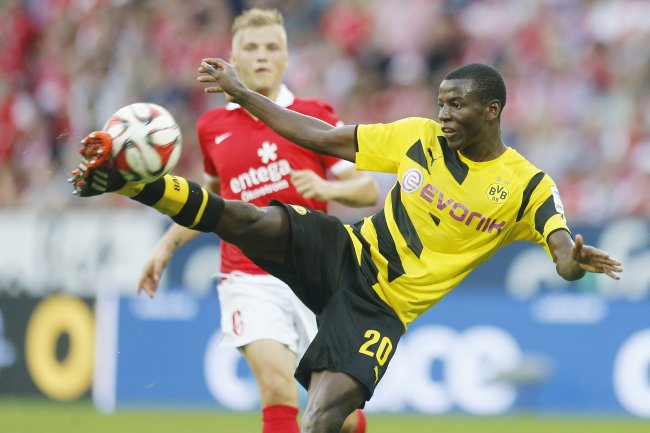 Michael Probst/Associated Press
Dortmund's Upcoming CL Fixtures
Matchday 2 sees Anderlecht host Dortmund at the Constant Vanden Stock Stadium. These two teams have never faced off in the Champions League, but with Anderlecht are currently unbeaten and sitting on top of the Jupiler Pro League, it won't be an easy outing for a Dortmund side expected to win.
Galatasaray will host Dortmund at the Turk Telekom Stadium on Matchday 3. Dortmund's two previous meetings with the Turkish outfit, managed by Cesare Prandelli, took place in the group stage of the 1997/98 Champions League, with Dortmund the victors on both occasions. However, with a talented group of players, including Burak Yilmaz, expect Galatasaray to be a tough opponent.
Arsenal find themselves at the bottom of Group D following last night's defeat to Borussia Dortmund. #BvB pic.twitter.com/3jVuRqhzeT

— Footy (@Footy) September 17, 2014
Dortmund's Champions League Chances
Dortmund will be expected to win most of their remaining games in Europe. They will need to gain maximum points from the reverse home fixtures against Anderlecht, Arsenal and Galatasaray to win the group.
They have increased their squad depth with the purchases of Kagawa, Ramos, Immobile, Ji Dong-Won and young Germany international defender Matthias Ginter, additions that will be complemented by the return of core players from injury. Will this ensure Dortmund's progression? Can they top Group D or will the compacted fixture list hinder their chances? Can Dortmund go all the way?
At this point in time, the German side are heading in the right direction, as confidence is high from the Arsenal game. Dortmund will also need to eradicate any further domestic slip-ups to keep confidence high ahead of their remaining Champions League fixtures.
If Klopp is able to pull this off for Dortmund, then anything is possible in the knockout stages.