Auburn's football team won a hard-fought game on the road against a tough Kansas State squad Thursday night, but it may have dealt its Southeastern Conference compatriots a figurative loss.
This is the reality of the expectations that now rest on the shoulders of the SEC's ranked teams. When a conference has eight members in the Associated Press Top 20 and seven in the Top 15, the burden of proof weighs a little heavier.
If indeed Auburn is the nation's No. 5 team and second only to Alabama in the SEC, then the Tigers should have rolled into Bill Snyder Family Stadium and stomped the Wildcats flatter than the Kansas prairie. Anything less, and the schoolyard bully suddenly doesn't look so fearsome.
Such was the disappointing case for Auburn while winning 20-14 against No. 20 Kansas State. The slash-and-burn attack that had scored at least 30 points in 12 consecutive games appeared to have missed the flight.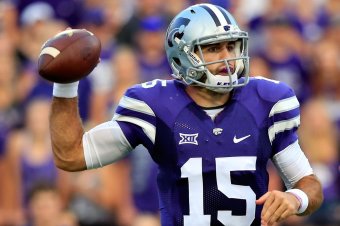 Jamie Squire/Getty Images
Auburn did a lot of things right while playing in front of the biggest crowd in K-State history, but it also bared some considerable flaws in its first major test of the season.
The Auburn ground game that averaged 330 yards in season-opening victories against Arkansas and San Jose State was painfully slow to find its footing, with only 55 yards in the first half. The final count was 45 totes for 128 yards, a 2.8 average that contributed heavily to the Tigers failing to convert on third down until just three minutes, 29 seconds remained in the first half.
More telling is that Kansas State managed to turn that trick without overloading the box. It played with six men up front most of the way and still kept Auburn groping for traction. That's going to make this game film a must-see commodity for Auburn's future opponents.
All of those things that made Auburn's offense so formidable last season—the relentless tempo, the confounding shifts and motions—either were missing or simply had zero impact against Kansas State. The Tigers looked quicker and more athletic, but K-State showed that patience and scheme can be great equalizers.
SEC proponents will say, heck, Snyder's disciplined team creates problems like that for nearly everyone. That's true, but it's not the point.
The fact is that the rest of the nation can be expected to howl long and loud anytime an SEC team fails to register a blowout in a quality nonconference game, and 20-14 falls well short of that standard. And voters on the College Football Playoff panel can expect constant reminders of that from those who have suspicions about the ballot box getting unfairly stuffed.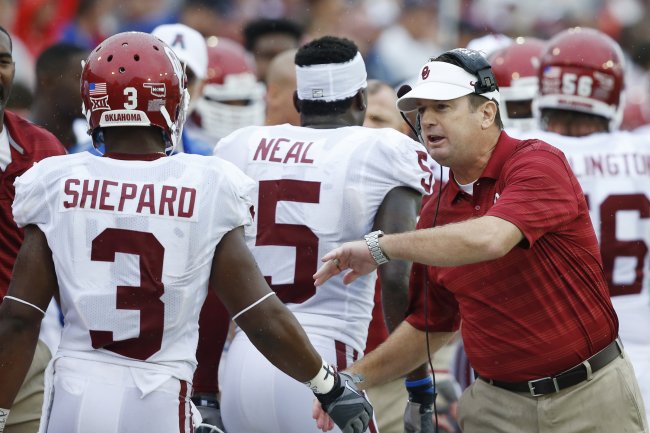 Sue Ogrocki/Associated Press
Oklahoma coach Bob Stoops, the self-appointed top critic of what he calls SEC "propaganda," certainly can be counted on to make that case. And Stoops will have no trouble putting together a chorus to back him up from schools in the Big 12, ACC, Big Ten, Pac-12 and elsewhere.
Yes, Auburn's win ups the SEC's record to 28-2 against nonconference teams this season, but that feast has included several servings of cupcakes.
More importantly, No. 3 Alabama still needs to prove its struggles with West Virginia were a fluke. And No. 8 LSU needs to erase the memory of escaping Wisconsin by only a four-point margin.
That might seem like nitty-gritty nitpicking, but that's the way college football works these days. Style points count. And it's not an unfair onus to put on the SEC when there are continued rumblings about putting two SEC teams in the College Football Playoff, including from the powerful voice of ABC's Kirk Herbstreit.
As for Auburn, its defense was nothing short of awesome, holding Kansas State to 40 rushing yards on 30 carries. But the legion of SEC fault-finders will say Auburn got off cheap because of K-State's self-inflicted wounds.
Quarterback Jake Waters threw an early end-zone interception when he was parked near the Auburn goal line, and the compass of kicker Jack Cantele was horribly off as he missed three field goals, including a gimme from 22 yards.
That led Snyder to say the outcome had a lot more to do with his team's shortcomings than it did Auburn's superlatives.
When asked if Auburn won the game or K-State lost it, Bill Snyder says "The latter."

— Kellis Robinett (@KellisRobinett) September 19, 2014
Yes, the result of this one easily could have flipped. And then the noise from the SEC critics would have been absolutely deafening.
Tom Weir covered college football as a columnist for USA Today.