After seeing Ohio State, Michigan State and Michigan all lose on the same day for the first time since 1988, there's a widespread inclination to declare the Big Ten dead for this college football season, especially since the margin of defeat in each of those three games reached double digits.
However, given that Week 3's games have yet to be played, let's be prudent and at least wait until the leaves start turning color before ordering the Big Ten's tombstone.
A whole lot of football remains to be played, and a lot can happen between now and when the playoff teams are selected. After all, at this time last season, eventual national champion Florida State was only 10th in the AP poll.
Big Ten commissioner Jim Delany certainly feels that way, telling ESPN.com's Adam Rittenberg, "It's September 7, not December 7. I would hate to think after two weeks we'd pick any teams for anything."
What will it take for the Big Ten to exit the intensive care unit and salvage some national pride? Here are some possibilities.
Root for Oregon, Virginia Tech and Notre Dame
Which Big Ten team has best chance to reach the national championship playoff?
Some of the sting from the Big Ten's three prime-time defeats will abate if those three opponents prove to be powerhouses.
If No. 2 Oregon ascends to the top spot, Michigan State can remind folks that it actually held a lead against the Ducks through most of the third quarter.
Ohio State's loss at home won't look nearly so bad if Virginia Tech ends the regular season undefeated, which is a distinct possibility. The Hokies have nary a ranked opponent left on the schedule, and their toughest road game looks like North Carolina on Oct. 4.
And while there's no way Michigan can shed the embarrassment of losing 31-0 to Notre Dame, it will at least raise the Wolverines' self-esteem if quarterback Everett Golson continues to carve up other teams with similar panache.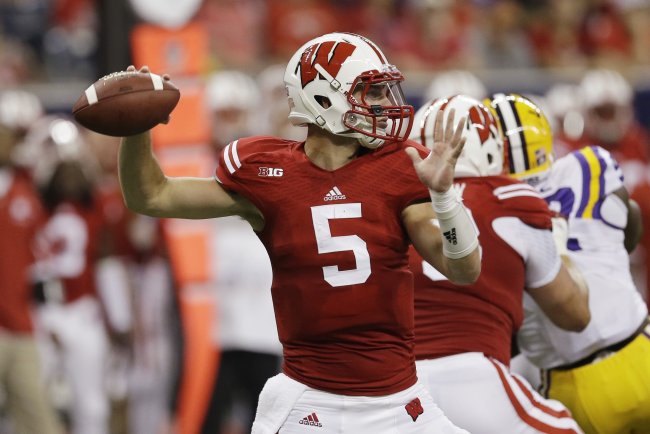 David J. Phillip/Associated Press
On Wisconsin
The Badgers foreshadowed the Big Ten's problems with an opening-week loss to No. 10 LSU, but that seems like a million years ago after last weekend's carnage.
And though Wisconsin gagged on a 24-7 lead in the LSU game, at least the 28-24 final score didn't have the humiliating overtone of some of the Big Ten's subsequent defeats.
Best of all for the 18th-ranked Badgers, the schedule-maker has been kind. There are no Top 25 teams left on Wisconsin's slate and also no meetings with Ohio State, Michigan State or Penn State. The toughest road game looks like Iowa on Nov. 22.
That seemingly leaves the Badgers in fine position to redeem themselves by running the table and ending the regular season at 11-1.
But they'll need to keep repairing the image of a passing game that ranks only 108th in the nation. Junior quarterback Tanner McEvoy started the rehab process with a 283-yard game against Western Illinois but will need plenty more of that to make voters forget his paltry 50 yards against LSU.
And as the Eye on College Football staff reports for CBSSports.com, it appears Wisconsin doesn't have the option of switching back to Joel Stave anytime soon. Head coach Gary Andersen has revealed that his 2013 starting quarterback is battling some yet-to-be-disclosed issues.
Joe Robbins/Getty Images
Put All Their Eggs in One Basket
What the Big Ten doesn't need is a season where its top contenders start knocking each other off.
The only way a Big Ten team can get in contention for a playoff spot is if one school grinds through the regular season and the conference championship game unscathed. If the league ends up with a bunch of two-loss teams, it's just going to look like everyone took a turn at being better than mediocre.
That likely means the most important game aside from the conference championship will come Nov. 8 when No. 22 Ohio State plays at No. 13 Michigan State.
The Buckeyes' biggest test before then figures to be at Penn State on Oct. 25. For the Spartans, it's Oct. 4 at home against Nebraska.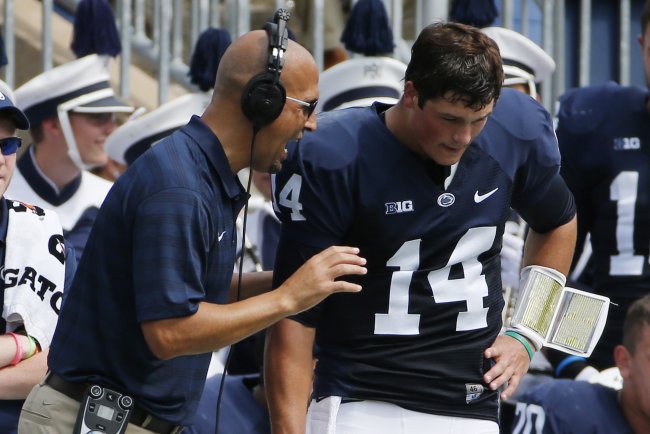 Gene J. Puskar/Associated Press
A Whole New Penn State
Not everyone was happy to see the NCAA lift the bowl-game ban on Penn State, including B/R national football columnist Greg Couch. But a lot of people, including me, welcome a decision that quits punishing today's Nittany Lions for wretched acts committed long ago.
As bleak as the situation in Happy Valley looked as the Jerry Sandusky scandal unfolded, this team has the chance to symbolize Penn State's commitment to getting it right going forward.
In a conference that gets knocked for being too ground-oriented and slow-footed, sophomore quarterback Christian Hackenberg brings a high-octane arm that matches the personality of new coach James Franklin.
Though they're still missing many pieces because of scholarship sanctions, a favorable schedule gives the Nittany Lions a shot at taking a 6-0 record into their Oct. 25 home game against Ohio State.
Franklin just might be the miracle worker Penn State needs. His three consecutive bowl appearances at Vanderbilt are looking even more impressive in the wake of his former team getting trashed in its first two games.
Continuing to work that magic at Penn State could turn out to be exactly the lift the Big Ten needs.
Tom Weir covered college football as a columnist for USA Today.