After uncertainty regarding whether he would be the starting power forward on the Denver Nuggets last season, Kenneth Faried is now one of the stars for Team USA at the FIBA World Cup.
There's no doubt just making the team is quite the experience. There's the opportunity to represent your country, team up with the best NBA players in something other than the All-Star Game and improve your game overall.
But to go from someone who had an outside shot of making the roster to being a possible FIBA World Cup MVP? That's remarkable, even if a handful of top-level USA players aren't participating.
How can this translate to the growth of "The Manimal" in Denver?
Proving He's an Elite NBA Player in a Unique Way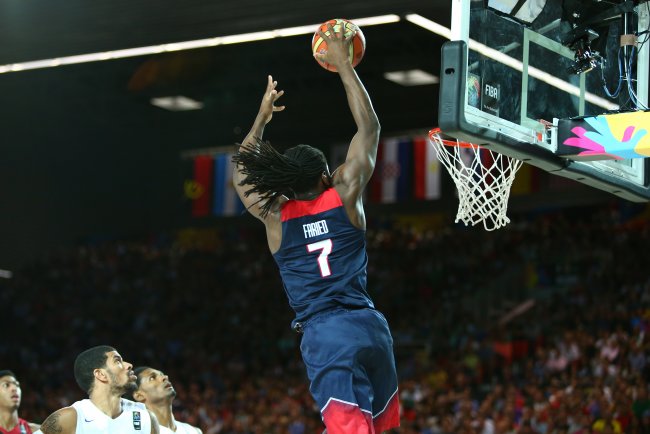 Nathaniel S. Butler/Getty Images
If you were to rank the power forwards in the NBA, where would you put Faried? Top 10?
It's safe to say most would have guys like Kevin Love, Blake Griffin, Anthony Davis (despite the fact he's at center for Team USA) and LaMarcus Aldridge ahead of him. Tim Duncan and Dirk Nowitzki have more polished games with a lot more to show on their resume than Faried.
Even though this is a subjective question and it completely depends on how a player fits into a certain system, there's something Faried possesses that no other power forward in the NBA has. That's the best combination of athleticism, rebounding and consistent energy.
It's no secret Team USA is the most athletic squad at the FIBA World Cup, which is mostly highlighted by Faried and Anthony Davis. So they will stand out.
But as Faried continues to demonstrate his motor and physical talents, he leads Team USA in player-efficiency rating (21.6), rebounds per game (7.8) and field-goal percentage (79.1). He's second in points per game (13.8), blocks per game (1.0) and plus-minus differential (20.6, a team's points versus their opponents' when a player is on the court).
In terms of the efficiency statistics, you could chalk that up as Faried constantly catching alley-oops and taking most of his shots within a few feet of the rim.
But Faried is dominating on a roster filled with commonly labeled superstars like Stephen Curry, Derrick Rose and James Harden. Plus, guys like Kyrie Irving, Klay Thompson and DeMarcus Cousins are at least rising stars, if not further along.
Team USA head coach Mike Krzyzewski makes an important point in ESPN's Marc Stein's article about Faried. "Overall, from the start of training camp, he's been the biggest and best surprise and has turned out to be a very, very important player for us. He's made that happen. We never call a play for him."
There's the key: "We never call a play for him."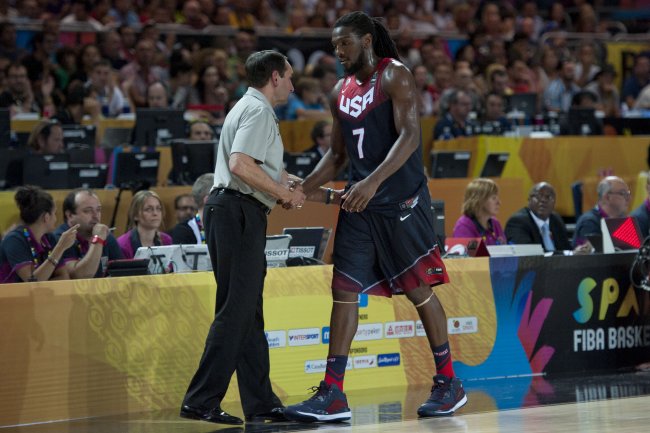 Alvaro Barrientos/Associated Press
Some people may think in order to be elite or a superstar, a player must be the face of a franchise, or he has to be a fully developed player. That's a narrow-minded way to judge how valuable someone is to his team.
When Faried has the flexibility to be "The Manimal," the team's performance increases substantially. He doesn't need others to make him better, but with greater talent around him, it is easier for him to pick his spots and do his thing.
Think about Dennis Rodman. While he had a stronger defensive game and weaker offensive skill set than Faried, he earned his high status by always owning the boards with his athleticism.
Clearly, Krzyzewski understands that concept and how to get the best out of Faried.
His ability to consistently run the floor, play above the rim, create extra possessions on the offensive glass and energize his team is greater than any player in the NBA. That alone puts Faried in the upper tier of NBA big men.
But now he's proving that his great numbers with the Nuggets over the last few seasons aren't just because he's on a team with average-to-decent talent. He's doing it with some of the best players in the world.
Now consider all the strides Faried made under Nuggets head coach Brian Shaw at the end of last season. Not only did he post a terrific 19.8 points and 10.8 rebounds over his final 25 games, he converted a much-improved 38.8 percent of his attempts from 10-to-16 feet and evolved in pick-and-roll defense.
This is why the Team USA experience is crucial for a younger player like Faried, who has been involved in several trade rumors this offseason and during 2013-14. Adding last year's progress to the confidence he's gaining from playing with the best USA players and for a legendary coach in Krzyzewski, is extraordinary.
What It Means for Faried in Denver for the 2014-15 Season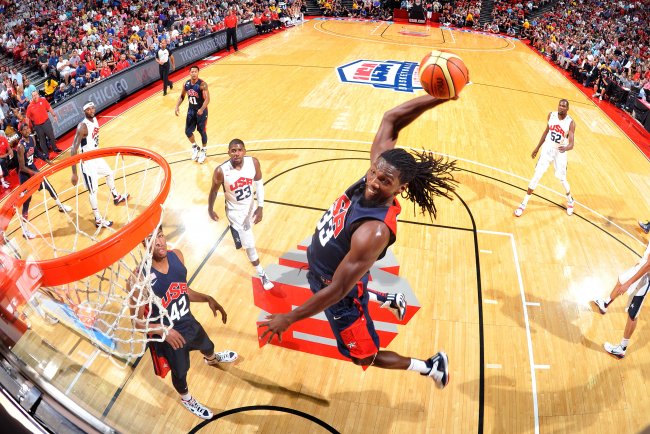 Garrett Ellwood/Getty Images
As Bleacher Report's D.J. Foster mentions in his piece on Faried, "His ceiling may be capped, but his floor is awfully high."
This couldn't be closer to the truth.
Faried may never develop a three-point shot like Love. He's not going to be 6'11" like Aldridge.
But it doesn't matter.
Instead of focusing on Faried's potential, as most people often do with athletes who have enormous athleticism, the attention should be on how much he improves a team. Even if it doesn't come from scoring over 20 points each night, demanding to be double-teamed in the post or assists, his difference comes from a combination of statistics that are a result of his physical skills.
Faried's time in the spotlight with Team USA is evidence that his original starting point in the NBA was so high that he's automatically better than a significant number of players in the league. But that was overshadowed before with a shortage of fundamentals.

As for upside, after Faried's tremendous progress last year over just one hectic season filled with Nuggets injuries, his ceiling might be higher than advertised. That's especially true when you consider his desirable work ethic.
Will Kenneth Faried Make the 2015 All-Star Game?
Furthermore, remember that Faried has spent most of his NBA career playing under George Karl alongside Timofey Mozgov, Kosta Koufos and JaVale McGee. Karl kept Faried and McGee on a fairly tight leash in terms of what they were allowed to do offensively.
But Faried is getting a chance to play next to Davis, who has rapidly grown into one of the best NBA frontcourt players.
Obviously McGee isn't nearly in the same ballpark as Davis. However, if McGee can start to show some positive signs like Faried did last year under Shaw, Denver will arguably have the most athletic and dynamic duo in the NBA.
Even if that doesn't happen, Faried's run with Team USA is nothing but good news for the Nuggets. He's flourishing with superb talent around him.
With McGee, Ty Lawson, Danilo Gallinari, J.J. Hickson and Nate Robinson all getting healthy to go with the return of Arron Afflalo to Denver, that's a huge improvement to how the roster looked at the end of last year. That's going to give Faried plenty of freedom to be great and get the franchise back to playoff contention.
By the end of the 2014-15 NBA season, Faried will no longer be noticed as someone on the rise. "The Manimal" will be recognized as an elite power forward.
All FIBA World Cup statistics per FIBA.com
All NBA statistics per Basketball-Reference.com

Nick Juskewycz is the Featured Columnist of the Denver Nuggets for Bleacher Report. Follow @NickJuskewycz