What does new Penn State coach James Franklin have in common with Joe Paterno? Well, they both won their first game as head coach of the Nittany Lions. But the comparisons stop there.
That was made clear Saturday as Franklin bet all his chips on the arm of sophomore quarterback Christian Hackenberg and had his faith rewarded with a game-winning drive and the first 400-yard passing game in school history.
Playing in Dublin, Ireland, on a hacked-up rugby field, Hackenberg squeaked out a 26-24 victory over Central Florida while also closing the book on Penn State's days as Linebacker U.
The bad news for Penn State fans is that if the Nittany Lions are to have more joyous days like this, it will all be on Hackenberg. Penn State rushed for only 57 yards on 28 totes, a 2.0 average.
But the great news for Penn State is that it appears Hackenberg has plenty more where this came from. He finished an eye-popping 32-of-47, for 454 yards, 114 more than he had ever amassed in a college game. Hackenberg probably established himself as the Big Ten's best quarterback now that Ohio State has lost Braxton Miller to shoulder surgery. At the very least, he is the most clutch.
Down, 24-23, with just 1:13 left after a go-ahead UCF touchdown, Hackenberg directed a seven-play drive that moved Penn State from its 26-yard line to the UCF 19. Besides his throwing, Hackenberg also generated a crucial first down with an eight-yard run on fourth down.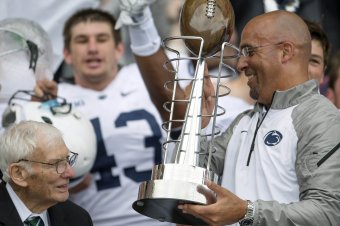 USA TODAY Sports
That march positioned Sam Ficken for his fourth field goal of the day.
"There was only a minute or so left in the game, and I looked across the sideline and there wasn't doubt in anybody's eye," Franklin said (via The Associated Press). "Everybody believed. They believed in Hack. They believed in Ficken."
And don't be surprised if Hackenberg enters conversations about being Penn State's second-best quarterback ever before this season ends.
Right now, that top spot belongs to Kerry Collins, who threw for more than 40,000 NFL yards. But after that, Hackenberg is up against only the likes of Todd Blackledge, Michael Robinson, Chuck Fusina and a whole lot of other guys who millennials never heard of. They're part of what largely was a no-name legacy of quarterbacks at Penn State under Paterno.
Paterno didn't obsess over the three-yards-and-a-cloud-of-dust game quite as much as Woody Hayes and Bo Schembechler, but he was always content to win without airing out his offensive attack.
That definitely won't be the case for Franklin. And as the 42-year-old Pennsylvania native shoulders the task of cleansing his program of the remaining wreckage from the Jerry Sandusky scandal, he couldn't ask for a better recruiting tool than Hackenberg.
His Saturday stats show Penn State is going to play 21st-century football. Despite entering the season without a proven go-to receiver, Hackenberg anointed two of them against UCF, hitting Geno Lewis with eight passes for 173 yards and finding DaeSean Hamilton for 11 catches and 165 yards. Lewis' receptions included a 79-yard touchdown strike.
And Hackenberg's big game can't be diminished with any talk of opening against a so-so opponent, as so many teams do. UCF has nine defensive starters back from the team that went 12-1 last season, including the entire secondary, according to the Shannon Owens-Green of the Orlando Sentinel.
UCF also finished 26th in the initial Associated Press rankings and was 23rd in ESPN's Power Rankings heading into the season.
According Mark Wogenrich of The Morning Call, Hackenberg is the youngest Penn State team captain in 70 years, one more sign that Franklin's program is rapidly distancing itself from old-school mentality.
Wogenrich also points out that the 6'3" Hackenberg beefed up some in the offseason, to 234 pounds, in hopes of becoming "bulletproof." As for his play-calling burdens, the difference between playing for Bill O'Brien last season and now is that Franklin's system has more multiple sets and formations that call for quick shifts.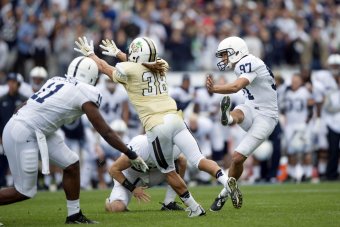 USA TODAY Sports
"He's pretty far ahead for a kid who is a true sophomore," Franklin told The Morning Call.
He's a conceptual learner, and that's the way I like to teach...When you bring in someone that runs a completely different system, that's hard, especially when a kid has had success in one and believes that's the right way to do it. But Hack has adjusted well.
While it's too early to assess Franklin as a sure thing at Penn State, it is worth noting what has happened at his previous place of employment, Vanderbilt. In that school's season opener, at home no less, Vandy was shelled, 37-7, by lowly regarded Temple.
That simply isn't supposed to happen to a Southeastern Conference team. And if Vanderbilt's fall continues, it will make Franklin's three bowl games in three seasons with that traditional doormat look even more impressive. Before Franklin, Vanderbilt had never made it to bowl games in consecutive seasons.
Franklin also never had a household-name quarterback at Vanderbilt, unless you count Jordan Rodgers, who had a slight measure of fame for having a big brother in the NFL named Aaron.
But if Hackenberg keeps having Heisman-caliber games, Franklin will be able to make his case to the next generation of tier-one quarterbacks. And who knows? Linebacker U might even become Quarterback State.
Tom Weir covered college football as a columnist for USA Today.