Among the many great things about the approaching start of football season is that teams can finally stop snarling at each other and shift their anger to upcoming opponents.
As it should be.
Summer's sizzling temperatures often light the fuse to football's hottest tempers as college and pro teams go through the annual grind of getting in shape. And when players cross the line during training, they run the risk of trespassing on a teammate's well-being.
The college and pro games have seen two prime examples of that this summer.
On Aug. 10, Florida State head coach Jimbo Fisher exiled defensive back Jalen Ramsey from practice because of a series of too-physical plays. The most egregious of them landed Jameis Winston on the ground, which isn't how the Seminoles want their Heisman Trophy-winning quarterback treated.
Fisher immediately put his talented sophomore on a short leash, telling reporters, "He was told not to do something, and he defied me. We'll judge from there. He'll decide if he wants to play at Florida State."
The most prominent pro example came in early August, when the Chicago Bears suspended tight end Martellus Bennett for six days for initiating a brawl with rookie cornerback Kyle Fuller.
Bennett, apparently riled by the first-round pick's attempt to strip a ball loose, slammed Fuller to the ground. Bennett further exacerbated the situation with his unapologetic stance afterward.
I come to training camp for one reason and that's to prepare to win a championship. I play hard and go hard every single day. I'm probably one of the most violent people on the field. That's just my style of play. I'm going to continue to play the same way I always play. That's what I'm here for.
Both of those players were guilty of the type of behavior that leads to game-turning penalties for personal fouls, and no team can allow that.
But some graduates of football's Old School also have to be chuckling to themselves about the desire of modern-day coaches to get through this grueling time of year without an occasional explosion.
Coaches can preach team chemistry all they want, but an extended slate of two-a-days in full pads under an August sun has always been a formula for fisticuffs.
Each and every day, the same cast of characters eye each other from across the line, a kind of repetition that breeds ferocity. This stretch of football really shouldn't be referred to as "practice" or "training." It's survival time.
In the pros, there's a world of difference between the bank accounts of starters and second-teamers. In the college game, a player has little prospect of catching the eyes of NFL scouts unless he's at least the best guy on his team at his position.
And yeah, proving one's worth means outplaying teammates, and that's where the grudges begin. On days when rosters are about to be pared, who can blame a player who's on the bubble for assuming the attitude of a young Mike Tyson entering the ring?
There's only so much bread on the table, and you never hear of anyone getting their share because they said, "Pretty please."
Are fights at summer practices a problem for football teams?
So it's been somewhat amusing to see at least two NFL head coaches get riled this summer when their defensive and offensive units went at it.
Last week Buffalo Bills coach Doug Marrone felt compelled to halt practice and have his wayward players run punishment sprints because of too many scuffles after the whistle.
Marrone, who once made his living as an offensive lineman in the NFL, told The Associated Press (via The Globe and Mail) that fighting simply wouldn't be allowed.
"Figure it out," Marrone told reporters. "We're responsible for the integrity of the game. There is no use for fighting in the game of football. Period. End of discussion."
The final-straw incident came when receiver Marquise Goodwin floored rookie cornerback Sam Miller from behind.
But Marrone knows what goes on in the trenches. His playing time at Syracuse and during his brief pro stint was spent as an offensive lineman. So he knows the feeling of getting beat on all day while manning a position that's often thankless.
And his team hasn't won a division title in the New England-dominated AFC East since 1995 and has had an over-.500 record only once this century.
Doesn't that circumstance beg for attitude if he wants the doormat era to end? Particularly when the obstacles ahead include Tom Brady's arm, Bill Belichick's brain and an always brutal Buffalo winter? Halting the football and starting a track meet isn't going to get that job done.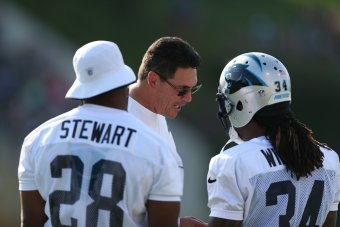 USA TODAY Sports
Similarly, it was a little comical for Carolina Panthers coach Ron Rivera to lambaste his team in early August after about a dozen players were involved in a fracas at practice.
Rivera was a linebacker on the team that perhaps had more swagger than any other in the modern era, the 1985 Chicago Bears, winners of Super Bowl XX. That team's defensive unit thrived on coordinator Buddy Ryan's rivalry with head coach Mike Ditka and pulled no punches.
As a coach, Rivera got noticed for being the defensive coordinator of the 2006 Bears who made it to the Super Bowl. The anchor of Rivera's defense was of course linebacker Brian Urlacher, who was no stranger to brawling with teammates.
Urlacher addressed that fact in 2012 after Bears quarterback Jay Cutler had a run-in with tackle J'Marcus Webb. Said Urlacher to reporters:
It's just like a fight in practice. It's in practice, who cares? You guys probably see us fight in training camp every year. So what? After the practice is over, you are in the locker room and you're buddies again. It's not a big deal.
But after the Panthers' dust-up, Rivera was quoted by The Associated Press as saying:
We can't have chippiness or late shots toward a teammate. The concern obviously is it escalates and it festers and it lingers and the next time we go out on the football field somebody is taking a shot ... We can't afford to have anybody that we truly need get caught up in this.
That's absolutely true when it comes to cheap shots or any excessive aggression that could cause meaningful injury, the kind of stuff that got Ramsey kicked off the field at Florida State or that led to Bennett's suspension in Chicago.
But pushing and shoving and establishing turf is part of football, and it's also part of preparing for the rugged season ahead.
And if you can't handle some of that in July and August, you probably aren't ready for what's coming your way when the real action begins.
Tom Weir covered college and pro football as a columnist for USA Today.