Now that we know Rory McIlroy glows in the dark, is it also time to say there's no question that his career eventually will rank right alongside those of Jack Nicklaus and Tiger Woods?
Too early for that? Maybe.
But for many who watched the 25-year-old claim his fourth career major on Sunday, the sense of urgency to declare him the sure thing no doubt feels right.
Especially after seeing the steadfast way McIlroy played out the final hole of the PGA Championship on Sunday as the late hour brought darkness to everything in Louisville—except for golf's current brightest star.
Yes, to seal the deal and convince any remaining skeptics that he should be the third musketeer in the Jack and Tiger Club, he needs to complete his career Grand Slam at the Masters.
But even if he falters next April, can anyone imagine him having an extended drought at Augusta National? His power is made for that course, and it wouldn't be surprising if a green jacket already has been ordered in his size.
Nicklaus and Woods are the only other two golfers who have won the sport's biggest prizes as often and as young as McIlroy is, so how can you not compare them?
Yes, trying to come up with mathematical formulas that analyze and contrast their early shows of dominance can be a little dizzying.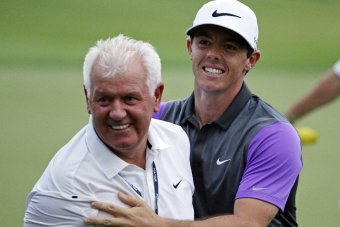 John Locher/Associated Press
But it's safe to say that Nicklaus, Woods and McIlroy have been the quickest to so totally distance themselves from their contemporaries since television brought golf into our homes and let us have an all-day look at the greats while under the severe pressure of majors.
Nicklaus was 25 in 1965 when a victory at the Masters gave him his fourth career major.
Woods' fourth major came at the age of 24, at the British Open in 2000. (And, to be fair, Tiger added his fifth just a month later, at the PGA.)
None of the other modern-day greats are close.
Tom Watson was 30 by the time he won the fourth of his eight career majors. Gary Player was 29, Arnold Palmer had turned 30, and Lee Trevino was 32.
And Nick Faldo, the fellow Brit whom McIlroy hopes to supplant as the greatest modern-day European player, had hit the ripe old age of 33 by the time he claimed the fourth of his six majors.
Passing Faldo is going to happen, just as surely as McIlroy will join Sir Nick as the rare golfer to be dubbed into knighthood in Great Britain.
And just for kicks, let's compare McIlroy to two megastars of that other sport where the key is putting the ball in the hole. Michael Jordan wasn't fitted for his first NBA championship ring until he was 28. LeBron James reached that pinnacle only slightly quicker, at 27.
There's also a strong sense that McIlroy's continued ascent won't hit a tailspin because of a physical breakdown like the back problems that have stalled Woods' pursuit of Nicklaus' record for majors.
The kid perhaps owns the sweetest swing in golf, a motion that flows as gently as summer breeze, yet he produces explosive drives that regularly fly the length of three football fields.
Johnny Miller was already calling it golf's best swing back in 2011.
On the personal side, McIlroy also figures to avoid pitfalls with Scandinavian blondes.
Tiger's game certainly wasn't helped when he incurred the wrath of his former wife, Swede Elin Nordegren, and ended up divorcing.
McIlroy, however, has had the best year of his career since breaking off his engagement with Denmark's tennis superstar, Caroline Wozniacki. And while his success isn't necessarily a result of the breakup with Wozniacki, his not having to jet around the world to see his sweetheart has no doubt led to a more focused McIlroy, one who has been able to spend more time in the gym.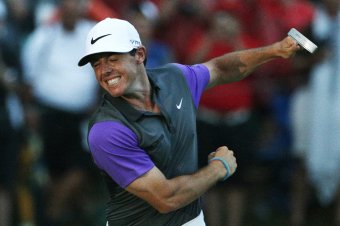 Mike Groll/Associated Press
The result has been seven more pounds of muscle that contributed to his four-day blitz at Valhalla and also his overwhelming wins at the British Open and the Bridgestone Invitational.
"I've always had the speed and I've always had the power, but I haven't really had the strength or the stability to hold on to it my whole way through the swing," McIlroy explained at a press conference just before the start of the PGA Championship.
But most importantly, from all appearances, McIlroy has his head on perfectly straight.
That was evident at his press conference last Monday, when McIlroy diplomatically shrugged off a suggestion that he had replaced Woods as golf's resident superpower.
Yeah, of course, I've heard it and I've read it. Sometimes I feel that people are too quick to jump to conclusions and jump on the bandwagon and jump on certain things. ...

... Look, I said at the start of the year that golf was looking for someone to put their hand up and sort of become one of the dominant players in the game. I felt like I had the ability to do that, and it's just nice to be able to win a few tournaments and get back to where I feel like I should be, which is near the top of the world rankings and competing in majors and winning golf tournaments.

So I'm not necessarily sure you can call that an era or the start of an era, but I'm just really happy with where my golf game is at the minute and I just want to try and continue that for as long as possible.
But while McIlroy doesn't want to claim any thrones for himself, Nicklaus has been only too willing to do it for him. On ESPN Radio's Mike & Mike recently, Nicklaus conceded his record of 18 majors is in danger of falling to McIlroy.
"I think Rory has an opportunity to win 15 or 20 majors or whatever he wants to do if he wants to keep playing," Nicklaus said.
And if Nicklaus believes McIlroy is on course to equal him, then there's no reason anyone should doubt him.
Tom Weir covered several golf majors as a columnist for USA Today.