Just when it seems like there's not much more Rory McIlroy can do to impress the golfing world, he goes out and does the seemingly impossible by making significant headway toward not one, but two major championships at the same time.
McIlroy's charge on Friday toward the PGA Championship was evident to anyone who can read a scorecard, as his second-round 67 vaulted him into the clubhouse lead at nine under par.
But his other move was more on the psychological side. Consider:
What's the one thing missing from McIlroy's resume? A Masters championship, which if gained next April would give him the career grand slam one month shy of his 26th birthday and inspire more comparisons to Jack Nicklaus and Tiger Woods.
Who figures to be his biggest obstacle to winning the 2015 Masters? Bubba Watson, who has walked away from Augusta National wearing the green jacket after two of the last three Masters.
And who did McIlroy totally eclipse on Friday on the rain-soaked Valhalla course?
USA TODAY Sports
Watson, who at times seemed more drenched by frustration and anger than rain drops as he cursed and flailed through a round of 72 that left him nine strokes behind McIlroy.
What's particularly curious about Watson's stormy attitude is that he began the day with unbridled optimism and rightly so. Rainy days should be a big hitter's best friend, and no one in golf hits it farther than Bubba, who leads the PGA Tour with a 314.8-yard driving average.
Here's how Watson explained his perceived advantage in an interview with the Golf Channel before his round began:
The course probably just gained about 400 yards, it feels like, because the ball isn't going to roll … Weather like this is going to make the ball not go a lot farther … Yeah, it's just going to play a lot longer, which is going to play into (the hands of) guys who hit it in the fairway, but also guys who can hit it pretty far.
So Watson headed out on the course appearing to own the kind of confidence Babe Ruth would have carried into a Home Run Derby. Starting on the back nine, he immediately validated that outlook with a pair of opening birdies that moved him to four under and the cusp of the top 10.
But then he hit into the water on No. 18, which led to the first of four bogeys in a seven-hole stretch. Bubba made no effort to hide his displeasure.
Guessing Bubba doesn't like conditions at Valhalla. Keeps complaining about water on the clubface. Just dropped (rare) F-bomb. #Rejoicing

— Ryan Lavner (@RyanLavnerGC) August 8, 2014
And what did McIlroy do on 18? Bomb in an eagle putt from 31 feet for a three-stroke swing on Watson.
Watson's changed attitude about the weather had started two holes before, when he complained to caddie Ted Scott about the effect of having moisture on his club face.
Ugh Bubba to Teddy after missing the green on 16, "I can't play golf man. I got nothing."

— Amanda Balionis (@Amanda_Balionis) August 8, 2014
Bubba has plenty of time to get his head right for defending his Masters title, but one can't help but wonder if he'll be able to shake the memory of McIlroy distancing himself with such ease.
Given that this tournament is taking place in Louisville, a Kentucky Derby analogy is in order, and McIlroy clearly showed himself to be the superior mudder.
Yes, McIlroy is about five yards shorter than Watson off the tee, but that margin is easily erased by the Northern Irishman's demeanor and, of course, his putting of late.
Watson, meanwhile, needs to get reacquainted with the endearing side of his personality that charmed millions when he bawled like a baby after he won his first Masters in 2012.
There were signs that part of him didn't get packed for this trip even before the PGA Championship began. During Tuesday's practice round he refused to take part in a "long drive contest" that might as well have been made for him.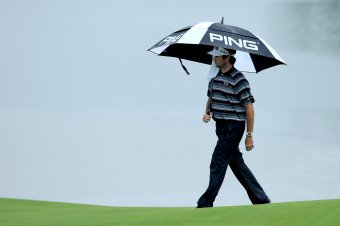 David Cannon/Getty Images
Instead of wielding his trademark pink driver on the 595-yard par-five 10th hole, Watson mocked the event by swinging a 3-iron.
At a press conference afterward, he criticized what was supposed to be a fun event aimed at entertaining fans.
"I don't see that we should have a competition like that while we're playing a practice round and learning the golf course, trying to win a great championship," Watson grumbled. "There's no reason to make something up in the middle of the practice round like that. That's just me. Like it or not, that's just who I am. That's just what I think."
It seemed like a peculiarly dour reaction, especially coming from the same guy who bought the "General Lee" car from the Dukes of Hazzard television show and talked about driving it up Magnolia Lane at the Masters.
Maybe that's what happens to even the most joyous players when their Masters victory is followed by missed cuts at the U.S. and British Opens, the rapid reversal that befell Watson this year.
And it's worth noting that Watson has been an admirer of McIlroy this week. After seeing McIlroy bounce back in the first round from a double bogey and a three-putt to finish at 66, Watson praised the 25-year-old's composure.
"Very solid, very in control of everything," was Watson's evaluation of McIlroy at a post-round press conference. Referencing McIlroy's back-to-back bad holes, Watson added that, "Even those, he didn't get upset."
And having witnessed how it's done, Watson might want to add that element to his game before next April if he hopes to don the green jacket again.
Tom Weir covered several golf majors as a columnist for USA Today.