Rory McIlroy clearly distinguished himself Thursday as the player who's most likely to end the year with a pair of majors in his pocket.
And he did it in style.
For those who believe true greatness isn't proved until adversity is overcome, McIlroy was your man in the first round of the PGA Championship.
Midway through, McIlroy fell into a figurative ditch only to climb out with nary a scratch or a smudge before setting Valhalla's back nine on fire.
McIlroy's first-round 66 has him one shot off the lead, but more important things occurred for him than the sterling bottom line on his scorecard.
This was all about the unflappable way the 25-year-old handled his biggest glitch of the last month. On No. 10, his approach shot disappeared so far out of bounds into the Kentucky woods that he was practically reaching for a provisional shot before it landed.
There wasn't much McIlroy could do to avert disaster on that hole, and he did indeed have to absorb a double-bogey seven.
That seemed to create a mini-hangover, and on the next hole, McIlroy suffered his only three-putt of the day while dropping to a place we've seldom seen him lately—even par.
Suddenly, golf's hottest young gun was looking very human.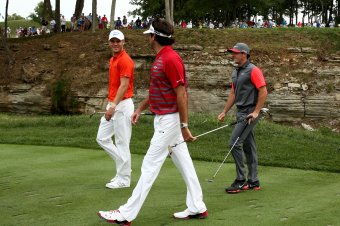 Warren Little/Getty Images
Was the king of last month's British Open perhaps cowed a bit by being grouped with this year's other two winners of majors, Masters winner Bubba Watson and U.S. Open champ Martin Kaymer?
Did Watson's eagle on No. 7 get under McIlroy's skin?
Had the hot streak that also saw McIlroy mow down the competition at last week's Bridgestone Invitational finally cooled?
Not a chance.
Having taken his lumps, McIlroy responded with four consecutive birdies. Then, he just missed making two more before connecting for one last one on No. 18.
That's five birdies in seven holes, the stuff that major championships are made of. And if McIlroy wins here, it will be his second PGA Championship and his fourth career major. He also would become the first player to win two majors in a year since Irishman Padraig Harrington turned the trick in 2008, claiming the British Open and the PGA.
The best of McIlroy's birdie putts came from 20 feet away on No. 14. But the key factor was that they were all dropping dead center. His 66 didn't include an ounce of luck from the golfing gods.
Once he got back on track, every tee shot that wasn't launched on a par three sailed a minimum of 300 yards. Aside from the long putt on No. 14, his solid irons kept landing him within 10 feet or closer for his birdie tries.
And on No. 18, his eagle effort from about 15 feet very nearly dropped in, missing by only an inch.
So yes, the world's No. 1-ranked player knows how to shake off a disaster.
The Last 4 Golfers to Win 2 Majors in a Year

| | | | | |
| --- | --- | --- | --- | --- |
| Padraig Harrington | 2008 | | | |
| Tiger Woods | 2000, 2002, 2005, 2006 | | | |
| Mark O'Meara | 1998 | | | |
| Nick Price | 1994 | | | |
PGA Tour
That resolve could be a key factor in Friday's second round. Bad weather is expected to hit Louisville on Friday, possibly causing a lengthy delay.
McIlroy showed he can handle a detour and readily acknowledged that the out-of-bounds shot was his biggest blunder of late.
"I was really annoyed," McIlroy said in his post-round interview with CBS. "The second shot on 10 was the worst shot I've hit in the last few weeks. It sort of came out of the blue."
But here's the thing. After that horrible shot, McIlroy raised his eyebrows maybe an eighth of an inch, if at all. There was no visible sign of being flustered, no mumbled curse. And throughout the round, his youthful face gave little hint of whether he was headed for a round in the 60s or the 80s.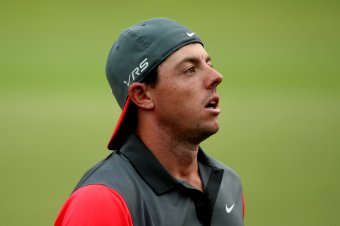 Andrew Redington/Getty Images
Coming off the 18th green, McIlroy did allow himself one brief moment of swagger, flipping his cap around backward. But after just five or six strides, he caught himself and switched it back, as if he's making sure no one views him as The Kid any longer.
Jack Nicklaus certainly doesn't view him that way.
This week, the greatest golfer of all time told ESPN Radio that McIlroy has the chance to catch and even surpass Nicklaus' record of 18 victories in majors:
I think Rory is an unbelievable talent. It depends on what he feels his priorities are, but I think he has the opportunity to win 15 or 20 majors if he wants to keep on playing . . . I love his swing, his rhythm, his spirit. He has got a little swagger there, it's a little bit cocky but it is not offensive. I like that self-confidence in a young man.
For now, McIlroy appears most intent on milking this hot streak for everything it's worth.
"I've got a good thing going right now," said McIlroy to CBS, stating what's painfully obvious to a PGA field that may find itself playing for second by Sunday. "I'm just trying to ride the momentum as good as I can."
And it's a ride that appears destined to leave the rest of the golfing world in the dust.
Tom Weir covered several golf majors as a columnist for USA Today.