With all 15 roster spots locked up for the upcoming 2014-15 NBA season, just what exactly does this mean for the future of the Denver Nuggets?
Will head coach Brian Shaw be leading the core of this group the next few years? Or is this just a roster for everyone to show what they can do before general manager Tim Connelly brings in an All-Star?
Both are reasonable scenarios.
On one hand, the Nuggets suffered countless injuries last season, and it's still unclear how this team looks at full strength. On the other, it's certainly possible that this unit is playoff-caliber and could win a playoff series or two.
So, what's the game plan?
Leading Up to the Trade Deadline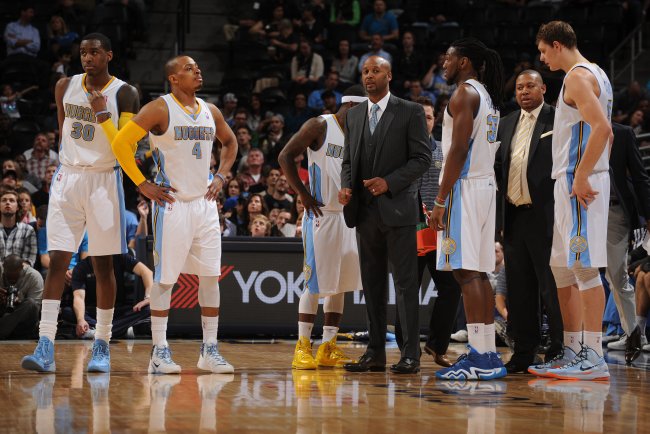 Bart Young/Getty Images
Even though many of these Nuggets players have experience in Denver, the chemistry needs to develop. Arron Afflalo was with the Orlando Magic the last two seasons, several players missed a huge chunk of games last year, and Shaw was forced to play some guys out of position.
We can certainly take some bits and pieces from the last few years. However, we need to see a few months of healthy basketball before we can truly assess what the strengths and weaknesses of this team are.
This is why Denver had several offseason discussions surrounding the NBA draft and free agency. But ultimately, Connelly wasn't going to pull the trigger unless he felt it was a significant steal.
There's no doubt that Denver has an incredible amount of depth. You could make the argument that all 15 guys deserve to play in the primary rotation.
The competition in training camp will be fierce. The Nuggets are legitimately three-deep at every position.
Point Guard
Shooting Guard
Small Forward
Power Forward
Center
Ty Lawson
Arron

Afflalo

Danilo

Gallinari

Kenneth

Faried

Timofey

Mozgov

Nate Robinson
Randy Foye
Wilson Chandler
J.J.

Hickson

JaVale

McGee
Erick Green
Gary Harris
Quincy Miller
Darrell Arthur

Jusuf

Nurkic
But as the season progresses in the early going, Shaw will likely try a few different lineups and rotations. Sure, Ty Lawson and Kenneth Faried will be playing their usual primary roles, but you can bank on Denver's head coach switching up the minutes and who starts at some of the other positions.
Keep an eye on Danilo Gallinari, JaVale McGee, Randy Foye and Wilson Chandler. Why those four?
Gallo missed the entire 2013-14 season, and McGee only played five games. But more importantly, they have two of the bigger and longer-term contracts on the team. They are competing for not only playing time but also their possible trade value.
As for Foye and Chandler, they are making $3 million and $6,757,913 for the 2014-15 season, respectively. However, neither will likely start this year, they both have non-guaranteed deals the following season, and they could be part of a trade package if Connelly goes that route.
Gary Harris was one of Denver's first-round picks in the 2014 NBA draft. Plus, according to Steve Bulpett of The Boston Herald, Chandler was part of the offer the Nuggets made to the Minnesota Timberwolves for Kevin Love.
Sources: in addition to Wilson Chandler and Kenneth Faried, Denver offering Minnesota a player they would acquire (Arron Afflalo) for Love.

— Steve Bulpett (@SteveBHoop) June 19, 2014
Essentially, Denver will use the first three-and-a-half months of the season to earn as many wins as it can, but Connelly will be carefully taking notes leading up to the trade deadline.
If the Nuggets Are Struggling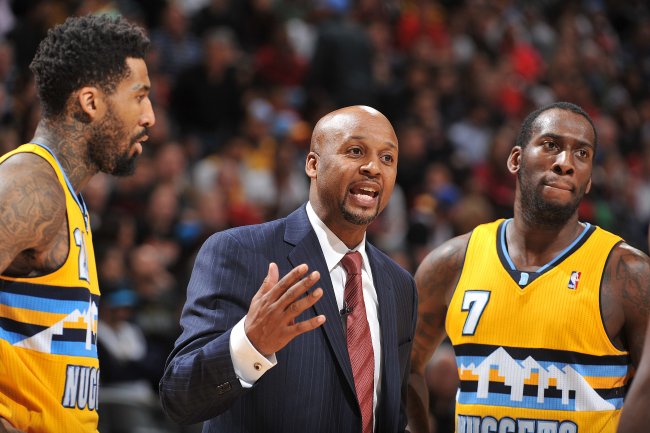 Garrett Ellwood/Getty Images
I'll be shocked if Denver isn't at least around the .500 mark at the All-Star break. This team was 22-21 last year in late January before Nate Robinson went down with his knee injury.
But if this group can't show signs of improvement when healthy, Connelly is going to try to do what he can to clear some cap space.
Gallinari and McGee will be the likely targets, as they become unrestricted free agents after the 2015-16 season. They are due to make $11,559,225 and $12 million, respectively.
I still see Lawson as an untouchable. Plus, I doubt many franchises would want to take on the $13,213,482 he's due to make in 2016-17 if he's not playing well.
Denver still hasn't signed Faried to a contract extension, and he'll be worth substantially more than the $3,257,664 qualifying offer he has for the 2015-16 season. He's improved dramatically since March 1 of last season.
GP
MIN
PPG

FG

%
RPG

SPG

25
31.6
19.8
55.0
10.8
1.1
(via Basketball-Reference.com)
Now, Faried will have more weapons around him in 2014-15, so we can't expect these statistics all the time. He'll be more focused on improving his defense and overall post game.
But if Faried's progress does come to a halt, Connelly could put him back on the market and package him with Gallo or McGee. In return, Denver would get a veteran with an expiring contract, plus some young talent or a first-round draft pick.
This also clears the cap space to go after an All-Star next offseason.
I'll be surprised if this Denver team doesn't continue to get better next year. But one way or another, having Faried, Gallinari and McGee all on the payroll after the upcoming season is unlikely.
If the Nuggets Are Cruising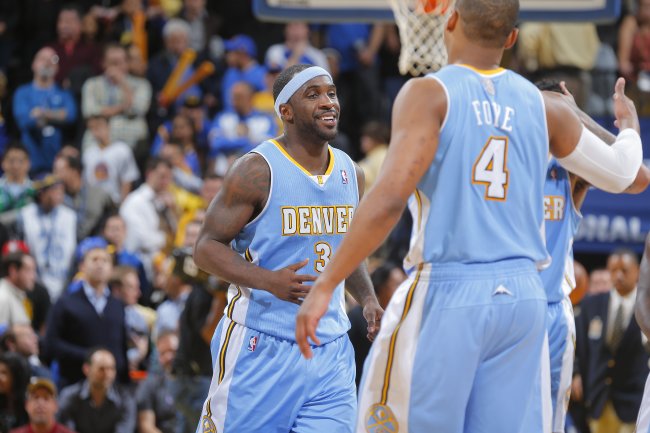 Rocky Widner/Getty Images
Let's say everything is great in Denver—Lawson and Faried are flourishing once again with Gallinari and Afflalo, Robinson and McGee are the energy boosts to go with Foye's shooting off the bench, and Shaw gets production from the other guys.
Basically, the scenario is that the Nuggets' 2014-15 season is similar to that of the Portland Trail Blazers last year. Denver is at least in contention to get home-court advantage for one playoff series.
What does Connelly do?
Unless there is clearly one spot that needs to be addressed, you can't make a blockbuster move if this team's chemistry is at a high level. Perhaps you can give up some of the depth to find a starter or key role player.
But if the heart and success of Denver is strong, why break it up?
How will Denver stack up in the Western Conference by the All-Star break?
The trade deadline isn't the ultimate deadline. That comes at next year's offseason—when the core of this team has had its run.
Remember, this is still mostly Masai Ujiri's unit, the former Nuggets general manager who is now with the Toronto Raptors. By next offseason, that's when the contracts of his players become an issue, and Connelly will need to push the correct buttons.
Unfortunately, the Nuggets were supposed to have last year to diagnose and develop. But with the number of injuries, they never came close to a complete assessment.
As a result, the timetable is shortened for this squad to at least get over that first-round hump in the playoffs. But Denver can still use the first few months of the season to see what works and how many wins they can rack up.
There's a line Connelly will have to draw on whether the Nuggets are for real by February. It's somewhere in that borderline playoff range.
We'll see exactly where it is.
All contract information is from BasketballInsiders.com

All statistics are from Basketball-Reference.com

Nick Juskewycz covers the Denver Nuggets for Bleacher Report. Follow him @NickJuskewycz.