Dear Tiger,
Hope you're feeling better, though I seriously doubt you are.
I've never walked a mile in your shoes, but seeing you struggling to even take your footwear off after Sunday's sudden ending at the WGC-Bridgestone Invitational said it all about your physical state.
But here's the big question, Eldrick: Despite what your agent told ESPN.com's Bob Harig, you're not really thinking about playing the PGA Championship this week, are you?
Your back locked up tighter than Fort Knox, and you want to play 72 holes this week just to see if the discs in your back all got together to play a practical joke?
One of the oldest unwritten rules in golf is dealing with the risk/reward factor. You don't gamble on a risky shot unless the reward is at least one stroke.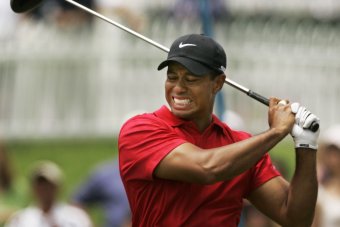 Charlie Riedel/Associated Press
But the risk you're considering taking involves an entire career. Injuries already have forced you out of six majors, and this week ought to be No. 7.
You know how old Jack Nicklaus was when he missed his seventh major? 61, according to a discussion during an ESPN SportsCenter report today. Doesn't that tell you something about the rapid decline of your 38-year-old body?
It's time to give it a rest, Tiger. A long rest. An August-to-December kind of rest. Put a ribbon on this anguish-filled 2014 season and don't open it back up until Christmas morning.
Yeah, I know. I'm not in your head, and you know your body better than anyone. I'm just a hack sportswriter, not a medical guy, so what do I know?
Not much. But I do know that your list of injuries reads like that of an NFL linebacker who's about to get his walking papers, not a golfer.
Injury updates are getting to be an hourly thing with you, Tiger. Between your back, knees, neck, elbow and Achilles tendon you've had a ton more maladies in the last six years than Nicklaus and Arnold Palmer have had in their lifetimes. And they've lived a combined 158 years.
Nicklaus once told Golf.com he had one surgery during his entire playing career. It didn't come until he was 44, and it was because he hurt his knee playing tennis. If you tried a little serve-and-volley action on the court right now they'd need to have an ambulance idling in the parking lot.
So take a hint, Tiger.
The easiest thing a golfer does is pick up his tee after a drive, and when you tried to that on your final hole Sunday it looked like you were trying to bench press a rhino. Keep it up and your eyes just might get stuck in the wincing position.
What is there to play for this week?
Do you really think you can bounce back from having the spinal equivalent of lockjaw in time for a shootout with young guns like Rory McIlroy and Rickie Fowler? Those guys are hitting it like they're packing howitzers, and you look like you're out of ammo.
All those years of heavy torque have put a fork in your game. At least for now. One more snap, crackle or kaboom in your back, and playing on the over-50 Champions Tour could be a lost option before you turn 40.
And if you won't listen to the message that all that pain is sending you, at least listen to yourself.
Remember just last week, a few days before you doubled over in agony, when you were talking to reporters at the Bridgestone about how fast you returned from surgery? You said: "And most of the people I talked to who have had the procedure have no idea how I'm even back here playing. They just can't understand that."
Maybe they can't understand it because they're not obsessed with chasing Nicklaus' record for majors the way Captain Ahab chased Moby Dick. Or maybe they can't understand it because they know bad backs are the Rubik's Cube of sports injuries.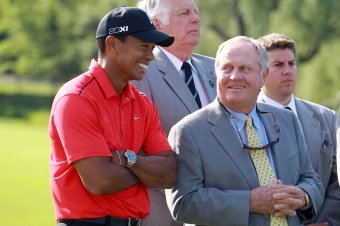 Andy Lyons/Getty Images
You went into the British Open appearing to be pain-free and still wound up 69th, your worst finish ever when playing all four rounds of a major.
Sunday on the Firestone Country Club course you once owned, you kerplopped a ball in a pond, rattled another off a concession stand and came up more than half a football field short of reaching the green on a 200-yard par-3.
What's the incentive to keep going? A berth on the U.S. Ryder Cup team? Maybe that's vitally important to you. Maybe it's your last chance to have 2014 include a high note. But c'mon, Tiger, get real about your circumstances.
Should Tiger Woods withdraw from the PGA Championship?
Your best finish in seven tournament starts this year is a tie for 25th. That means Tom Watson would have to be more charitable than Mother Teresa to give you one of his captain's picks. The American team would be far better off if Watson picked himself, and he's a month away from turning 65.
He also was five strokes better than you at the British Open.
So take some time off, Tiger. It's not as if you haven't earned it or that you wouldn't have the support of every sponsor and every tournament. Do it now while the choice is still yours, because you may not have this luxury again.
Looking forward to a better 2015,
Tom
Tom Weir covered several golf majors as a columnist for USA Today.