Tiger Woods is off to a fine start at the WGC-Bridgestone Invitational, as is to be expected at a tournament he has won eight times. Yet there were times during Thursday's first round at the Firestone Country Club where he looked like he was a million miles away from the Akron, Ohio, course that has been one of his greatest comfort zones.
He sometimes looked like a man who was wrestling with inner demons, even as he shot a two-under round of 68 that has him tied for ninth and solidly in contention at four strokes back as he prepares for next week's PGA Championship.
The most obvious example of Woods' self-torment came on No. 14, where his reaction to a poor approach shot was that of a man whose world had just crumbled.
As his ball rolled back downhill from the green, he took two vicious swings in the air, one left-handed and another right-handed, as if he were trying to behead a nemesis.
Then he ripped off his glove and pulled down his hat over his face, seemingly trying to hide from the lip readers. He kept it off as he strode up the fairway. He was clearly incensed with himself and rubbing his thinning hairline like someone who was suffering from a head-to-toe migraine.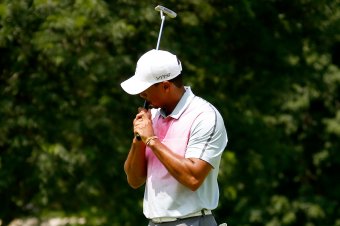 Gregory Shamus/Getty Images
But here's the thing. The errant shot Woods had just launched wasn't one of those Phil Mickelson specials that disappears deep into a dark and dangerous corner of the woods. Nor was he buried in one of the crater-like bunkers the Scots use to torture duffers and pros.
Woods had simply failed to stick on the green and was still was in position to make par, which he did. Yet his body language was that of someone who had just missed a Masters-clinching tap-in.
And that spoke volumes about where Tiger appears to be these days as he struggles to salvage a year that seems destined to be his sixth in a row without a victory in a major.
He knows what it is to play perfect golf but understandably hasn't been able to rekindle his relationship with excellence just four months after back surgery.
Maybe his angst is heightened by the awareness that a posse of younger golfers has not only caught up to him but is also threatening to pass him by and leave him breathing dust.
Can Tiger Woods still salvage 2014 with a PGA Championship victory?
And perhaps it's killing him that anything less than outstanding golf this week and next could bring down the curtain on a 2014 season that, since his surgery, has seen a missed cut at the Quicken Loans National and a 69th-place finish at the British Open as his only other action. He needs a pair of third-place finishes to gain eligibility for the FedEx Cup playoffs (where he's 215th in the rankings), and he also must wow Tom Watson if he is to earn a Ryder Cup captain's pick for the U.S. team.
So even though Tiger was embedded on a course where he has shot record-setting rounds of 61, he sometimes looked like a guy who was stuck outside the ropes and looking in.
It also didn't help that he was an absolute stranger to consistency, as his six birdies were offset by two bogeys and one double bogey.
As the Golf Channel's Terry Gannon said as Woods' round drew to a close, "It feels like he's been all over Ohio."
Added Gannon, "You got to feel like he's been to Columbus and back, and yet he's two under par."
That waywardness reared up early, when his tee shot on No. 2 landed on the adjacent fairway.
The mental battle of 38-year-old Tiger trying to be young Tiger also showed up after a wayward tee shot put him behind trees on No. 9. Once upon a time, the Golf Channel crew surmised, Woods would have merely stepped up and powered his way over those trees and onto the green. Instead, he went low and hit a limb that resulted in the double bogey.
Tiger didn't revisit his on-course anger during a tepid post-round interview with reporters. Referencing his predicament of facing long odds to get in the FedEx Cup competition, he said, via ASAP Sports:
Well, I would like to win these two events and not have to worry about anything. That's the plan. That's the mindset. That's the focus. We'll see how it falls after these few weeks. Other than that, I really‑‑ I'm so far out of it right now that I need to play well to get myself there where I can get myself into the playoffs and ultimately, hopefully, play all four weeks.
Nick Faldo's assessment of Tiger on the Golf Channel was that "the irons are looking good, but the longer clubs, the driver, are still the issue."
Faldo also referred to the driver as "the key club" for Tiger to remaster. He jokingly added that maybe Woods should put a "3" or a "5" on his 1-wood and give it a phony identity.
But Woods is in position to do what six-time major winner Faldo says is the biggest necessity.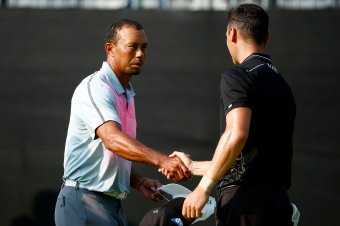 Sam Greenwood/Getty Images
"He's got an opportunity this week to play four rounds on a golf course he absolutely loves," said Faldo. "So I think it's really important for him to put four great rounds under his belt."
Woods can do that and could even climb the leaderboard, as he demonstrated by sinking a 22-foot birdie putt on No. 16 and spinning an approach shot to within inches of the cup on No. 8.
And it shouldn't be overlooked that on Thursday, Woods outplayed the winners of all three majors this year.
He was a stroke better than Masters champion Bubba Watson and British Open winner Rory McIlroy, and he was tons better than the disastrous 77 shot by U.S. Open victor Martin Kaymer.
That's what his scorecard showed. Now he just needs to look like that guy.
Tom Weir covered several golf majors as a columnist for USA Today.