Sunday's final round of the British Open began with the widespread expectation that Rory McIlroy would glide to his first triumph at golf's oldest major. He got there all right, bringing outright elation from a home crowd eager to see someone from the United Kingdom take possession of the Claret Jug, but it was good to see the Northern Irishman get squeezed a little along the way.
Amazingly, the ability to win a major with someone nipping at his heels was one of the few things McIlroy had left to prove at the age of 25.
But when Sergio Garcia cranked up the heat with an eagle on No. 10 that surged the Spaniard to within three strokes of the lead, there was no buckling of McIlroy's knees. Nor was there any sign that psychological starch had stiffened what is golf's sweetest swing at the moment when Garcia later crept within two.
Not even when McIlroy had to dig out of one of Royal Liverpool's eerily deep bunkers at No. 18.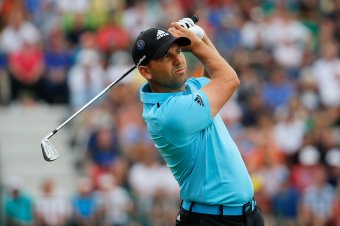 Tom Pennington/Getty Images
That's the thing about McIlroy. Even in a sport that dishes out far more heartbreak than hugs, McIlroy has had to deal with precious few ghosts.
He vanquished a couple of them with such style and gusto this week that it's tempting to say he simply has to be himself at Augusta next April in order to become the sixth golfer to secure the career Grand Slam.
Sunday's victory made him the third-youngest player to own three legs of the Slam, and no one who follows the game has trouble guessing that the other two are Jack Nicklaus and Tiger Woods.
From now on, look for McIlroy's name to get wedged alongside those of Nicklaus and Woods in as many sentences and network graphics as possible. If a Mount Rushmore for golfers were under construction, the work crew would be told to take a decade off and wait while we see whether McIlroy will push someone like Ben Hogan, Gary Player or even Arnold Palmer out of golf's ultimate foursome.
That's how good McIlroy was while being only the seventh golfer to win the Brit wire-to-wire since Woods in 2005 and only the third since Tom Weiskopf in 1973.
Will Rory McIlroy complete the career Grand Slam at the 2015 Masters?
Unlike his other two victories in majors—the 2011 U.S. Open and the 2012 PGA Championship—McIlroy didn't win this one by eight strokes.
But he also didn't crumble like he did at the 2011 Masters, where he was sitting on a four-stroke lead before stumbling to a final-round 80. McIlroy has made that a distant memory now, showing it was a lesson learned and not one of those eternally haunting moments that Greg Norman became so familiar with.
He also brushed aside the so-called "second-round jinx" that, until this week, had kept his game under wraps most of the year. A 66 on Friday kicked that issue to the curb.
And McIlroy no longer needs to be reminded that he once complained about the elements at this tournament. He didn't have to cope with horizontal rain, but it's not his fault that the only things that rained down steadily during this British Open were McIlroy superlatives.
Still, it's obviously way too early to put McIlroy into a Three Musketeers club that includes only himself, Nicklaus and Woods. From the PGA Championship in 1999 through 2007, Tiger stacked up 12 majors. Nicklaus had a similar run from 1965 to '75, winning 11 majors.
But McIlroy now sits squarely atop the golfing world, looming as the player who will dominate his generation.
Two-time Masters champion Bubba Watson could be the biggest roadblock to McIlroy's career Grand Slam aspirations, but he's also 35. And while McIlroy is only one major victory ahead of Martin Kaymer, the 29-year-old German went from invincible to invisible at the Brit after winning last month's U.S. Open.
After Kaymer, there's not much under-30 talent threatening to enter the winner's circle at majors, though we are waiting on Rickie Fowler, Jordan Spieth, Jason Day and the like.
In no aspect of his game does McIlroy take a backseat to any of those contenders. As Ewan Murray of The Guardian wrote, "This young man plays with a flair and fluency that sets him apart from his peers."
He rolled home two eagle putts in Saturday's third round, his long irons were nearly picture perfect all four days, and only Watson can measure up off the tee if pro golf ever decides to hold the equivalent of a Home Run Derby.
But what makes predicting a sterling future for McIlroy so easy is that his personality and character appear perfectly suited for the unconditional adulation that's headed his way.
Scott Heppell/Associated Press
When McIlroy heads home, he'll be the biggest thing to leave Liverpool since four guys named John, Paul, George and Ringo. But while he's self-assured, there was no undue swagger in his stride as he went to the 18th green amid wild cheers. His hometown is Holywood, not Hollywood.
That McIlroy is down-to-earth and has his priorities straight was evident during his post-round interview with ESPN, as tears welled up in his eyes when he disclosed that: "It means an awful lot. This is the first major championship my mother has been at when I've won."
McIlroy also hasn't dodged the British media, which can be downright relentless. At this tournament, he owned up to his second-round woes the same way he openly addressed his broken engagement to tennis star Caroline Wozniacki earlier this year.
At 25, he's already given the golfing world more candor than Woods has in his 38 years.
And while it's way too early to think he'll give us as many thrills as Woods has, it's also too early to count him out.
Tom Weir covered several golf majors as a columnist for USA Today.