It will not come as a shock if there's a report that Phil Mickelson was seen out on the Royal Liverpool course late Friday, doing a rain dance.
Wretched weather at the British Open can drive some golfers into therapy, but Mickelson believes it's the tonic that can keep his hopes for a repeat championship alive.
After a second-round score of 70 Friday that brought him back to even par, Mickelson made several references in an ESPN interview to brutal weather being the key to catching the leaders.
"It's supposed to get ugly tomorrow, and if it does, I've got a great chance, because right now, I've got more control of the golf ball than I've ever had," Mickelson told ESPN. "And if I can get some bad weather, where the misses are exaggerated for everybody else, that's helpful for me."
Mickelson is entitled to wish a deluge on the opponents ahead of him, because so far, he has been on the unlucky side of the draw. He faced the tougher afternoon conditions Thursday while grinding out a two-over 74 and then had to contend with Friday's harshest winds as the early groups played.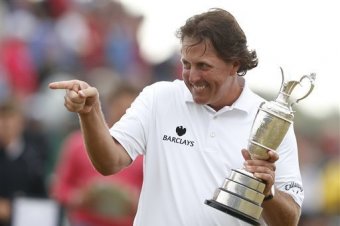 Matt Dunham/Associated Press
With his pants legs flapping in gusts that reached 20 mph, Mickelson stepped away from three-foot putts a couple of times and did muff a five-foot putt on No. 7 that stalled his momentum.
"It's an unfortunate part of this tournament, but I've been on the good side of it as well," Mickelson told ESPN. "What you try to do is just play the best you can and know that on the weekend some crazy things can happen."
Mickelson had a crazy-good eagle Friday on the par-five fifth after his tee shot drifted way right. Working from a tough lie in thick fescue, Mickelson somehow managed to hammer his next shot to within about 10 feet and then sank a putt that vaulted him up the leaderboard.
But what stands out is that Mickelson has maintained such a cheery attitude about his ball-striking even though he has launched three out-of-bounds shots in his first 36 holes.
The classic example of that came on the par-five 10th hole Friday, where Mickelson's tee shot was so absurdly wayward that he took a second ball. He was in the fairway with that and drilled his approach to within six feet, setting up what he called "an unbelievable par."
Mickelson's latest exercise in the power of positive thinking began Thursday, when he assured reporters at his press conference that his round of 74 had been dazzling in every respect except on his scorecard.
"This is the best I've hit it in over a year," maintained Mickelson before freely admitting, "And certainly the score sucks, but my game is as good as it's been in a long time."
That's not saying much, considering Mickelson hasn't has a top-10 finish this year, and for anyone else, the optimism might have seemed like whistling in the graveyard.
But it was vintage Mickelson from a guy we've seen hit balls deep into the woods or onto hospitality tents, only to get back on track with a miracle save. Or make a birdie after hitting off a cart path, as he did at last week's Scottish Open.
And it's worth noting that his championship run in last year's British Open at Muirfield also included a round of 74.
This is Mickelson's 21st British Open, and he's seen plenty of examples of how no lead is safe on links courses, where coastal rains can blow in sideways as the course transforms into a wind tunnel.
"I saw that in '02 at Muirfield, where I barely made the cut," Mickelson said in his ESPN interview. "A gale came in on the leaders, and everybody came back."
Saturday's weather could create a similar shakeup, and if it does, the left-hander knows he's thoroughly capable of playing great golf while the majority of the rest of the field is struggling.
He proved that conclusively last year with a final-round 66 that claimed the tournament by three strokes after beginning the day five shots off the lead.
"It's possible," Mickelson told ESPN. "Even with bad conditions, I feel I have a chance to get it under par. If I do that, I should get right into contention."
So keep an eye out for that rain dance.
Tom Weir covered several golf majors as a columnist for USA Today.