Among the many historical footnotes regarding the Royal Liverpool course that's hosting the British Open is one that has absolutely nothing to do with golf.
It was there that a young John Lennon used to cut across the course to visit his girlfriend and future wife, Cynthia Powell.
With that connection in mind, perhaps first-round leader Rory McIlroy should focus on an appropriate Beatles lyric as he readies for Friday's confrontation with the unforgiving second-round jinx that has afflicted his game this year.
Might we suggest "Tomorrow Never Knows," a Lennon-written song from the Revolver album?
The opening line is advice McIlroy might want to follow: "Turn off your mind, relax and float downstream."
But it's probably more likely that McIlroy is in for a "Hard Day's Night" of tossing and turning as he prepares to face down his Friday jitters.
Thursday, McIlroy constructed yet another great opening round, a sterling 66 that gives him a one-stroke lead. With three birdies on the front nine and a matching three on the backside, McIlroy's bogey-free round seemed as effortless as a train conductor punching tickets.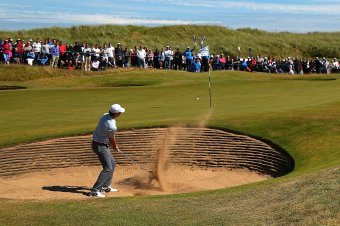 Mike Ehrmann/Getty Images
For fans of the 25-year-old from Northern Ireland, that's nothing new. McIlroy has opened with rounds of 63 three times this year, and last week at the Scottish Open, he vaulted into the early lead by carding a 64.
But on Fridays he often has played like someone recovering from a pub crawl.
He followed last week's 64 with a 78, the same second-day score he had at the Memorial after opening with a 63. All of which has contributed mightily to McIlroy being nine-over in his 13 second rounds this year.
Watching McIlroy on Friday has become akin to seeing Shaquille O'Neal at the free-throw line or the Buffalo Bills in the Super Bowl.
To McIlroy's credit, he has readily acknowledged this gaping glitch in his game and hasn't come up with any lame excuses for a problem he believes resides between his ears.
"It's just got into my head," McIlroy told reporters at his Tuesday press conference. "I may be putting a bit too much pressure on myself going out on Fridays and trying to back up a score. I have no problem shooting a low one on Thursday. There should be no reason I have any problem shooting a low one on Friday."
The irony is that one of McIlroy's few solid Friday performances—a second-round 68 at the U.S. Open—came on Friday the 13th.

Rory McIlroy's last four majors

| | |
| --- | --- |
| 2013 British Open | Missed cut |
| 2013 PGA Championship | Tied 8th |
| 2014 Masters | Tied 8th |
| 2014 U.S. Open | Tied 23rd |
PGATour.com
But luck was with McIlroy on Thursday. Teeing off early, he caught the day's best weather and cashed in on an abundance of scoring opportunities.
McIlroy birdied three of Royal Liverpool's par-five holes, and a lucky bounce on the 14th kept him out of the rough and on the fairway.
"We had perfect scoring conditions out there this morning," McIlroy told reporters after his round. "There wasn't much wind. It started to pick up a little on the back nine but there were plenty of opportunities to make birdies and I was able to take a few of them."
That window of opportunity figures to slam shut, though. Showers are possible on all three of the tournament's remaining days, according to Accuweather.com, and typical British Open winds likely will pick up on Friday, when McIlroy tees off at 2:27 p.m. local time.
Given how McIlroy's Fridays have gone out on the course, if the weather turns on him he can't be blamed if he goes into "Why me?" mode.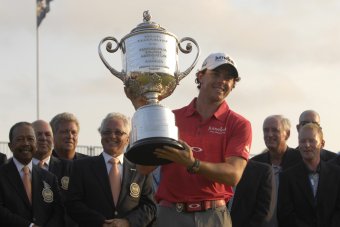 USA TODAY Sports
The other mental factor in play, as McIlroy goes after his third major, is that he so far largely has failed to take advantage of what should be a home-field advantage at the British Open. His only strong finish in five British Opens as a pro is a tie for third in 2010—when, by the way, he shot a second-round 80 at St. Andrews.
"The Open Championship is a tournament that's very important to me, and my record in it hasn't been as good as I'd like," McIlroy told reporters at his Tuesday press conference. "I'd love to improve on that."
And if he can't improve on it, he certainly wants to perform better than he did in his other four Brits: tied for 47th in 2009, tied for 25th in 2011, tied for 60th in 2012 and a missed cut last year.
To do so, the hard work clearly begins with his next round, and the need to finally hear McIlroy say "TGIF."
Tom Weir covered several golf majors as a columnist for USA Today.