Ever since Rory McIlroy was recognized as a golfing prodigy destined to contend for major titles, it has been assumed that he would one day reign as champion of the British Open.
This is the perfect week to fulfill that promise, before unmet expectations make critics feel entitled to set the hounds nipping at his heels.
As a native of Northern Ireland and a citizen of the United Kingdom, the 25-year-old McIlroy has the same virtual obligation to win the British Open that all great American golfers face at the Masters.
British golf, with all of its man-eating bunkers, schizophrenic winds and gnarly rough, is in McIlroy's DNA. There's a sense he emerged from the womb with all the tools to win this tricky little tournament, and competing at Royal Liverpool this week provides the ideal proving ground.
This is the course where Northern Ireland saw its first British Open champion and first winner of any major crowned, when Fred Daly won at Royal Liverpool in 1947.
The next British Open championship for Northern Ireland didn't come until 2011, when Darren Clarke won at the age of 42 in his 20th try.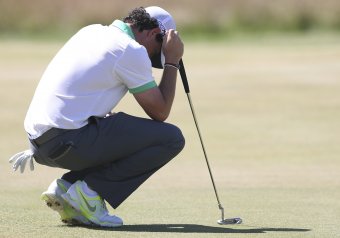 Scott Heppell/Associated Press/Associated Press
McIlroy, the only golfer of the last 10 years to get serious consideration as the next Tiger Woods, definitely doesn't want to wait that long. And if he is to get the job done this week, the quirk is that his second round on Friday may be more important than what he does coming down the homestretch Sunday.
McIlroy remains famous for his fourth-round collapse at the 2011 Masters, but lately, his unforgiving nemesis has been the second round. That glitch reared up again last week at the Scottish Open, when McIlroy's scorecard bloated with a fatal 78 in the second round, just one day after shooting a course-record 64.
Of the players who made the cut, the only one who had a worse round than McIlroy's 78 was last-place finisher Matthew Jones, who had a final-round score of 80.
That has been the story of McIlroy's year, as is made evident by these statistics from GolfChannel.com: In 13 worldwide stroke-play events this year, McIlroy is a brilliant 51-under in first-round play but a miserable nine-over in his second time around the course.
McIlroy's first-round average this year is just under 68, according to GolfDigest.com, but he failed to win all three of the tournaments where he opened with a 63.
McIlroy addressed the second-round issue at the start of the Scottish Open last week, telling reporters that part of the problem has been obsessing about the leaderboard:
I think it is a mental thing more than anything else. Trying to keep yourself in the lead or trying to keep yourself up there. I think every time that I've played well or had success in a tournament, my mind hasn't been too much on the leaderboard or too much on my position in the tournament.

I feel like sometimes this year when I've gotten myself into the lead or I shot 63 in the first round, I focused too much on where I was on the leader board or where I was in the tournament instead of just going out and trying to play another solid round of golf.
But, boom, the same thing happened with his 64-78 start.
That might make some golfing observers question why McIlroy is the betting favorite heading into the British Open, particularly since he hasn't won a tournament on the PGA Tour since the end of 2012.
Well, just view McIlroy's thundering 436-yard tee shot at the Scottish Open last week. You never write off that kind of talent.
Besides playing a solid second round this week, McIlroy also might want to learn the words to "Singin' in the Rain." He openly grumbled about the weather while struggling at the 2011 British Open, where he played during the windiest times of day on Thursday and Friday before getting drenched in a Saturday downpour.
"Yeah, I'm not a fan of golf tournaments that the outcome is predicted so much by the weather," McIlroy complained at his final-round press conference after finishing tied for 25th. "It's not my sort of golf...My game is suited for basically every golf course and most conditions, but these conditions I just don't enjoy playing in really. That's the bottom line. I'd rather play when it's 80 degrees and sunny and not much wind."
Such chatter is frowned upon by a British society that places high value on maintaining a stiff upper lip.
It also calls attention to the fact that McIlroy has not exploited his seeming home-field advantage at the British Open. In five tries as a pro, he has one top-10 finish, a missed cut, and ties for 25th, 47th and 60th.
Not to play psychoanalyst, but bad British Open weather might be at the root of McIlroy's second-round yips. In 2010 at St Andrews, he torched the Old Course with a lead-seizing opening round of 63, only to balloon to 80 amid gale-force winds on the second day.
Then 21, McIlroy would have forced a playoff with a round of par and could have raised Irish spirits by winning on the 150th anniversary of the founding of the British Open. Instead, the honor went to South Africa's Louis Oosthuizen.
While in the U.S. last month, McIlroy discussed his second-round woes with Jack Nicklaus during a two-hour discussion and came away feeling he had been given some wisdom.
"He said to me he was never afraid to change things up in the middle of a round if it wasn't going well, he felt like he wasn't swinging well," McIlroy told Kyle Porter of CBSSports.com. "He'd make a swing change right then and there. The mental strength to be able to do that and trust what you're doing."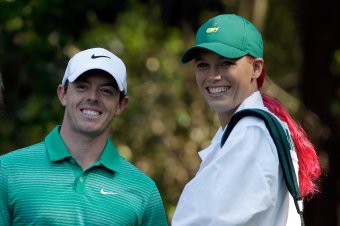 Ezra Shaw/Getty Images
Heading into this British Open, he has made sure to embrace the possibility of facing chaos from Mother Nature at Royal Liverpool.
"You've got to relish the challenge," McIlroy told The Irish Times last week. "I'm trying to adopt more of that mindset, especially for these couple of weeks a year. It's not like I haven't played well on links courses before and in links conditions."
Like a stiff wind blowing in off the Irish Sea, a win at Royal Liverpool would clear that air.
It also would give McIlroy a third major triumph, adding to his titles at the 2011 U.S. Open and the 2012 PGA Championship—and leave him a Masters victory away from completing the career Grand Slam.
Questions about the impact of breaking off his engagement to Danish tennis star Caroline Wozniacki also likely would abate, and he'd be a bigger hero than ever in the Great Britain.
So yes, McIlroy could really use a victory this week.

Tom Weir covered several golf majors as a columnist for USA Today.