All 156 players in this week's British Open have a chance to hoist the champion's Claret Jug, but only one has a shot at completing a feat that has been accomplished by only six players in the history of golf.
That's Martin Kaymer, who's seeking to join legends Bobby Jones, Gene Sarazen, Ben Hogan, Lee Trevino, Tom Watson and Tiger Woods as the only players to win the U.S. Open and British Open in the same year.
Jack Nicklaus never did it, nor did Arnold Palmer, and in the last 80 years, it's been done only four times.
If Germany's Kaymer does manage the U.S.-Brit double, he will become the first non-American to sweep these two rigorous tests back-to-back a month apart. But don't hold your breath.
Winners of the U.S. Open-British Open double

| | |
| --- | --- |
| Bobby Jones | 1926 |
| Bobby Jones | 1930 |
| Gene Sarazen | 1932 |
| Ben Hogan | 1953 |
| Lee Trevino | 1971 |
| Tom Watson | 1982 |
| Tiger Woods | 2000 |
The Golf Majors Records and Yearbook
What makes this double so rare? For starters, both of golf's marquee Opens strive to rank as the stiffest challenge on the golfing calendar year after year. Their predatory courses typically are filled with more potential disasters than an end-of-the-world movie, and one catastrophic hole can ambush anyone in the field.
At the U.S. Open, the governing USGA makes no apologies for fairways that are as slim as a supermodel's waist, nor for hole positions that might as well be on cliff edges.
Kaymer had to win his title last month on a Pinehurst No. 2 course that was cruelly remodeled with vast stretches of sand and rock. And does anything more need to be said about the difficulty of winning a U.S. Open than the fact Phil Mickelson has six second-place finishes but no championship?
But whoever survives atop the leaderboard at the U.S. Open immediately faces the task of doing it all again at the Brit. And it's the second half of the double that's the dream-crusher, as Kaymer likely will discover this week at Royal Liverpool.
The British Open traditionally is an exercise in golfing sadism, where it's considered a kindness if the rough is only knee-high.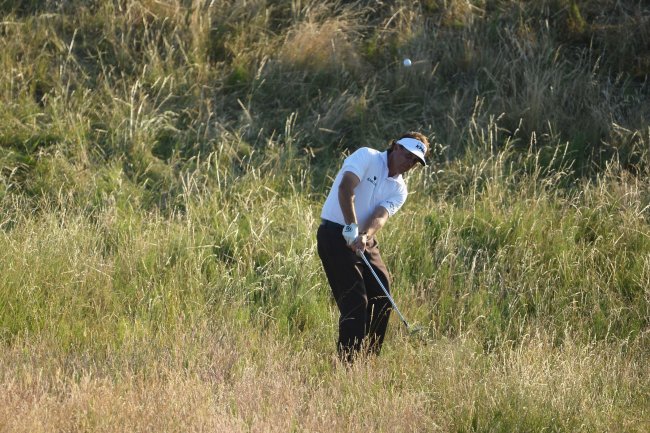 Stuart Franklin/Getty Images
Many of the courses in the British Open rotation are lined with "gorse," a tall rough that's really more like prickly shrubbery. Not only does it claim balls mercilessly, but it also slices and dices competitors who are forced to wander into it.
And it seems to beckon balls in its direction.
As Seve Ballesteros famously said at Royal Lytham and St. Annes in 1979, "I don't aim for the rough, it just goes there."
The Spaniard hit only nine fairways in four rounds at that British Open and made one incredible par while hitting out of a parking lot. But guess what? He won. So think about how much misery must have been suffered by the guys who finished at the back of the pack on a course that has more than 200 bunkers.
But the iffy aspects of the British Open don't end with the terrain. There's also the rain, especially the horizontal variety.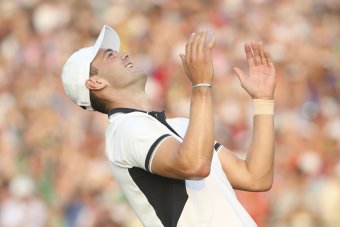 USA TODAY Sports
The joke that's heard often in the United Kingdom is that if you don't like the weather, just wait 30 minutes, and it will change. That gets a laugh from tourists, but not from golfers who get drenched with four hours of afternoon rain after watching the other half of the field play in morning calm.
That was the case for Woods in 2002 at Muirfield, when he not only was in pursuit of the U.S.-Brit double, but also the calendar Grand Slam. An afternoon storm that was a near monsoon erupted shortly after Woods began his third round and sent temperatures plunging into the 30s, winds gusting to 40 mph and scores skyrocketing.
Woods shot 81, which remains his worst round as a pro. After a birdie on No. 17, he bowed to the gallery, a humorous and magnanimous public confession that even the world's greatest golfer had been powerless in the face of angry British weather.
"It was the hardest conditions I've ever played in," Woods told ESPN.com years later. "We weren't prepared for that weather. I don't think anyone was."
If Tiger, then at the top of his game, had merely managed a round of 75, he would have been in a playoff for the championship the next day.
That's the vexing part for anyone seeking the double—the knowledge that instead of being won by the best golfer, the Claret Jug sometimes lands in the hands of a blessed competitor who was spared coping with weather that's more fickle than the vainest diva and which has more mood swings than a psychotic.
In 1987, I saw firsthand what they mean in the United Kingdom when they say you can experience all four seasons of the year in a single day. While I was covering the Brit at Muirfield, an incredible storm hit in the morning, but as is the tournament's tradition, play continued as horizontal rain lasered in off the North Sea amid gusts of 50 mph.
When the normally unflappable Nicklaus began his press conference, it took him a couple of minutes to calm down after shooting a tournament-sabotaging round of 81. Nicklaus, usually one of the great interviews in golf, began by regarding the sheltered news media with contempt.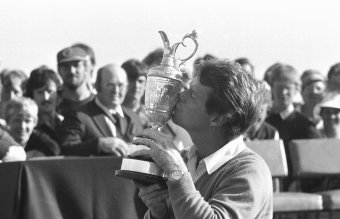 Associated Press/Associated Press
Said Nicklaus, with a distinctly bitter tone: "Have you all stayed warm and dry in here, enjoying your tea and crumpets?"
Scott Simpson, the reigning U.S. Open champion, acknowledged that his quest for the double was over after a round of 82.
"I was 8-over after six, and I was hoping to break 90," Simpson told reporters.
Gary Player, after carding a 79, had the best quip, saying, "I'm so wet I think I've shrunk a bit."
And naturally, the skies cleared around 2 p.m., just in time to make the course far more playable as the second-round leaders began parading to the first tee.
If Kaymer is to win the elusive double, he likely will need to adopt the attitude of last year's British Open champion, Phil Mickelson. Rather than pray for good weather, Mickelson embraced the prospect of getting soaked while preparing for the Brit at last week's Scottish Open.
After seeing a forecast for brutal weather last week, Mickelson told The Irish Times, "I hope it is because I would love to get out in that stuff and be able to play in it as I never get a chance to back home."
Mickelson added that he also has finally conceded defeat to the United Kingdom's relentless coastal winds and no longer tries to best them with brute force.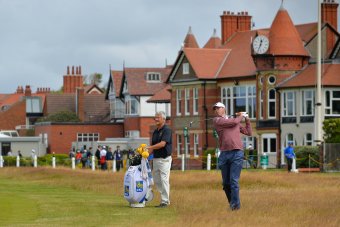 USA TODAY Sports
"Now after learning how to take more clubs, swing it easier, and let it feel like you are hitting little half-shots, I'm not fighting it because I'm not having to make full hard aggressive swings," Mickelson told the Times.
How Kaymer will be tortured at Royal Liverpool is anyone's guess, since British weather reports are about as dependable as fortune tellers.
The course will play 54 yards longer than it did when Woods won there in 2006, and several bunkers have been removed. But broken ground has been added to some areas of the rough, and getting approach shots to stick on some greens will be tougher, according to an assessment from tournament officials.
But most of all, the problem for Kaymer as he takes a shot at making history will be that it's the British Open, a tournament that never loses its appetite for gobbling up the world's greatest golfers.
Tom Weir covered several golf majors as a columnist for USA Today.