Even the biggest Tiger Woods fan has to concede that there has often been a robotic undertone to his game and his demeanor. But don't be surprised if he steps away from a shot this week, and a wave of obvious emotion sweeps across his normally steely face as the British Open returns to Royal Liverpool.
This course, in the English town of Hoylake, is where the world truly saw Woods' human side for the first time. It's where he bared a piece of his soul and sobbed unabashedly for all the world to see after he sank the putt that cemented his 11th major championship in 2006.
Just two months removed from the death of the man he's always called his mentor and best friend, tears rolled down Tiger's cheeks as he openly grieved the loss of his father, Earl Woods.
It perhaps speaks volumes about how much has changed for Tiger since then that the three people who comforted him that day are no longer in his life.
Elin Nordegren, who has since divorced him; former swing coach Hank Haney, who in recent years has made a cottage industry out of criticizing Woods; and caddie Steve Williams, the one-time confidant who held Tiger close on the 18th green as he wept, were there to console Woods in 2006.
Afterward, Tiger readily admitted he had never before been so open with his emotions on a public stage, telling reporters:
I've never done that. You know me. So I guess it's just all the things that we've gone through of late.

I guess I'm kind of the one who bottles things up a little bit and moves on, tries to deal with things in my own way.

But at that moment it just came pouring out and of all the things that my father has meant to me and the game of golf.

I just wish he could have seen it one more time.
Woods' legion of followers now have a similar feeling, a hungering for another look at the Tiger of 2006 who dominated the British Open with an 18-under score of 270.
Chris DiMarco, who was coping with the recent death of his mother, managed to finish within two strokes of Woods, but everyone else was at least five strokes back.
Woods was only 30 when he won that 11th major, a milestone Jack Nicklaus didn't reach until he was 32. Breaking Nicklaus' record of 18 majors seemed like a foregone conclusion at that point, and the only real debate was whether Woods could get it done before he turned 35.
Yes, times have changed. And given that this will be only the second tournament for Woods since his March 31 back surgery, chances are as slim as Royal Liverpool's fairways that we'll get a look at a retro Tiger this week.
But if he is to deliver the elusive 15th major victory that he's been chasing since 2008, he will have to summon what he did at Liverpool eight years ago. That week, Woods played not only some of the best golf of his remarkable career, but also some of the wisest.
The driver came out of his bag only once, as Woods went to the tee box strictly with his 2-iron and 3-wood.
On a course that was bone-dry and fast, he was content with drives that sailed a very un-Tiger-like 225 yards or so, and then rolled another 75 while staying clear of Liverpool's notorious bunkers.
Woods moved into the lead with a second-round 65 that included an eagle from 209 yards. He clinched with a final-round 67 that was tied for the best round of the day and produced another eagle.
A frustrated Jim Furyk, who finished fourth but was a distant six strokes behind Woods, told reporters that, "If you put a little heat on him he goes and makes three birdies."
Woods was so dialed in while becoming the British Open's first back-to-back winner since Tom Watson in 1982-83 that BBC Sport's Tom Fordyce described him as having "the implacable concentration of a meditating monk."
Haney, who coached Woods during six of his victories in majors, concurs. In an interview last week, the renowned swing coach told John Huggan of The Scotsman newspaper that Tiger was at an absolute peak at the 2006 Brit.
"That week was far and away the best ball-striking tournament he ever had," Haney said. "Considering the length of the approach shots he was hitting on most holes, I'm not sure anyone has ever played better than Tiger did at Hoylake."
But Haney is nowhere near as kind with his assessment of Woods' current state, telling Huggan that his former pupil is battling big troubles with a slice off the tee:
That same problem showed up in last year's Open at Muirfield. Tiger is in big trouble any time it is windy, or if the hole he is playing bends right-to-left. And if there is a left-to-right wind on a right-to-left dogleg he really has next to no chance. He has no shot in those circumstances and so virtually no hope of hitting the fairway.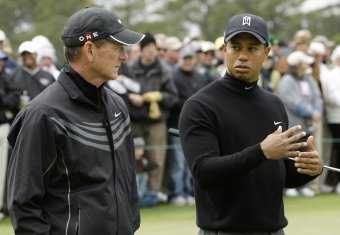 Chris O'Meara/Associated Press/Associated Press
Throughout 2006 Tiger also won with such regularity, it was as if his championship trophies were rolling off an assembly line.
He opened the year with wins at the Buick Invitational and Dubai Desert Classic, and he added two more titles before the Brit.
After the victory at Royal Liverpool, he claimed another major at the PGA Championship and put together a PGA Tour winning streak that reached seven tournaments before it ended in 2007.
The only serious hiccup of 2006 came shortly after his father's death from cancer, when he missed the cut at the U.S. Open, the first time as a pro that Woods failed to reach the weekend at a major.
Eight years later, he's in a vastly different circumstance as he returns to Royal Liverpool.
Last month's Quicken Loans National, where he missed the cut, is his only tourney since surgery. And even though he will aim to play his way back into competitive shape, he elected not to enter the Greenbrier Classic or the Scottish Open to prepare for the Brit.
Woods hasn't even competed enough to be included in the PGA statistical rankings.
That is perhaps a good thing for his image, since his woeful numbers include driving 289.6 yards and hitting 56.48 percent of greens in regulation.
But once he begins play, Tiger no doubt will reflect back on 2006 and remember how his father's memory fueled him to victory there once before. And perhaps that, at least, will give him a ghost of a chance.
Tom Weir covered several majors as a columnist for USA Today.