Tiger Woods no doubt can afford the best medical advice in the world.
My question: Is he following it?
Love or hate Tiger, it's welcomed news for golf fans that he'll tee it up at Congressional next week and play in the Quicken Loans National that's tied to his foundation. Golf simply shines brighter when he's in the field, no matter whether he's on the leaderboard or fighting to make the cut.
But is Woods returning too soon and risking further injury that will lead to yet another sabbatical?
Only Tiger knows, and if he is rushing back there's virtually no chance he'll own up to it. That's just not his way.
So we'll just have to wait and see if he winces after taking big swings, or hobbles out of the rough after generating too much torque from an awkward stance. But remember, this is a serious back injury he's recuperating from, and those can be as vexing as playing Amen Corner.
Tiger's announcement acknowledged that his A-game likely will be missing at Congressional.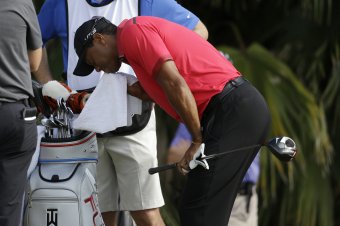 Lynne Sladky/Associated Press
"I've just started to hit full shots but it's time to take the next step," said Tiger's statement. "I will be a bit rusty but I want to play myself back into competitive shape. Excited for the challenge ahead."
Are a few days of full swings enough of a test, even for the world's greatest golfer? And is he "rusty" in the sense of sitting around too much, or rusty like an old hinge that's ready to snap in half?
Expect Tiger to wear his brightest smile next week, but the real question is whether he made this decision after staring at the calendar.
The British Open at Royal Liverpool is just three weeks away, and every time Woods misses a major it threatens to push his one constant golfing goal out of reach.
At the age of 38, and with a back and knees that sometimes act like they're pushing 60, Woods is rapidly running out of time to break Jack Nicklaus' record of 18 majors. Woods knows it, we all know it, and don't think for a second that Nicklaus doesn't know it.
But given the dynamics of what it will take for Woods to win five more majors and grasp his Holy Grail he really can't be blamed if he obsesses about being in each and every grand slam event.
Woods' quest is different from most chases for career records in sports.
Is Tiger Woods rushing back too soon?
For Peyton Manning to catch Brett Favre's career records he needs to play as many games as possible, but there's no singular Sunday that's more vital than the others. The yardage and the touchdowns all count, no matter what month they're amassed in.
It was the same when Pete Rose chased down Ty Cobb's record for career hits, and when Kareem Abdul-Jabbar ousted Wilt Chamberlain as basketball's all-time leading scorer.
But the tormenting fact for Tiger is that he can be the greatest golfer of the year and still not budge closer in his pursuit of Nicklaus.
That was the case during last season's banner year. Woods was the 2013 PGA Tour Player of the Year, was golf's leading money winner, had five tournament victories and also copped the Vardon Trophy for best scoring average.
But no major.
That made five consecutive years that Woods has been shut out in golf's marquee events, and with him already missing the Masters and the U.S. Open this year 2014 is threatening to make it six straight.
It's understandable if this year's British Open is calling to Tiger like a siren who can't be ignored. Royal Liverpool is where he won his last British Open, in 2006, and he flat-out tore up the course.
Woods won with a score of 18-under. Chris DiMarco was two shots back, but no one else was closer than five strokes. Woods also claimed it in grand style, using his driver only once.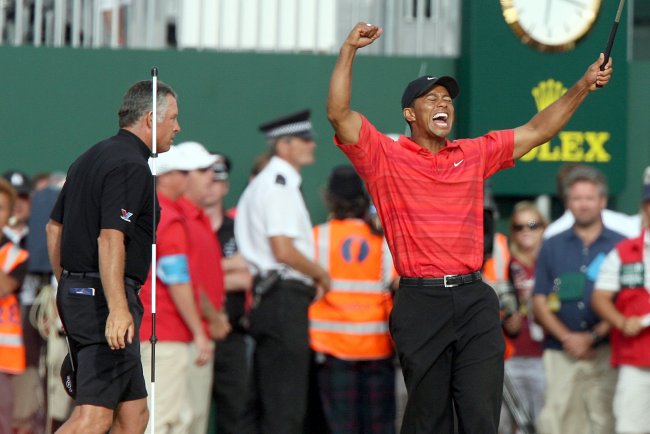 JON SUPER/Associated Press
Ah, those were the days, right Tiger fans?
But Tiger's gleaming performance at Royal Liverpool in 2006 is irrelevant to what he can make happen there in 2014. He's only about 80 days removed from being on the operating table for back surgery, and he hasn't hit a ball in tournament play since March 9.
Winning at Liverpool would be a borderline miracle, and perhaps an even more improbable major victory than when he won the 2008 U.S. Open on one good leg.
Woods could play four excellent rounds at Liverpool and still not get a whiff of the lead, given the way Martin Kaymer is playing the last couple of months.
Maybe he's pushing himself with an eye to getting on the U.S. team for the Ryder Cup. Maybe he just doesn't have the appetite for any more practice rounds.
But this isn't just about Tiger. He's the face of golf, and also its golden goose, and his series of physical setbacks has been as bad for the sport as it has been for his game. Per Scooby Axin of Golf.com, the final round of the U.S. Open drew a 3.3 rating, which will likely become the tournament's lowest Sunday figure on record. One or two more injuries and the public may give up on him, and golf's current dip in television ratings could turn into a mudslide.
And let's remember one thing about Tiger: In addition to being the world's greatest golfer for the last two decades it also certainly seems like he's been the one who has been injured the most often.
That's the price of making shots no one else attempts, with force and power that's matched by Bubba Watson and not many others.
Those injuries have been mounting up and getting more serious in nature, and there's always the chance that the next one could be the last one.
So, Tiger, in addition to paying for the best medical advice are you also taking the time to listen to it?
Tom Weir covered several golf majors as a columnist for USA Today.