It isn't often that we've seen German athletes dominate their sport while competing on American soil, but Martin Kaymer appears destined to join that very select group with a victory at the U.S. Open.
The Dusseldorf-born 29-year-old wasn't nearly as overwhelming in Saturday's third round as he was while shooting consecutive rounds of 65 the first two days. Yet, despite a two-over round of 72, Kaymer still walked off the course with a five-stroke lead on a day when the USGA had a particularly sadistic attitude as it set hole placements at Pinehurst.
If Kaymer holds on Sunday, he'll be in fine company among his countrymen.
There's Dirk Nowitzki, of course, the MVP of the 2011 NBA Finals. Add Steffi Graf, who won five of her 22 Grand Slam singles titles in tennis at the U.S. Open and Boris Becker, another German who claimed tennis' U.S. Open.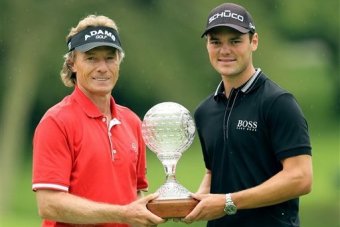 Themba Hadebe/Associated Press/Associated Press
But the German athlete who no doubt is on Kaymer's mind as he braces for Sunday's drama is Bernhard Langer, who won the Masters twice in 1985 and 1993.
Langer was the first German to win a golf major and remained the only one until Kaymer eked out a PGA Championship in 2010 in a three-hole playoff with Bubba Watson.
That victory didn't exactly make Kaymer a household name, given that he sealed the championship with a bogey, laying up and playing it safe after Watson hit into water.
But now it's time to take a revised look at Kaymer, who appears ready to take another run at being the world No. 1, a distinction he held for eight weeks in early 2011. He has attributed his rise back up golf's ladder in part to a conversation he had with Langer at the 2012 Ryder Cup, where Kaymer sank the clinching putt for the victorious Europeans.
"He said I had to relax, to become involved in the team-room atmosphere, and accept that I was an equal member of the team," Kaymer told the British newspaper The Independent. "He said it was important to build relationships with the other guys, because that would help me play great golf, knowing that we depended on each other. And he told me that I must stop worrying about my game so much, because I was getting in my own way."
How will Martin Kaymer fare on Sunday?
Kaymer has since only gotten in the way of other golfers' pursuit of big wins. By winning the Players Championship in May, Kaymer set himself up for the rare double of winning marquee titles on Mother's Day and Father's Day in the same year.
His TPC victory included a nine-under opening round of 63 that tied the course record and foreshadowed his explosive start at the Open, where his 130 set the record for the lowest 36-hole score.
And if Kaymer holds on Sunday, look for sporting goods stores to be inundated with requests for the "tennis ball necklace" that Kaymer wears while warming up.
Kaymer uses it to keep a ball in place between his forearms.
"It's just for your back swing, that you keep your arms together and that everything is very much connected," Kaymer told Golf Digest during the TPC, adding, "It's a smart way of being lazy."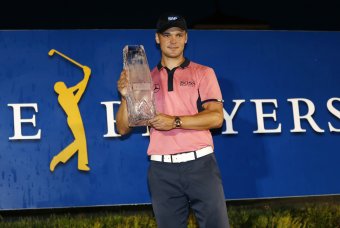 USA TODAY Sports
Saturday, Kaymer wore the same pink shirt he had on for the final round of the Players Championship, but with a twist. Instead of the black shirt and black pants he had at Sawgrass, he went with white. Maybe he's trying to look more like the good guy, especially with Pinehurst crowds rooting harder for Americans.
That definitely will be the case on Sunday, when Kaymer's closest competitors going in will be Americans Rickie Fowler and Erik Compton.
Fowler is the type of young dynamo golf needs to have emerge as it prepares for life without Tiger Woods. And Compton is an incredible feel-good story, the guy who's made the PGA Tour despite having two heart transplants.
Could one of them turn Kaymer into a golfing version of Max Schmeling, the German boxer and heavyweight champion who famously was a first-round knockout victim when he fought Joe Louis for the title at Yankee Stadium in 1938?
Doubtful. Very doubtful.
Kaymer wasn't invincible on Saturday, but he was as good as he needed to be. He made a brilliant approach shot out of a horrible lie on No. 4 for a great bogey save that averted potential disaster, then came right back with an eagle on No. 5.
That was a clutch moment for Kaymer. He missed only three fairways during the first two rounds but was errant on that many on his first four holes Saturday before getting back on track.
Eric Gay/Associated Press/Associated Press
Fowler conceded Kaymer will be tough to catch on Sunday.
"If he goes out and posts double digits, it's going to be impossible for us to catch him," Fowler told reporters at his Saturday press conference. "It's like a second tournament going on. See what Martin does. He's obviously on top of his game and playing well."
Fowler likened Kaymer's performance to what Watson did at the Masters, when he "was so far out in front that you can't focus on him."
Adding to the difficulty of reeling in the German is the U.S. Open tradition of making the course more difficult as the tournament plays on. That's appeared to be the case so far. There were 15 scores under par after the first round, 13 after the second and only six by the close of business on Saturday.
And if the course plays tougher on Sunday, that will just add to the steepness of what already is a very uphill task.
Tom Weir covered several golf majors as a columnist for USA Today.