Given how sandy the U.S. Open is this year, perhaps it makes sense that there was an apparent desert mirage effect as the world's greatest golfers made their way around the storied Pinehurst No. 2 course on Thursday.
The redesigned North Carolina course, hosting its third U.S. Open in 16 years, actually played fairly easy.
The leaderboard was filled with big names that broke par. That wasn't to be expected, considering that Payne Stewart shot only one under while winning the 1999 Open at Pinehurst and New Zealand's Michael Campbell copped the trophy there in 2005 at even par.
Yet on Thursday, the marquee players who finished the day in red numbers included Martin Kaymer's sizzling 65 and included Graeme McDowell, Matt Kuchar, Brandt Snedeker, Jordan Spieth and Dustin Johnson.
And even Phil Mickelson, despite his terrible start this year and the insider trading, got an even-par 70.
Don't expect that to continue.
Pinehurst wouldn't necessarily make a good shooting location for a remake of Dune, but its beach atmosphere does figure to make the 156-man field squirm and wish for traditional rough before this thing is over.
And what does this mean for you, Mr. Average Golfer? It means you should watch closely and pick up whatever tips you can from the pros on how to play a dehydrated course. That's because despite all of Pinehurst No. 2's history, it's really the course of the future.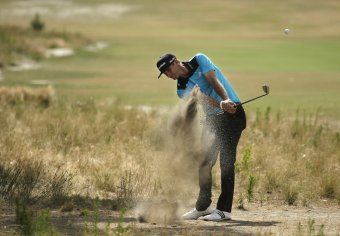 Charlie Riedel/Associated Press/Associated Press
Many golfers look at Pinehurst and likely think that, at 7,562 yards, it's an excruciatingly long par-70 course. But for ecologically minded souls, the gleaming statistic is that the dramatic overhaul with native vegetation means Pinehurst now survives on 15 million gallons of water annually, down from 55 million gallons.
No matter where you stand on global warming and tree hugging, that's the future. Water bills, environmental regulations and common sense are going to alter course design.
At Pinehurst No. 2, that has meant tearing out 35 acres of rough grass, the kind golf fans are accustomed to seeing agonize players at the Open.
It has been replaced with 200,000 wiregrass plants and other plants that might even fool a Scotsman into thinking he's playing somewhere near Edinburgh.
Los Angeles Times columnist Bill Dwyre offered this apt description of Pinehurst No. 2:
There are more scraggly-looking green things than in a Scotts Weed & Feed commercial . . . Standing on the tees and looking down the fairways reminds you of the dreaded neighbor who never waters and never mows and considers dandelions decorative.
The hosting USGA expects some blowback.
"I think they're going to turn it on and say, 'Did I tune into a British Open?' " USGA executive director Mike Davis told the Washington Post.
Even course architect Bill Coore, who oversaw the overhaul along with Ben Crenshaw, told the Post: "People could look at this on television and go, 'Oh my God, Pinehurst quit maintaining the course.' "
Meanwhile, the key thing to remember about all those sandy patches on this North Carolina coastal course is that they aren't considered bunkers or hazards. That means they won't be raked clean and players will likely face some funky lies this weekend.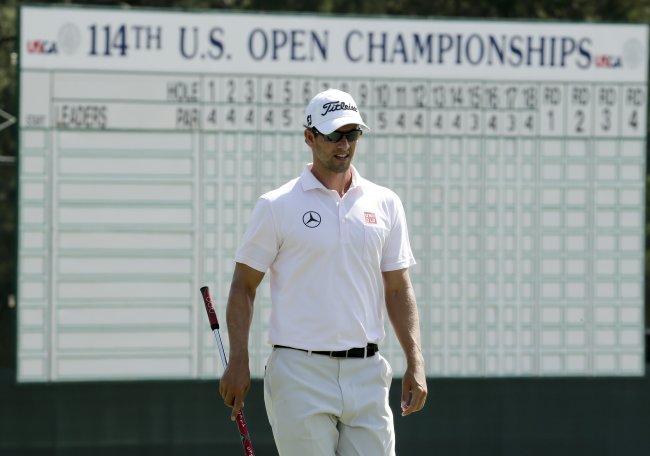 Charles Riedel/Associated Press/Associated Press
Referencing the possibility of balls landing in deep footprints, World No. 1 Adam Scott told The New York Times, "There will be some very unlucky outcomes. It's not something we're used to seeing. But golf is fickle. Many of us might learn that once again during the tournament."
Crenshaw told the Times that, indeed, "Luck will come into play," but added that "there's always luck in golf, and if you hit the ball away from the fairway, there is usually supposed to be some penalty."
But Pinehurst wasn't terribly punishing during Thursday's first round, aside from the six-over round of 76 by Masters champion Bubba Watson, whose challenges included having a ball land in a footprint on the 18th hole.
"It's a tough golf course," Watson readily conceded at his press conference afterward. "The golf course is better than me right now. Come out tomorrow and try to play better, that's it. If I don't, I'll get ready for next week."
Others were a lot more fortunate, as they played early on watered greens and gained an advantage in scoring.
"I was pleasantly surprised. It was quite playable," Matt Kuchar told reporters at his press conference after opening with a 69. "I think it's in fantastic condition at the moment. Good shots are staying on the green. Good shots are staying good shots."
That could change on Pinehurst's notorious "turtle back" greens. The greens are the one element that were largely untouched by the Coore and Crenshaw redesign, with only two of the 18 slightly modified.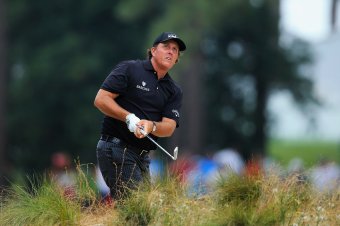 David Cannon/Getty Images
Mickelson, trying to complete his career Grand Slam with a U.S. Open victory, said his comfort zone at Pinehurst was similar to what he feels at his favorite major, the Masters.
Said Mickelson at his post-round press conference:
But this golf course is a course where I get a similar feeling that I get at Augusta where I don't have to be perfect. I can miss shots. I can miss greens and still get up and down. I always have a chance. There's not the hack-it-out-rough. It is challenging. There are difficult shots, but they're manageable and hittable if you pull them off.
McDowell, the 2010 U.S. Open champion, predicted that by tournament's end there will be very few birdies witnessed:

You aren't going to make 20 birdies out here, it's simple as that. Like I said, I think the winner of this tournament is going to make 10 to 12 birdies, maximum. That's only three a round. That's what I mean by preparing yourself mentally for the fact that you're just not going to get a pat on the back very often in this golf course.
So, despite Thursday's low scores, be prepared for Pinehurst to turn into a beach bully and kick sand in everyone's face.
Tom Weir covered several golf majors as a columnist for USA Today.