No matter how calm and optimistic he sounds, you have to wonder what's really going on in Phil Mickelson's mind this week as play awaits at the U.S. Open.
Does he feel eternally jinxed at this major after finishing second a record six times?
Does that jinx feel particularly alive since he'll be playing at Pinehurst No. 2, the course where he let his first chance at a U.S. Open victory slip away in 1999?
Is he looking over his shoulder, wondering whether FBI officials will descend upon him again, as they did at the Memorial? And with the feds wanting to question him about potential insider trading violations, is he having nightmares where he's hounded by J. Edgar Hoover and Eliot Ness?
Does he truly have any confidence going into this U.S. Open, given that he's playing the worst golf of his career and still doesn't have a top-10 finish this season?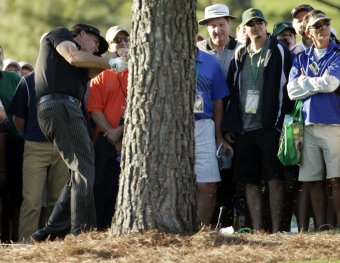 Charlie Riedel/Associated Press/Associated Press
Is he sure he can play four solid rounds after withdrawing due to a bad back at the Farmers Insurance Open in January and a pulled side muscle at the Texas Open in March?
Is he regretting making this the week he does a high-profile promotion for Callaway, where some lucky person will get the equivalent of how much money Mickelson wins at the Open? Did he really need that distraction this week? What if he misses a $100,000 putt and has to hear about it?
And is he really, really wishing that Tiger Woods was healthy and on hand to deflect some of the attention at a U.S. Open that might be all about Lefty?
"I'm just trying to win a U.S. Open," Mickelson told Fox last week. "Right now I'm just trying to get my game ready and finish off that Grand Slam. ... That's all I can worry about for now."
Ah, the career Grand Slam. Mickelson's trophy case is just one piece of hardware away from completing it and joining the very select company of Woods, Jack Nicklaus, Gary Player, Ben Hogan and Gene Sarazen.
To do so he'll need to pull together a game that has been in shambles on a course that the USGA hopes will cause at least a few migraines.
For Mickelson, it's a test of self-esteem.
"I would look at myself -- I would look at my career -- in a whole different light if I were able to get that fourth one," Mickelson told Fox.
How will Phil Mickelson perform at the U.S. Open?
But this clearly isn't the most opportune time to be self-administering an acid test.
In addition to failing to get into the hunt for a single title this year, Mickelson also has been at his worst when he needed his game to be at its best.
In April he failed to make the cut at what has been his best major, the Masters, where he's won three times. The last time Mickelson wasn't playing on Saturday and Sunday at Augusta was way back in 1997.
In May he again was ousted early at The Players Championship, and the combination of his withdrawals and poor play has meant he's missed a cut in every month so far this year.
Will the U.S. Open keep that streak going in June? Curtis Strange, the last player to win repeat U.S. Opens (1988-89), sees this as being a very difficult tournament for Mickelson.
Interviewed by the Milwaukee Journal Sentinel, Strange said Mickelson "could certainly contend" but added these cautions regarding Lefty's game and outside pressures:
"But I don't see him. . . hitting on all cylinders well enough to win. That's because he hasn't been playing well, and this is on top of him. I don't care if he's innocent, and I really believe he probably is, but it's still weighing on top of you, and it's in the press and you see it every day. It's not good timing for Phil Mickelson."
Mickelson hasn't been charged with any wrongdoing, and insider trading cases are generally regarded as pretty tough to prove. He has assured the public his image will remain pristine when all is said and done.
"I have done absolutely nothing wrong," Mickelson said at a press conference during the Memorial. "And that's why I've been fully cooperating with the FBI agents, and I'm happy to do so in the future, too, until this gets resolved. And hopefully it will be soon, but for right now I can't really talk much about it."
You have to respect that confident stance regarding his possible legal issues, but Mickelson hasn't shown similar confidence on the course. He has changed putters during this rocky season and also altered his putting grip. His plan this week is to go with the claw grip, which is perhaps fitting for someone who needs to claw his way back into competition.
But for what it's worth, Fox points out that Mickelson has tended to be off at the U.S. Open the year after each of his previous runner-up finishes. He tied for fourth in 2010, but in his other "year-after" performances he has tied for 16th in 2000, 55th in 2003, 33rd in 2005 and missed the cut in 2007. Not a great omen.
Yet he's hanging onto his optimism and his sense of humor.
Tuesday, Mickelson told reporters (via USA Today) that he feels "as good about my game today as I have all year," but drolly added that, "It's not saying a lot, because I haven't played well all year..."
And, given all that's going on, making that change this week could be one of the toughest tasks of his career.
Tom Weir covered several golf majors as a columnist for USA Today.