Let's start with a simple truth about horse racing: It's a sometimes dynamic sport that draws crowds of more than 100,000 to each of its Triple Crown events but is largely ignored the rest of the year.
So let's think twice before pressure from those drop-in fans forces a radical change in how horse racing's marquee events are run.
The latest clamor for change began the second California Chrome failed to close the deal on his Triple Crown bid Saturday at the Belmont Stakes.
Chrome co-owner Steve Coburn decried seeing his horse being beaten by Tonalist, who hadn't run at the Kentucky Derby or Preakness Stakes but jumped in to claim the third jewel of the Triple Crown series.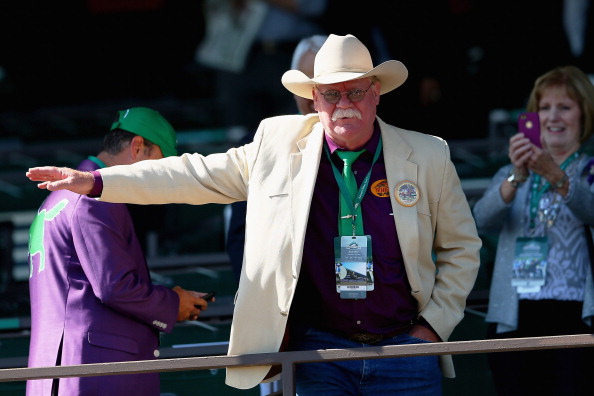 Mike Ehrmann/Getty Images
Coburn said Chrome had been beaten by an act of cowardice, even though the reason Tonalist didn't run in the Derby was a throat infection that kept him from qualifying.
But with horse racing's fair-weather fans denied seeing a Triple Crown winner for a 36th consecutive year, Coburn's cause immediately picked up steam.
Christine Brennan's column for USA Today referred to the Triple Crown's system as "absolutely ridiculous," "foolishness" and "absurd." She said it threatened to make horse racing "sink into oblivion."
But it's doubtful that any of this outrage would be boiling if Real Quiet hadn't missed out by just a nose in his 1998 Triple Crown bid, or if Smarty Jones' try in 2004 hadn't been undone by 36-to-1 longshot Birdstone.
The public wants a Triple Crown winner, and the frustration of waiting 36 years is starting to make outsiders think they know how to fix a sport that will soon be off their radar—at least until next year's Derby.
But what if other sports had this same kind of reaction to seeing decades pass between historic accomplishments?
Which of these accomplishments is the toughest to complete?
No one in golf has ever won the modern version of the Grand Slam—claiming the Masters, U.S. Open, British Open and PGA Championship titles in a single year.
Tiger Woods strung victories together in all four of those majors in 2000-2001 for the "Tiger Slam," but no one has swept them in a calendar year. And Bobby Jones' Grand Slam of 1930 came four years before the Masters began, and it included victories in the U.S. Amateur and British Amateur.
But no one suggests that a golfer must play in the year's first three majors in order to be eligible for the final one, the PGA.
Tennis hasn't seen a man sweep its four Grand Slam events since 1969, when Rod Laver took the Australian Open, the French Open, Wimbledon and the U.S. Open. That's 45 years ago, but there's no outcry to make it easier for Rafael Nadal, Roger Federer or Novak Djokovic to duplicate the feat.
In baseball, 45 years also is how much time passed between Carl Yastrzemski winning his Triple Crown in 1967 and Miguel Cabrera ending the drought in 2012. And both of them did their damage in the American League, which means National League fans haven't seen a Triple Crown winner since Joe Medwick in 1937—77 years ago.
Compared to that, horse racing's Triple Crown drought is in its relative infancy.
Personally, I'd like to see horse racing tinker ever so slightly with the Triple Crown and push the break between the Derby and Preakness to three weeks, instead of two. That means the three races would be run over the course of six weeks instead of the current five.
That would be a slight concession to the fact that modern breeding emphasizes speed over endurance.
The Maryland Jockey Club, which controls the Preakness, is lobbying for the Derby to remain on the first Saturday in May, the Preakness to move to the first Saturday in June, and the Belmont to be run in early July.
I think that stretches the schedule too far and invites howls of protest from the traditionalists. That plan also runs the risk of making things appear to be easier while still not necessarily producing a Triple Crown winner.
Rick Violette Jr., trainer of sixth-place Belmont finisher Samraat, cautions that more rest doesn't guarantee a Triple Crown winner, telling John Jeansonne of Newsday:
It's difficult enough to keep a horse at the top of his game for five weeks, and if you start stretching it out to 12 weeks, it gets much more difficult to maintain that high level -- even with the rest in between. And it would change the whole dynamic, like, let's make the basketball net nine feet. So, if I had a vote? Leave it alone.
Why chance having the Triple Crown's luster and prestige diminished?
When Secretariat, Seattle Slew and Affirmed stormed to their three Triple Crowns between 1973 and 1978, it was considered a golden age of horse racing. If the sport had a similar spike after a substantial format change, it would look orchestrated.
Samraat owner Len Riggio told Jeansonne:
If we get a spate of Triple Crown winners, everyone will say, 'Aw, it's easy.' You never have a big enough statistical sample to say one way or another. Maybe this way gives an advantage to the horse that's the best, too. I'm not a traditionalist. But I would leave this one alone.
The only living trainer to win the Triple Crown is Seattle Slew's Billy Turner, and he opposes messing with what it takes to create a legendary horse.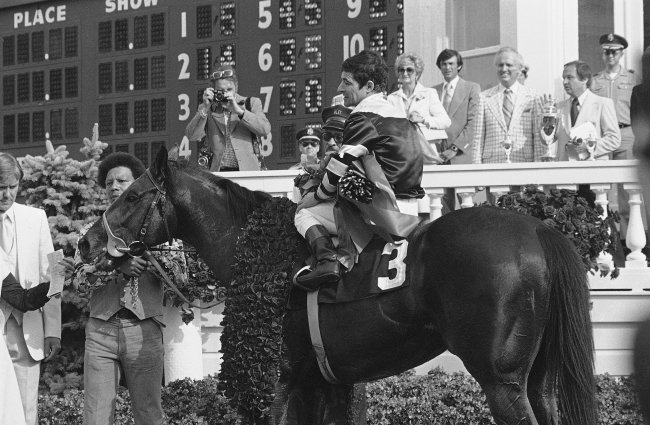 Anonymous/Associated Press/Associated Press
"You can change it, but you'll have to call it something else," Turner told Sports Illustrated's Tim Layden.
Dale Romans, trainer of Medal Count, who finished in a dead-heat with California Chrome for fourth place Saturday, is of a similar mind. He told Layden that, "You don't make it easier, just because it hasn't been done."
Horse racing's occasional fans also need to get over the conspiracy theories that today's horses are somehow being sabotaged.
As Layden points out, only three horses ran all three Triple Crown races in each of the years that Secretariat and Seattle Slew won. And when Affirmed won, only rival Alydar was on the track for all three.
And no once complained when Woody Stephens made his mark as a training legend with five consecutive Belmont winners from 1982-86. Swale, Stephens' 1984 winner, was the only one of the five to race all three Triple Crown races.
So it's no surprise that Patrice Wolfson, co-owner of Affirmed, was adamant during a teleconference with news media last week that the Triple Crown process should be left untouched.
He told reporters:
It would be just be awful. If they changed it, it would invalidate it. It's such a wonderful, unique set of races, the timing is perfect. The horse has to be up to the challenge. It's super the way it is. Nobody should think of ever changing it under any circumstance.
All of those voices that oppose change come from people who are part of horse racing every day—getting up before dawn for workouts and living with the minute-to-minute mood swings of the biggest athletes on the face of the planet.
As for horse racing's drive-by fans, they'll still drop in again next year—full of hope and ready to dream again.

Tom Weir covered numerous Triple Crown races as a columnist for USA Today.