No sports fans are more conditioned to deal with an upsetting loss than those who follow horse racing. They've all torn up betting tickets they were certain would pay off, and they all know they may go to their graves without seeing another Triple Crown winner.
But for many of those fans there was a very bitter edge to seeing California Chrome finish out of the money at the Belmont Stakes on Saturday, as his bid to claim the Triple Crown went totally bust.
Thanks to California Chrome co-owner Steve Coburn, this Triple Crown disappointment was far harsher than the other 35 times it's been felt since Affirmed was the last horse to turn the nation-pleasing trick, in 1978.
Coburn, who's every bit as void of elitist ways as is his horse's lackluster bloodline, called out the thoroughbred industry, saying his steed was done in by the cowardice of competing owners.
In his post-race interview on NBC, Coburn railed against the fact that owners and trainers can pick and choose which Triple Crown races they want to enter, and which ones they want to sit out while their animal regroups.
It was a predictable and bombastic reaction from a man who likely lost millions of dollars in stud fees because Chrome was beaten in Belmont's 1 1/2-mile test by Tonalist, who was running his only Triple Crown race.
"I'm 61, and I'll never see another Triple Crown winner, because of the way they run these races," an angry Coburn told NBC.
He added, "This is not fair to those other horses who have run their guts out," and he condemned the pick-and-choose approach to Triple Crown races as "the coward's way out."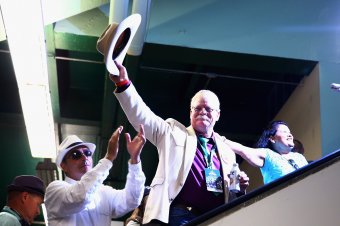 Streeter Lecka/Getty Images
Coburn has a point. In essence, Tonalist's scheduling was like showing up at the Final Four without playing any early-round games and then stealing the show.
Yet there's hardly anything new about that. According to NBC, this was the fifth time in eight years that the Belmont winner was a "fresh shooter," a horse that skipped either the Kentucky Derby or the Preakness Stakes, or both.
What made it different was Coburn, the California guy who has worn his lucky cowboy hat for the television cameras the last five weeks. He's an everyman kind of guy, not a tradition-bound member of his sport's aristocracy.
Maybe his tirade will hit home with horse racing's leadership. But if it does, the change we're most likely to see is spreading the Triple Crown races over six weeks instead of five.
As for the chances of making the Triple Crown an all-or-nothing affair where a horse must be all-in for all three races, that's not going to happen. These four-legged athletes are too injury-prone and have too much money invested in them to mandate they take on three long races in five short weeks or else.
Does Steve Coburn have a legitimate gripe about the way the Triple Crown is run?
And it's not as if California Chrome was beaten by a nose at the Belmont. At the top of the homestretch it was obvious his inventory of push-button moves had been depleted while winning the Derby and the Preakness.
California Chrome never fired in the last quarter-mile, and he looked a whole lot like just an average horse, not one who was standing on the doorstep of history.
Jockey Victor Espinoza is going to take some heat for the decisions he made while guiding Chrome around the longest dirt track in North America, and rightly so.
Chrome broke beautifully from the gate, just as he did at the Derby and Preakness. But instead of keeping his horse at the front of the pack, Espinoza settled him in behind traffic, where California Chrome has shown signs of discomfort in some past races.
That might have been OK, given that the length of the Belmont Stakes gave Espinoza plenty of time to work his way to the front. But instead of showing patience, Espinoza got antsy while navigating the final turn and swung his horse wide, way wide, out into the fourth lane of equine traffic.
That meant Chrome was adding a ton of punishing yards to what already was going to be the longest race of his life.
It was no wonder he looked like he was tired and just going through the motions as he struggled to the wire.
"Today he was a little flat," Espinoza correctly told NBC immediately after the race. "He just didn't have it today."
The final irony was that Espinoza, in a last-ditch effort to spur his mount to victory, vigorously went to a left-handed whip down the homestretch.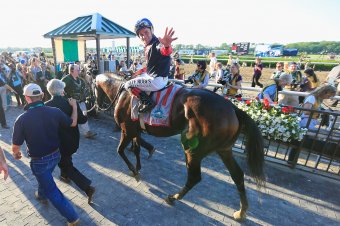 Rob Carr/Getty Images
That's the same tactic that was used one other notable time at Belmont.
In 1978, Affirmed felt a left-handed whip from jockey Steve Cauthen, and it appeared to coax the final surge he needed to outlast Alydar and complete his Triple Crown sweep.
But it had no visible effect on California Chrome.
And that's the bottom line. The great ones, those 11 horses who have won the Triple Crown, faced down a variety of adversities while guaranteeing their legacy.
Chrome had his chance and in the end simply couldn't find the extra gear he needed.
Maybe, because of how his owner reacted, he'll become known as the horse whose defeat caused thoroughbred racing to rethink how the Triple Crown races are run.
But for now he's just another of the horses who had his shot at eternal fame and came up one race short.
Tom Weir covered numerous Triple Crown races as a columnist for USA Today.