Thirty-six years. That's how long horse racing has gone without a Triple Crown winner, easily the longest drought since Sir Barton became the first thoroughbred to sweep the Kentucky Derby, Preakness Stakes and Belmont Stakes in 1919.
With such a long stretch, it's natural to ask how can this be so hard? Nobody in sports goes 0-36, do they?
Yet this Triple Crown drought already has stretched a decade more than the previous record 25 years that passed between Citation winning in 1948 and Secretariat capturing the crown and the nation's imagination in 1973.
Why so long? There are plenty of explanations, including good ol' dumb luck, but here are some others:
---Update---
California Chrome tied for fourth place at the 2014 Belmont Stakes, making him the 13th horse since 1978 to win both the Kentucky Derby and the Preakness Stakes before being unable to secure American horse racing's third jewel.
Tonalist won at Belmont while Commissioner took second and General a Rod landed in third to deny Chrome's bid to make history.
---End of Update---
The Distance
This is the big whammy. Horses simply aren't asked to run 1 1/2 miles anymore—except at the Belmont.
It is the only Grade 1 stakes race in America which goes that long. And if it weren't steeped in tradition, the Belmont might have been shortened by now, as has been done with other prestigious races like the Woodward Stakes and the Jockey Club Cup at Belmont.
The added factor is that horses in the Belmont field are being asked to run the longest race of their careers as three-year-olds.
These horses are only halfway through their second year of racing, and yet they are facing their greatest physical test. It's a little like asking a rookie pitcher to go the distance in a 15-inning game.
The Schedule
There would be no way that these three long races would get crammed into a five-week period if the Triple Crown were being created today. Today's horses almost always get four weeks of rest between races, and most races are a mile—with a few here and there that go 1 1/8 miles.
In the Triple Crown series, the distances are 1 1/4 miles at the Derby, 1 3/16 miles at the Preakness and 1 1/2 miles at the Belmont.
Remember that pitching analogy above? The Triple Crown schedule is like asking a young arm to come back on three days rest, two times in a row, and not get any help from the bullpen.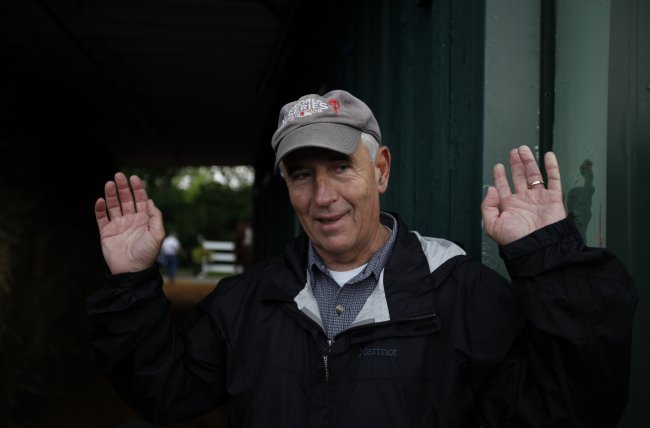 Matt Slocum/Associated Press/Associated Press
Should the Triple Crown races be spaced further apart to make it easier?
There has been discussion of expanding the gap between the Derby and the Preakness to three weeks, and Maryland Jockey Club president Tom Chuckas has championed that cause. But if it happens, the traditionalists will no doubt holler that future Triple Crown winners be given an asterisk.
Among those traditionalists is trainer Nick Zito, who twice has won the Belmont with a horse that upset a Triple Crown bid. The Star-Ledger columnist Jerry Izenberg quotes Zito as once telling him, "Hey, it's supposed to be hard. That's why they call it the Triple Crown."
The Track
Belmont's 1 1/2-mile track is the longest thoroughbred dirt track in North America, and the bigger oval might be a little disorienting for some four-legged creatures of habit.
If a horse is accustomed to making its move at the top of the final turn, that could be a fatal surge at Belmont. The finish line is still a half-mile away at that point, and the homestretch may seem interminable.
Belmont Park is nicknamed "Big Sandy" for good reason.
Its dirt is mixed with a hefty dose of sand due to heavy rains and humidity in the area. That softer base means horses' hoofs dig deeper into the track.
Remember the first time you tried to run in thick sand at the beach? That's an adjustment that will have to be made Saturday by horses that are running their first race at Belmont, and California Chrome will be one of them.
Fresh Competition
There's nothing illegal or unethical about the losing Kentucky Derby horses who skipped the Preakness in order to take fresh aim at the Belmont. But the last three Triple Crown winners didn't face that kind of strategy from their top rivals.
Sham, Secretariat's rival in 1973, ran all three races and was the Derby and Preakness runner-up.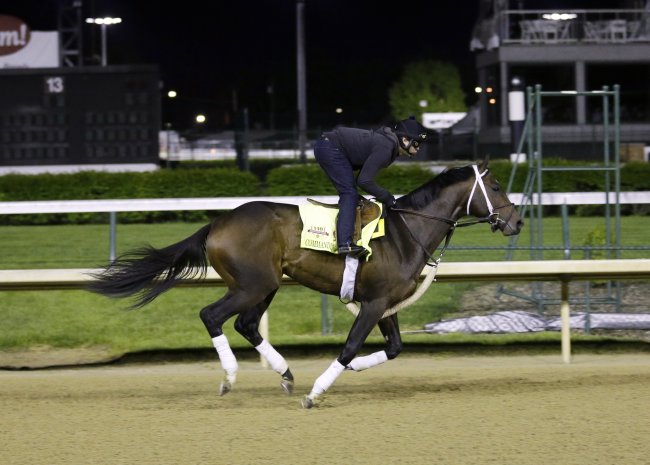 Morry Gash/Associated Press/Associated Press
Seattle Slew's prime opposition in 1977 came from Run Dusty Run—the Derby and Belmont runner-up who also finished third at the Preakness.
And Affirmed spent almost the entirety of his 1978 Triple Crown campaign in a neck-and-neck duel with Alydar, the only time the same horses have finished first and second in all three races.
This year, California Chrome's top four competitors from the Derby all sat out the Preakness to sharpen their preparations for the Belmont. Those four are Commanding Curve (second at the Derby), Danza (third), Wicked Strong (fourth) and Samraat (fifth).
According to Dan Duggan of NJ.com, seven Belmont winners since 2000 have been Derby horses that skipped the Preakness and then came up big in New York.
It won't be surprising if 2014 produces another.
Sometimes the Best Horse Was Beaten at the Derby
With so much riding on the Kentucky Derby, the field is always jam-packed (with as many as 20 horses in the race). In 2014, there were 19 horses making the mad dash for position out of the starting gate.
That makes the Derby more of a crapshoot than any other race, and sometimes the losers can rightfully claim they were beaten more by circumstance and gridlock than by talent.
Risen Star was a good example of that in 1988. He was boxed in along the rail, couldn't get free and finished third at Churchill Downs. He went on to claim the Preakness and Belmont by a combined 14 1/2 lengths.
No One Gets Stuck in Traffic at the Belmont
Sometimes a horse's best luck is having the opposition encounter bad luck. But the combination of a small field and a long race means there's no rush to get the lead at the Belmont.
Every opponent will have plenty of time to take a shot at California Chrome.
Breeding
Breeders have reacted to the trend toward shorter races, and they have stressed the importance of speed over endurance as they seek to keep sending horses to the winner's circle.
Andrew Beyer of The Washington Post reports that some recent Belmont winners have been virtually ignored as studs and that 2008 winner Da' Tara had so few dates in U.S. breeding sheds that he was relocated to Venezuela.
Beyer, perhaps the most respected horse racing writer in the U.S., says winning Belmont times point out the decline in stamina.
From 1988-94, the winning times ranged from 2:26-2:28, but at the last five Belmonts the winning times have averaged about 2:30—Palace Malice won last year in 2:30.7.
Writes Beyer: "The conclusion: Very few contemporary American horses can run 1 1/2 miles."
It won't be a shock Saturday if California Chrome tumbles into the category of horses who were undone at Belmont by their pedigrees. Chrome's sire never won at a mile, or even three-quarters of a mile, and his broodmare never won at all.
Drug Testing Might Be a Factor
Byron Rogers, a bloodstock consultant who is known for studies of equine DNA, points out that the decline in winning times at the Belmont have coincided with stricter drug testing in horse racing.
Rogers, CEO of Performance Genetics, notes that steroids were prohibited for thoroughbreds in New York and Kentucky in 2008.
Also, testing for "milkshaking" was formalized in 2005. That's a term used for loading the horse's stomach with bicarbonate on race day—an illegal process that neutralizes fatigue-causing lactic acid and helps the most at longer distances.
Rogers had this to say regarding milkshaking and steroids on his website, Performance Genetics:
My thoughts were that since they started testing for milkshakes in 2005 and banned steroids in 2008, these two events could have precipitated the reduction in times and speed figures. After all, milkshakes allow horses to buffer lactate and run further than they should, and steroids allow horses to be trained harder and recover faster than they should. Both of these would affect any running over distances further than a mile for horses not truly capable of running that far.
These Athletes Truly Are Animals
Let's not overlook the most fundamental difficulty with putting together a Triple Crown season.
No matter how wise the trainer and jockey are and no matter how selective the breeding process has been, it all comes down to a four-legged beast stringing together three great efforts on race days.
Maybe California Chrome will have a headache Saturday. Maybe he's a little homesick after being shipped to a third different track in the last five weeks. Maybe he'll be distracted by a cute filly he spotted in a nearby stall at Belmont Park.
Who knows?
When the sport has gone 0-35 and 12 other horses have failed after putting together the Derby-Preakness quinella, it's obvious that Chrome is far from a sure thing Saturday.
Tom Weir covered numerous Triple Crown races as a columnist for USA Today.