The Carolina Panthers will field a brand new wide receiver corps in 2014. Gone is longtime veteran Steve Smith. The same for Brandon LaFell and the one-year services of Domenik Hixon and Ted Ginn Jr. Replacing them is a group of receivers who have been nothing more than supporting members in an offense. None of them have been the number one receiver, although an argument can be made for incoming rookie Kelvin Benjamin.
As a whole, the Panthers look to be at a serious disadvantage when the season opens this September. Further complicating matters is the timetable for quarterback Cam Newton's expected return. Developing chemistry with his new weapons and establishing a rapport with them will be crucial to the success of the Carolina offense this season. Especially with a young and talented rookie joining the ranks who projects to be Newton's best friend moving forward.
Carolina Panthers' 2013 WR Production

| | | | |
| --- | --- | --- | --- |
| Name | Receptions | Yards | TDs |
| Steve Smith | 64 | 745 | 4 |
| Brandon LaFell | 49 | 627 | 5 |
| Ted Ginn, Jr. | 36 | 556 | 5 |
| Domenik Hixon | 7 | 55 | 1 |
| Average Per Game | 9.75 | 124 | .93 |
Pro-Football-Reference.com
However, can the offense replace the catches per game that were made by the outgoing receivers in 2013?
Rivera not thinking in terms of replacing a No. 1 receiver. Says team has to replace a collective 10 catches a game from the WR group.

— Joe Person (@josephperson) March 26, 2014
That was the objective of both Dave Gettleman and Ron Rivera during the offseason, as they focused on replacing production rather than signing a top free agent from the wide receiver pool.
2014 Carolina Panthers' WR (2013 Production)

| | | | |
| --- | --- | --- | --- |
| Name | Receptions | Yards | TDs |
| Jerricho Cotchery | 46 | 602 | 10 |
| Jason Avant | 38 | 447 | 2 |
| Tiquan Underwood | 24 | 440 | 4 |
| Average Per Game | 6.75 | 93.1 | 1 |
Pro-Football-Reference.com
Of course, it is hard to get a feel on how productive the new receiving unit will be, as comparing three incoming veteran receivers to the four outgoing veterans does little to offer any kind of reassurance. That's not taking into consideration that this year's receivers were working with a different quarterback and offensive scheme last year.
Everyone has their work cut out for them in 2014.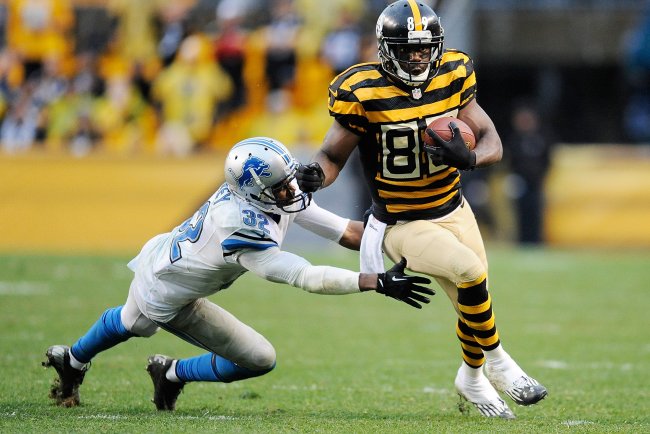 Joe Sargent/Getty Images
Jerricho Cotchery put up decent, if unremarkable, numbers with Pittsburgh last season. However, he became a valuable red-zone commodity for Ben Roethlisberger, hauling in 10 touchdowns. His pairing with Benjamin will give Newton two decent targets on the outside to look for on fade routes inside the end zone. Three, if you count tight end Greg Olsen.
Jason Avant has never been a scoring machine during his eight-year career. His career high is three scores. It seems he will be used as a third receiver, possibly lining up in the slot. It makes sense that he will give Newton a reliable target on third-down situations. His career 12.3 yards per reception justifies this scenario. He still has the ability to be a downfield threat, as he averaged approximately 34.8 yards as a deep threat over the past four seasons.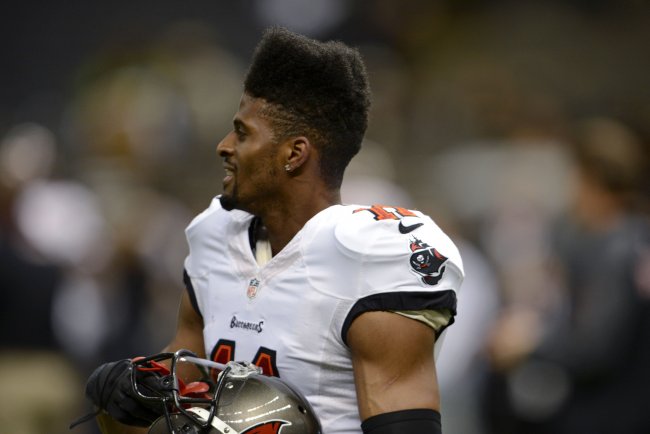 Bill Feig/Associated Press
Tiquan Underwood is another veteran receiver the Panthers signed this past offseason to a two-year deal. Unlike Cotchery and Avant, Underwood has never had the luxury of having a top quarterback throw to him on a consistent basis. The closest he ever came to that was when he was in New England in 2011—he caught three passes for 30 yards from Tom Brady over a period of six games. So, there is an opportunity for Underwood to develop into a mainstay if he can match or, hopefully, exceed his production from last year in Tampa Bay—his best as a professional.
The positive to take away from this year's receiving unit is the quality mixture of veteran and rookie talent. Cotchery will be around for five seasons (assuming he isn't cut the year before) and can be a mentor to the young guys on the team, which includes both Benjamin and Underwood. Avant will most likely be let go after the season, but he will be a suitable secondary veteran presence on offense.
There is another area that must be taken into consideration for the offense to thrive in 2014: the continuing growth of Cam Newton.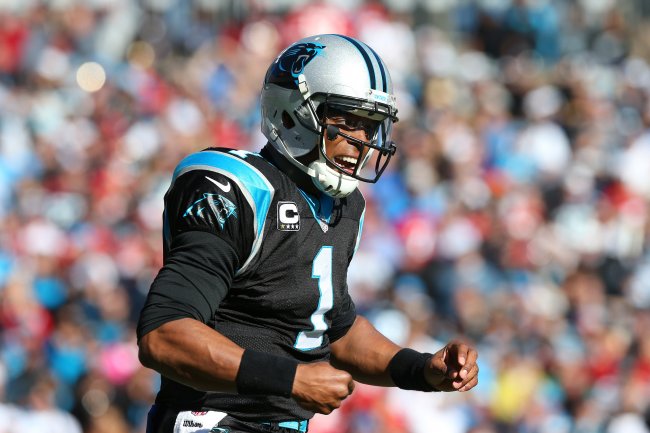 Ronald Martinez/Getty Images
The positives to take away from Newton include an increase in wins each season, a rise in his quarterback rating and an overall consistency as the team's field general. However, his passing yards have gradually declined since his rookie season in which he threw for 4,051 yards, and he has been sacked 114 times as a pro.
The latter may have more to do with his line not protecting him better, but Newton could help himself by not holding onto the ball for long periods of time.
One thing to keep in mind is that a new look may benefit Newton this upcoming season.
The reason for his unprecedented success as a rookie had a lot to do with defenses not being familiar with him, plus his overall ability was greatly underestimated. Having four new receivers in the offense will keep those defenses honest. Sure, they will probably do what they can to keep him in the pocket, but Newton has been eased into the role of a pocket quarterback and has been encouraged to make plays with his arm instead of his legs.
What are your expectations for the Carolina receiving corps in 2014?
That still has opposing secondaries figuring out which receiver to focus on when the Carolina offense is on the field. Cotchery and Benjamin are the two leading favorites, but Newton probably won't have to worry about too many double-teams, which he saw when Smith was on the team.
The hardest part for Newton in 2014 will most likely be getting his offense deep inside opposing territory. Once that is done, Mike Shula has a laundry list of options he can use to get points. Newton's scrambling ability aside, the Panthers will challenge red-zone defenses with their running game and their three big targets in Cotchery, Benjamin and Olsen to look for in that part of the field.
Newton has a bit of an advantage he didn't have last year: taller receivers. His receivers last year were an average height of 5'9". This year's crop has an average of 6'2". That is an increase of six inches, and for a quarterback who had a tendency to overthrow his receivers last year, the extra height could work in his favor.
Of course, this is just speculation. Training camp has yet to begin and the season yet to be played. However, it's worth taking a look at what this year's receivers bring to Carolina that could benefit the team.
Can the production be replaced? Absolutely.
But it will require the discipline, leadership and accuracy of Newton and the combined efforts of the receivers who could potentially outplay their expectations in 2014.
All player stats provide courtesy of Pro-Football-Reference.com and contract information provided by Spotrac.com.
You can continue to discuss Carolina Panthers football or anything sports related with me. Just follow me.