If this were 1979, when horse racing had witnessed three Triple Crown winners in the previous six years, the analysts would be in unanimous agreement that California Chrome was about to claim his sport's ultimate prize.
It seemed so simple back then, when Secretariat left no doubts in 1973, as did Seattle Slew in 1977 and Affirmed in 1978.
But it's 2014, and we've galloped down this road before—11 times before, to be exact, with other horses that won the Kentucky Derby and the Preakness Stakes only to have their bid to become the 12th Triple Crown winner unravel.
So yes, California Chrome looks as worthy of the Triple Crown as those other 11 horses did, but is he talented enough to fight through what appears to be a rather formidable jinx?
That question will be asked repeatedly between now and the June 7 running of the Belmont Stakes in New York, where California Chrome will face the 1 1/2-mile test that stands between him and history.
And just as repeatedly, California Chrome's believers will point to what the world saw on Saturday at the Preakness. Cruising through 1 3/16 miles to victory, Chrome totally delivered for the Pimlico Race Course crowd that made him a 1-2 betting favorite, per Odds Shark.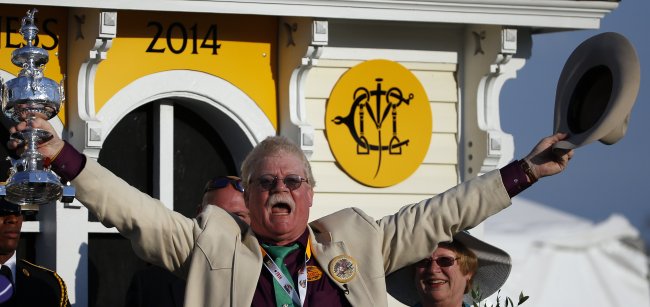 Matt Slocum/Associated Press/Associated Press
As California Chrome waited for the start, he wasn't bothered at all by the rambunctious noise Social Inclusion was making a few stalls away.
He broke from the gate on cue and glided into perfect position just behind the early leaders, letting them do the work. Then, when it came time to accelerate, California Chrome did so in what his trainer likes to call, via Fox, "push-button" fashion, breaking clear down the homestretch to hold off the rapidly closing Ride On Curlin.
It was textbook stuff, especially in a four-legged sport where a million things can go wrong.
But plenty can still go wrong for California Chrome at the Belmont.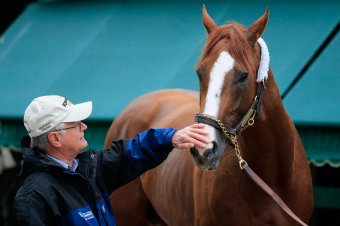 Rob Carr/Getty Images
The primary challenge figures to be fending off his key competition from the Kentucky Derby. Runner-up Commanding Curve, third-place finisher Danza and fourth-place contender Wicked Strong all were beaten convincingly at Churchill Downs, but they've been resting ever since.
They're all quality horses, and their trainers likely will want to test how vulnerable California Chrome is as he competes for the third time in five weeks, in the longest race of his life.
Another horse who figures to be in the mix is Tonalist, an easy winner last Saturday in the 1 1/8-mile Peter Pan Stakes at Belmont. Tonalist missed the Derby with a lung infection but obviously is healthy now.
To get to Belmont, California-based California Chrome will have to travel for a third time. But it's Tonalist's home park.
California Chrome's jockey, Victor Espinoza, knows all too well that his mount's quest also could be undone by a horse who isn't on anyone's radar at the moment. That was the case when Espinoza rode in the 2002 Belmont atop War Emblem, who was an overwhelming favorite to deliver the Triple Crown clincher.
Instead, War Emblem simply ran out of gas with about a quarter-mile to go, and the race was won by Sarava, whose 70-1 odds made him the biggest long shot ever to claim the Belmont, per Blood-Horse.
"I hope it will all be okay," Espinoza said of tackling Belmont's 1 1/2-mile distance, in his post-race interview with NBC. But, he added knowingly, "You never know until he runs."
California Chrome did erase one area of doubt with his convincing Preakness triumph. His time of one minute and 54.84 seconds gives him a much more authoritative victory than at the Kentucky Derby, where he had one of the slowest winning times of the last 20 years.
Big Brown, considered a super horse in 2008, was only slightly faster at the Preakness, winning in 1:54.80.
But what is probably most in California Chrome's favor as he pursues the Triple Crown is the way he has responded to Espinoza so far. The two are undefeated in six races since Espinoza replaced Alberto Delgado as California Chrome's jockey last Dec. 22, on the final day of racing at Hollywood Park.
Espinoza had caught sight of Chrome as a two-year-old and quickly was intrigued by the chestnut colt.
"The second time I saw him run, I was like, 'Wow, there's something about him that attracts me,'" Espinoza told Tim Sullivan of The Courier-Journal. "He seemed like really light on his feet when he was running."
In the Derby and at the Preakness, Chrome earned his "push-button" reputation by kicking his tempo up a notch or two the second Espinoza sought a greater effort. It has looked instantaneous, and getting that reaction one more time could be what wins Belmont.
In a 1 1/2-mile race, California Chrome will need to bide his time and not be lured into the lead too fast by a horse with early speed.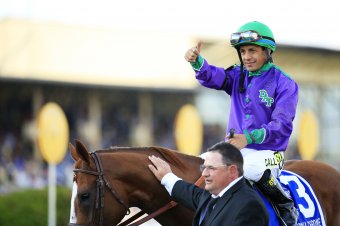 Patrick Smith/Getty Images
In sports, we often hear teams invoke the cry of "It's us against the world," but at the Belmont, that will truly be the case. Every trainer, jockey and horse will be taking a shot at Chrome, and to survive, he needs to be patient until Espinoza picks the time to move.
So far, the horse and jockey have had a Michael Jordan-Phil Jackson kind of relationship, and now they need to maintain it at a distance that's the equivalent of going double overtime.
Leading up to the Preakness, trainer Art Sherman discussed his horse's push-button personality with Fox.
"He doesn't have to go to the lead, but if you ask him to run, he'll give you a burst," the 77-year-old trainer told Fox. "The way he wins races, blows them away, blows my mind."

And now that he's on the doorstep of eternal greatness, let's just hope he doesn't blow his chance the way those other 11 horses did.
Tom Weir covered numerous Triple Crown races as a columnist for USA Today.