Just when it looked like Chris Paul and the Los Angeles Clippers were closing in on their signature contender moment, CP3 turned mortal and brought back the talk of his postseason failures.
Paul looked more goat than God when he turned the ball over twice and fouled Russell Westbrook in the last 20 seconds of L.A.'s gut-wrenching Game 5 loss to the Oklahoma City Thunder. Instantly, Lob City went from looking to close the series out at home to playing for its postseason life.
Now, all the blame should not fall on Paul. In fact, his right-elbow jumper with about 40 seconds left looked like the dagger. Credit OKC for a resilient comeback and stealing the win.
However, with the Clippers ousted in Game 6, critics and talking heads will point to the slip-up in Game 5. Paul will inevitably draw much of the blame.
Despite the Game 5 collapse, CP3 has been stellar this postseason.
Over 13 games, Paul averaged 19.8 points on 46.7 percent shooting from the field. His 45.7 percent clip from long range has tested defenses and opened up the Clippers offense.
CP3's 10.4 assists and 2.8 steals per game all postseason players by hefty margins.
Beyond the statistics, Paul has contributed in ways that the box score does not reflect. In the Clippers' grueling seven-game series against the Golden State Warriors, Paul took up the task of guarding Stephen Curry.
While Paul has spent much of this series checking an unstoppable Westbrook, the Point God's tough defense on Kevin Durant in Game 4 was key to the Clips' feverish fourth-quarter comeback.
He did all of this while controlling the pace of the game and holding off a nagging hamstring injury.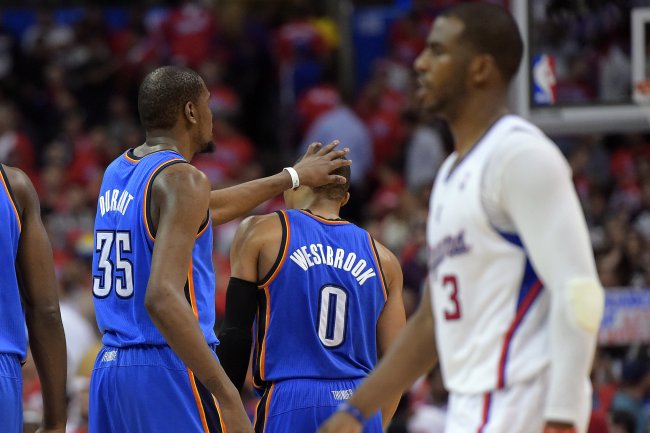 Mark J. Terrill/Associated Press
Paul has a playoff reputation of individual brilliance. However, the trope has been that he never had the supporting cast to catapult his team past the second round.
The closest CP ever came to a conference finals appearance was in 2008, when his No. 2-seeded New Orleans Hornets dropped a Game 7 at home to the San Antonio Spurs.
In Paul's first year in Lob City, he helped orchestrate incredible comebacks and clutch-time performances in a seven-game slugfest against the Memphis Grizzlies. By the second round, he had nothing left in the tank, as the Clips were swiftly swept by the Spurs.
How much of this is an indictment of Paul rather than his team?
At an individual level, it seems that there is little more that Paul can give. According to Tom Haberstroh of ESPN.com, Paul's clutch-time playoff player efficiency rating was a healthy 30.9 heading into Game 6.
For some perspective, the only two players with a higher clutch playoff PER since Paul first made the postseason in 2008 are Dirk Nowitzki and LeBron James. In fact, that 30.9 PER is 4.2 points higher than that of this season's MVP, Kevin Durant.
Suffice to say, Paul's Game 5 meltdown was more of an aberration than it was indicative of some detrimental trend.
If Paul is not to blame for his team's inability to make it past the second round, then who is?
While in New Orleans, Paul's teams were routinely undermanned and required herculean efforts from the Point God to survive.
Unsurprisingly, Paul logged his career-best playoff PER of 30.7 in 2007-08. By contrast, CP3's 23.8 PER this postseason is the third-lowest of his career.
Before this year, critics could point to the coaches holding Paul back. Byron Scott was decent, but never a championship contender. Vinny Del Negro might have been suitable for a young core of Blake Griffin, Eric Gordon and DeAndre Jordan, but all bets were off when Paul arrived.
Now, CP has arguably the best coach outside of San Antonio.
Beyond Doc Rivers, Paul also has the best supporting cast of his career. Griffin finished third in MVP voting, Jordan was a candidate for Defensive Player of the Year and Jamal Crawford took home the Sixth Man of the Year Award.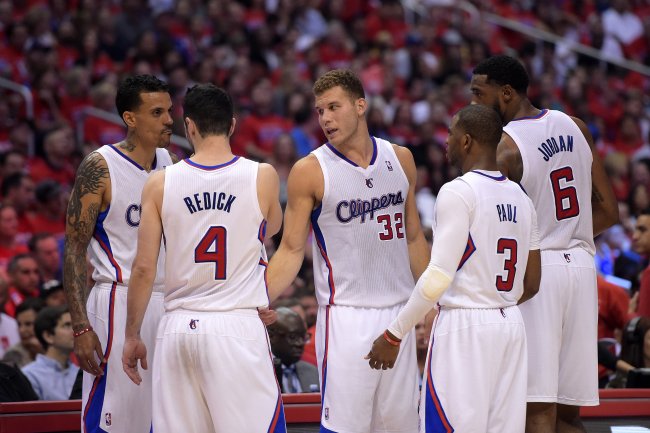 Mark J. Terrill/Associated Press
Perhaps the dogfight that is the Western Conference playoffs might instead be an affirmation of how deep and successful the conference is rather than a referendum on Paul or his team.
The cruel reality of the postseason is that only four teams can make the conference finals.
This postseason might simply suggest that the dominance of the Westbrook-Durant duo has more firepower than the Paul-Griffin one.
Until now, Paul has escaped the criticism that faced his peers.
Doubters questioned LeBron James's brilliance until he lifted the Miami Heat to a title. After the Thunder's disappointing postseason run last year, Durant's supremacy was questioned.
With another early summer in store for Paul, he will surely hear the criticism. A forlorn Doc Rivers spoke about Paul to reporters after Game 6:
We got out of the first round, advanced. We had a chance in this series, clearly. I just feel awful for him [Paul]. Just point-blank, I do. He's the spirit of our team. Right now his spirit is broken. He's going to have all summer to work and get ready for next year, but he'll be back. He'll be ready. He'll be better next year.
With the reality of elimination setting in, Paul spoke to reporters after the game:
It's tough. You don't get a chance to be on teams like this that often, you know. Oklahoma City absolutely deserves it. We had a really, really good team, a great team. Before the game, Doc talked about it. I told somebody at halftime: It's crazy -- you play all season long, and the last few games we really started to figure out who our team was and how to play. And it's crazy that it's over. Man, we really do have a great team, a collective group of players. It's tough to realize that it's over again.
Until CP3 can make it to the conference finals, he will have to fight off the reputation that he cannot carry his team to a championship. A victory in Game 5 would have been a good way to silence those naysayers.
However, there will be a time when the Spurs' machine stops running so efficiently and another spot at the top of the West opens up.
The window is shrinking on Paul's championship aspirations, but a retooled roster and another year under Doc could be the remedy for a Point God playoff revival.
Statistics accurate as of May 16, 2014 and courtesy of NBA.com, ESPN.com and Basketball-Reference.com.