Nearly everything appears in place for California Chrome to win the Preakness Stakes on Saturday and ramp up expectations that this will be the year that horse racing finally gets its first Triple Crown winner since 1978.
The favorable circumstances that he will face at the Pimlico Race Course aren't simply a case of good fortune smiling on him. California Chrome made his luck by winning the Kentucky Derby in style two weeks ago and scaring off a good chunk of his potential competition.
Officially, Chrome's Derby victory was by 1 3/4 lengths, but it really was more dominant that that, as jockey Victor Espinoza eased his mount at the wire. Equally impressive was that Chrome slid into his preferred position at the front of the 19-horse field with relative simplicity and seemingly summoned his winning move with push-button precision.
Bob Baffert, who has trained five Preakness-winning horses, says the authoritative victory is the reason so few Derby horses aren't taking another shot at California Chrome in the second race on the Triple Crown trail.
"If he had won by a nose or a neck and been struggling at the end, it's a different story," Baffert told Jenny Rees of the Louisville Courier-Journal. "The way he did it, he was the best horse."
Derby runner-up Commanding Curve and third-place finisher Danza both are skipping the Preakness. That means the only Derby horses challenging California Chrome on Saturday will be seventh-place Ride On Curlin and General A Rod, who was a thoroughly beaten 11th.
California Chrome still will have to outrun a pack of at least seven horses that are coming into the Preakness fresh, but it's not an impressive group. Here are the most formidable among them.
Social Inclusion: A late start on the racing season and a foot injury left him short of qualifying for the Derby, but he was a solid third in the Wood Memorial in his stakes-race debut. Perhaps more relevant is that he has led in all three of his races. His dependable early speed could make him the horse that forces the pace.
Dynamic Impact: He was winless as a two-year-old but has come on this year, winning twice in three tries, including the Illinois Derby. He might be hitting peak form at just the right time.
Bayern: Baffert trains this front-running contender and complains that the horse gets a little lazy when he gets the lead. He had a victory in the April 26 Derby Trial taken away because of interference, but he did get two other victories and was third in the Arkansas Derby.
Kid Cruz: His back-to-back victories in stakes races include a victory at 1 1/16 miles on the Pimlico track.
Not exactly an imposing cast, right? So perhaps it shouldn't be a surprise that after NBC horse racing analyst Randy Moss surveyed all the particulars about this year's race, he told The Baltimore Sun,"The Preakness is significantly easier to win than it ever has been in history."
Doubts about California Chrome's ability to keep his Triple Crown hopes alive tend to focus on two things: his slow winning time at the Kentucky Derby and that he has yet to prove he can put two strong efforts together in a two-week period.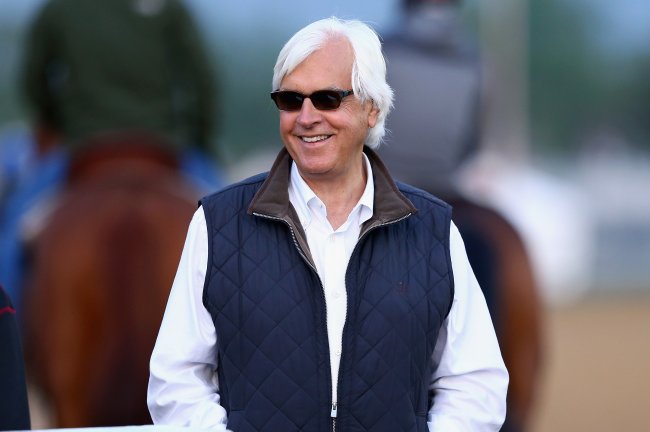 Andy Lyons/Getty Images
His victory at Churchill Downs in 2:03.66 was the slowest winning Derby time since 1974 on a track that was rated fast. But as I already mentioned, Espinoza let up at the finish, so maybe that slow time means he'll have a little extra energy in the tank on Saturday.
Chrome enters the Preakness on a five-race winning streak, but he has had at least four weeks of rest in between all of those efforts. This time it's only two weeks. But it's not as if he has been dodging extra work. Most three-year-old horses get about four weeks off between races until they make the Derby-Preakness bid.
And when it comes to killing Triple Crown dreams, it's usually the Belmont Stakes that's the crusher, not the Preakness.
In the 35 races since Affirmed won the Triple Crown in 1978, the Derby winner has gone on to win the Preakness 12 times. That's a pretty strong percentage, and it demonstrates that the experience of being a Derby veteran outweighs the freshness factor.
Last time the Preakness was won by a horse that didn't race the Derby was 2009, when filly Rachel Alexandra stole the show. But it's far more common to see Derby horses dominate the Preakness results. That was the case last year, when they took the top five places. In 2012, they had the top three spots and in 2011, they finished 1-2-4-6.
How will California Chrome fare in the Preakness?
According to Daily Racing Form, the only other times in the last 34 years that so few Derby horses have entered the Preakness were 2006 and 2008, when Barbaro and Big Brown, respectively, cowed the competition with big wins in Louisville.
"I think the horses coming out of the Derby have an edge coming back in two weeks," Baffert told Daily Racing Form's Marcus Hersh. "Those are really good horses to begin with, and they get that foundation under them."
Baffert's opinion no doubt is bolstered by the fact all five of his Preakness winners also ran in the Derby. And if experience counts for anything, California Chrome should be in good shape on Saturday, when he'll be making his 12th start. The only Preakness entrant with a similar racing background is Ride On Curlin, who will be competing for the 11th time.
So where could it still go wrong?
A sloppy track always adds to the possibility of an upset. There's little chance of rain on race day, but a downpour is expected in the Baltimore area on Friday, which could leave Pimlico muddy on Saturday.
A poor start always means having to do more work later in the race, and California Chrome has had some slow breaks from the gate. If he gets in that position on Saturday, he might have dirt or mud kicked in his face, which can hurt the chances of any favorite.
But having drawn the No. 3 post position, one thing that won't get him is the jinx that goes with drawing the No. 1 spot. In the Preakness, only two horses have won from that spot in the last 63 years.
The other factor going against California Chrome is simply the nature of horse racing. Heavy favorites get beaten all the time, as Orb demonstrated at last year's Preakness, and there's no reason California Chrome can't be next in line.
Tom Weir covered the Preakness five times as a columnist for USA Today.