The universe messed with Martin Kaymer Sunday at The Players Championship. Specifically, it was Mother Nature having some wicked fun on Mother's Day.
But the lightning storm that interrupted what was shaping up as an easy march to one of golf's biggest titles gave us a chance to truly assess the 29-year-old German.
And that Kaymer survived despite some very curious play on the final four holes shows he may indeed be capable of climbing back to the world No. 1 perch he held for eight weeks in 2011.
Kaymer, with a 30-foot putt that rescued his championship hopes on TPC Sawgrass' famous 17th hole, now has a signature moment that can hold its own in any highlight film.
Going forward, he'll be able to replay that clutch shot in his mind any time he needs to remind himself he can sink the toughest shot in the toughest conditions with a ton of cash on the line.
It also puts to rest suspicions that the No. 1 world ranking he held in 2011 was a fluke. With his victory, Kaymer doesn't simply pocket $1.8 million. He also joins Tiger Woods, Phil Mickelson and Adam Scott as the only players to win a major, a World Golf Championship and The Players Championship.
Kaymer had been a bit of a mystery man since his brief run as the globe's top-rated player. He got there at the age of 26, and at the time, only Woods had been younger when he first claimed the honor.
The key to Kaymer's ascent was winning the 2010 PGA Championship in a playoff with Bubba Watson, but since then, Kaymer has been a virtual nonfactor in 13 consecutive majors. He missed the cut in four of them, had no top-10 finishes and only two top-20 performances.
In 2013, his best finish in a major was a tie for 32nd at The Open Championship, and he was never in the conversation at the Masters last month, where he tied for 31st. He also was in an 0-of-29 slump for tournament victories, dating back to winning the Nedbank Golf Challenge in South Africa late in 2012.
Yes, he delivered the winning point for Europe in the 2012 Ryder Cup, but lately, he was mostly known as a once-sizzling player who was seldom to be feared since he decided to retool his swing.
But Kaymer no longer can be discounted after his one-shot victory over Jim Furyk at The Players, where the sport's biggest purse of $10 million has earned it many references as golf's fifth major.
Best rounds at The Players Championship

| | | | | |
| --- | --- | --- | --- | --- |
| Martin Kaymer | 63 | 2014 | 1st Rd. | |
| Roberto Castro | 63 | 2013 | 1st Rd. | |
| Greg Norman | 63 | 1994 | 1st Rd. | |
| Fred Couples | 63 | 1992 | 3rd Rd. | |
NBC
But his hefty payday nearly slipped away when the 90-minute delay took an apparent toll on his nerves. Kaymer held a three-stroke lead when the skies above Ponte Vedra Beach in Florida began to rumble.
Up to that point, he had seemed in near-total control. The anticipated duel with Jordan Spieth quickly dissolved when the 20-year-old Texan bogeyed three out of six holes, and Kaymer seemed like he was back home, breezing down the Autobahn on cruise control.
But 90 minutes is more than enough time for idle thoughts to mess with a golfer's mind. And 90 minutes of wet weather can toy with any golfer's precision.
So when play resumed, the lightning was gone, but rain was still falling. It was twilight, and unless Kaymer could get the job in about an hour, he'd have to come back Monday. That presented a dilemma. He needed to play fast but also take the time to figure out how the weather had changed the speed of the greens.
With all of that going on, his tee shot on No. 15 naturally veered into the woods. From there, an overly aggressive approach shot from behind a tree set up a double bogey that didn't involve any of the infamous water hazards at TPC Sawgrass.

As Johnny Miller said while providing analysis on NBC: "That's the last hole on the course where I would have thought he'd get a double bogey."
Kaymer had foreshadowed the very problems that awaited him while somewhat surprisingly agreeing to an NBC interview during the delay.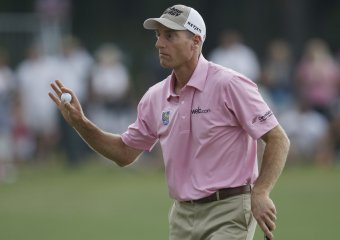 Gerald Herbert/Associated Press/Associated Press
"It was a little sad that we had to stop," Kaymer told NBC. "I had a really nice round going."
As for his lead, Kaymer added that, "A three-shot lead is not plenty, especially when we have to face Nos. 16, 17 and 18."
The Players' closing holes nearly ate Kaymer alive.
On the par-five No. 16, his approach shot left him 28 feet off the green, but he took out the putter rather than risk a pitch shot. Miller stopped just short of telling his NBC audience that Kaymer was nuts. Miller didn't have to when the shot came up way short, and the German had to settle for par on the course's easiest hole, where seven eagles were made during the tournament.
Then, on the 17th, Kaymer's implosion seemed certain. His tee shot on the "island hole" barely reached land and came within inches of going into the water when it kicked violently left. Stuck on the collar of the fringe, Kaymer needed to get up and down from 65 feet away or else drop into a tie with Furyk, who was in the clubhouse.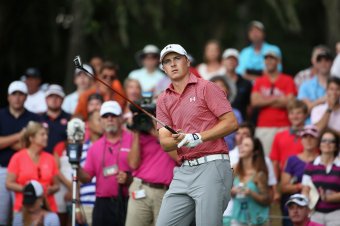 Richard Heathcote/Getty Images
But his feeble chip from thick grass left him with nearly a 30-foot putt. The way Kaymer was playing, and with the rain still splattering, there was no way that putt was going in. But it did.
And if it hadn't, Kaymer would have had all night to replay his mistakes before returning to TPC Sawgrass for a three-hole playoff.
"It's always very difficult to come back after a little break," Kaymer told NBC after he clinched his championship with a par on 18. "You're really disappointed when they call it ... and then you're a little cold."
But in the end, Kaymer stayed just hot enough.
In doing so, he has also made the trek back from that "little break" from when he was ranked No. 1 in the world. Having been to the top once, there's no reason to think he cannot find that path a second time.