There's been a real feeling of positivity surrounding the WWE as of late.
Reasons for this include strong showings on pay-per-view and a top-level acknowledgment of what the fans truly want to see. But for me, perhaps the biggest contributing factor has been the emergence of new talent on the company's main roster.
Much of this traces back to the stellar effort that Triple H has invested in rebranding NXT, transforming the show from a quasi-reality series into a highly effective developmental territory.
The fruits of his labor are plain to see. The full roster now boasts a plentiful range of homegrown talent, including top-quality performers such as The Shield, the Wyatts and more recently Cesaro (though admittedly his status as a "homegrown" superstar is more questionable).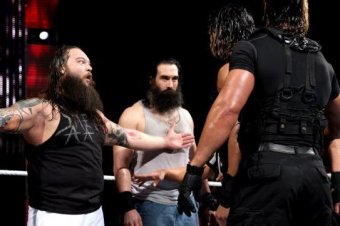 Photo courtesy of WWE.com
And with Alexander Rusev and Paige—among others—making the step up within the last few weeks, the supply of new stars is showing no signs of slowing down.
But what does this influx of talent mean for the more distant future?
According to the Wrestling Observer Newsletter (subscription required; h/t Marc Middleton of Wrestling Inc), it could mean quite a lot, and we may be set to see at least one of these NXT graduates making a name for himself as one of the company's top babyfaces somewhere down the line:
WWE has changed other plans going forward. WWE, right now, is looking at the top four singles babyfaces for down the line to be John Cena, Daniel Bryan, Cesaro and Sheamus. This was the plan as of a little more than a week ago. The last time an internal list was made, Orton, Batista and Roman Reigns were near the top, right behind Cena and Bryan, with Sheamus as the big names planned as the top faces for down the line.
So for all that talk of planning ahead, it appears that Cesaro may be the only new name that the WWE is considering as a top face of the future.
But there's plenty to take from this recent news. First of all, let's look at those guys who are no longer being considered for this top-four list.
The fact that Randy Orton and Batista are no longer "near the top" is certainly a good thing in my eyes. Both men still have a lot to offer the WWE, but having already had their times in the limelight, I think it's great to see others being given a chance to shine instead.
Furthermore, they're both a whole lot better as heels than faces.
Photo courtesy of WWE.com
Perhaps more surprising, though, is the news that Roman Reigns is no longer in the forefront of the company's mind. However, I wouldn't interpret this as a loss of faith in the Samoan-American superstar. Given that this story relates specifically to singles babyfaces, I'd take this as a sign that The Shield may well be sticking around for quite some time yet, and that's hardly a bad thing.
And as for the quartet who the WWE are considering to be their babyface top four, it's of little surprise that John Cena, Daniel Bryan and Sheamus are in the fray.
Cena will likely be there or thereabouts until the day he retires, and Sheamus has the support of management on his side. As for Bryan, given that his megastar push is still in its early days, it would be a shame to see that momentum halted, especially after he's proven himself so well.
The biggest talking point, therefore, is the inclusion of Cesaro. There's no denying that the King of Swing is worthy, and Cesaro's entertaining in-ring style is wholly conducive to the role of the hero—it just seems odd that the company sees him as a face given his current booking.
After WrestleMania XXX, it appeared likely that Cesaro would be breaking out as the next top singles babyface. However he was instantly aligned with Paul Heyman, whose standing as a heel has arguably never been greater.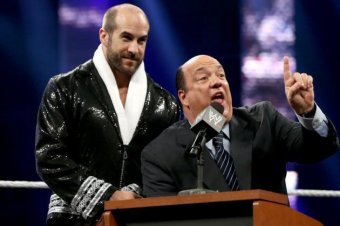 Photo courtesy of WWE.com
Furthermore, his general demeanor has been neither that of a heel or a face. And not in a tweener kind of way—more of a non-committal, Creative-has-nothing-for-you-yet kind of way.
So in many respects, this latest news is at odds with what we're currently seeing. Perhaps we'll soon see Cesaro make the full-on face switch, but we're going to have to see a few loose ends tied up by Creative before we do, namely a certain Streak-conquering manager.
One final issue that I wanted to discuss was the lack of Bray Wyatt's name.
There's been recent reports from F4WOnline.com (via WrestlingInc.com) that the company was considering turning Wyatt face. This recent news, however, would discount such rumors—for me that can only be a good thing.
Wyatt's character is that of a cult leader, and the very definition of a cult is a group that is followed by only a small section of a society. If the WWE was to try and force Wyatt into mainstream popularity, it would be completely going against the compelling character that it has helped create.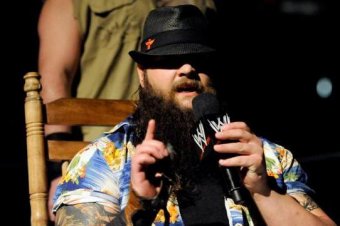 Photo courtesy of WWE.com
And much like the situation with Reigns, just because Wyatt is not on the list doesn't mean the company does not have big plans for him. I'd imagine this news suggests that The Wyatt Family could be here to stay and, most importantly, as heels.
All in all, I personally think this news is great (assuming it's true).
Giving Cesaro his long-awaited face push will likely yield spectacular results, and the resultant decision to maintain faith in Reigns' and Wyatt's respective stables promises to provide us with further awesome action.
And although Cena remains very much in the fold, discussing a scenario involving "the top four singles babyfaces" is a far cry from the years of old when such a list would have likely featured Cena himself and nobody else.
It's yet another sign of the changing times, and one that offers hope to many a fan of the WWE.
But please, as ever, let me know what you think about this one. Is the WWE retaining too much faith in its stars of old? Or is it too soon to be considering the likes of Cesaro as one of the company's very top babyfaces?
Feel free to comment below with your thoughts on this topic as well as any of the points that were touched on in the article.