I'm guessing scalpers in New York boosted prices on tickets to the Belmont Stakes within seconds of seeing California Chrome breeze to victory in the Kentucky Derby on Saturday.
Jockey Victor Espinoza couldn't have dreamed up a more perfect trip for his mount, whose dominance at Churchill Downs instantly revved expectations that horse racing's Triple Crown drought is finally about to end.
For California Chrome to complete his fairy tale story he'll have to claim the 1 3/16-mile Preakness Stakes at Pimlico on May 17, and then withstand Belmont's 1 ½-mile test on June 7.
With those two wins he would become only the 12th Triple Crown winner, and the first since Affirmed in 1978.
How long ago is 1978? It's the year that Pete Rose got his 3,000th hit, Garfield debuted in the comics and the Bee Gees topped the album charts for 24 weeks with Saturday Night Fever. Yeah, that long ago, so this is no easy task.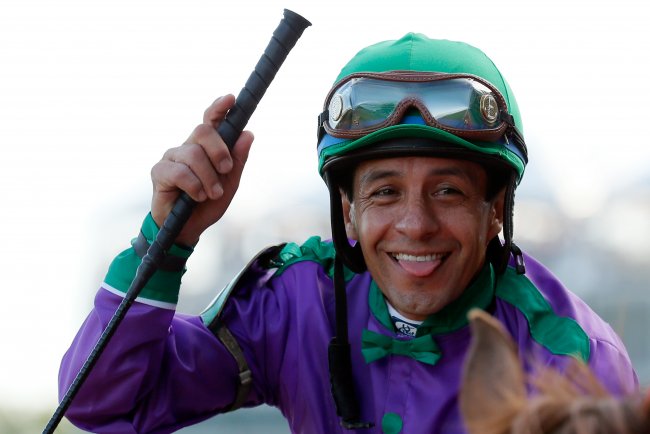 Kevin C. Cox/Getty Images
Since Affirmed, we've seen a dozen horses win the Derby and then also romp home a winner at the Preakness, only to miss out on the elusive third gem of the Triple Crown.
Can California Chrome get to the Belmont with his Triple Crown hopes intact? And if he does, can he avoid being the unlucky 13th horse to get oh-so-close only to come up one race short? Obviously conventional wisdom says the odds aren't good, but Chrome already has confounded the experts by winning despite his mediocre pedigree.
How will California Chrome's Triple Crown quest go?
At the Preakness, barring discovery of a post-Derby injury, he's certain to reign as the overwhelming betting favorite. His main obstacle there likely will be the same one he overcame with ease while navigating the Derby: handling the attack of speed horses that seek to disrupt him by forcing an early pace.
The 1 ¼-mile Derby was loaded with horses who fit that description, but none rattled California Chrome as he settled in near the lead and then exploded to victory in the homestretch.
Another challenge Chrome will be racing in Maryland, this race will be the farthest he's ever traveled from his California base at Los Alamitos. But the trek to Kentucky was his first trip outside of California, and he looked like a seasoned road warrior while becoming the first California-bred winner of the Derby since Decidedly in 1962.
And there's nothing California Chrome will encounter at the Preakness or the Belmont that will be more imposing than the "wall of noise" every Derby produces as the leaders hit the homestretch.
Saturday's Derby crowd of 164,906 at Churchill Downs ranked second all time, so California Chrome should be prepared for any decibel level that's roared in his direction.
It also should help that Espinoza knows exactly what awaits him and California Chrome as they pursue the Triple Crown. Espinoza came tantalizingly close to capturing that prize in 2002 aboard War Emblem, who won the Derby and the Preakness, but finished eighth at the Belmont after stumbling out of the starting gate.
But two things raise doubts about California Chrome's quest for horse racing's Holy Grail. The first is the issue that both dogged him yet also made his story so endearing as the Derby approached, his lower-tier bloodline.
Yes, his stud fee was only a paltry $2,500, and his mom's racing forte was imitating a caboose. But the Derby victory should quiet those who think that having parents who didn't belong to thoroughbred racing's aristocracy leaves California Chrome vulnerable in his sport's biggest races.
We also shouldn't have to hear any more about how having four white feet, as California Chrome does, is supposedly unlucky in horse racing.
But I think the bigger issue at the moment is his winning time on Saturday.
The weather was postcard-perfect in Louisville, and there's no reason to think the track wasn't lightning-quick. But Chrome's winning time of 2:03.66 was downright dawdling by the standards of Kentucky Derby winners.
Of the last 10 horses to claim the Run for the Roses, only Super Saver ran slower, clocking 2:04.45 in 2010.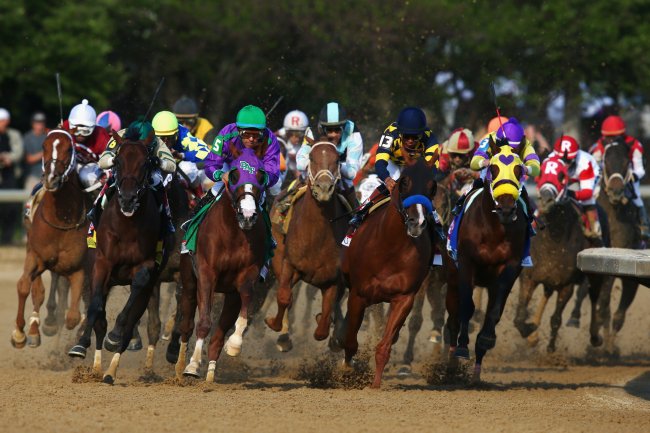 Andy Lyons/Getty Images
And over the last 20 Derbys the only additional winner who took so long to hit the wire was Smarty Jones, who came home in 2:04.06 in 2004.
What else did Super Saver and Smarty Jones have in common? The track was rated as "sloppy" on the days they raced into the history books. California Chrome has no such disclaimer.
So what do we make of California Chrome running slow in a race where some thought he might crack the two-minute barrier? Excellent question.
Espinoza did look back over his shoulder down the homestretch and, seeing that the race was won, appeared to ease his horse. Espinoza also stood up on him just before the wire. So there's that.
Also, aside from Secretariat, only one other horse has blazed the Derby's 1 ¼ miles in less than two minutes. But that horse, 2001 winner Monarchos, was an absolute non-factor the rest of the Triple Crown season.
He finished sixth in an 11-horse field at the Preakness, and at the Belmont he was 13 lengths behind the winner while finishing third. So a fast Derby time guarantees nothing.
It also needs to be remembered that the Preakness and the Belmont are horse races, not track meets. Winning is all that matters, and California Chrome has done that impressively in five consecutive races.
Derby times of last 3 Triple Crown winners vs.

| | | |
| --- | --- | --- |
| 1973 | Secretariat | 1:59.4 |
| 1977 | Seattle Slew | 2:02.2 |
| 1978 | Affirmed | 2:01.2 |
| 2014 | California Chrome | 2:03.66 |
Horsehats.com
California Chrome arrived in Louisville on an incredible hot streak, having won four consecutive races by five lengths or more. According to the San Diego Union-Tribune, that's a feat that is unmatched by any Derby entrants dating all the way back to 1906.
Saturday's victory was by 1 ¾ lengths, but Chrome clearly wasn't pushed to a maximum effort. So there shouldn't be any concern about him being tapped out for the Preakness, where he'll likely face some fresh competition that didn't run in the Derby.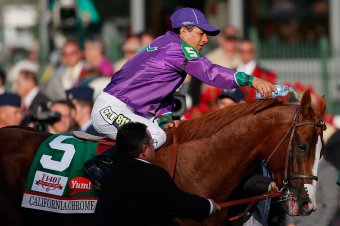 Kevin C. Cox/Getty Images
If he wins there the question will immediately be whether he can go 1 ½ miles. It's the question every Belmont favorite faces, because virtually no 3-year-old thoroughbred ever runs that far until the Belmont arrives.
California Chrome certainly looked like he could have handled another quarter-mile on Saturday. But if his Triple Crown quest still has a pulse when he gets to the Belmont the surest bet is that the field will conspire against him.
More speed horses will be sent surging out early to mess with the pace, and the fast finishers will lurk behind California Chrome like snipers, hoping he won't have the stamina to avoid getting picked off.
That's how horse racing is. Nobody is going to take it easy on California Chrome just because the public craves witnessing some four-legged history.
California Chrome will have to earn it, because there's one thing that's never been said about a Triple Crown winner: "He was lucky."

Tom Weir covered 12 Kentucky Derbys as a columnist for USA Today.