South Carolina coach Steve Spurrier has always had a simple philosophy when it comes to recruiting the talent-rich state of Georgia.
"I've always said they can't all go to Georgia," Spurrier said. "So if we're next in line, we're going to get some very good players."
Recruiting the state of Georgia didn't start with Spurrier's arrival.
South Carolina has always recruited the state of Georgia. Former Heisman Trophy winner George Rogers, the greatest player in school history, is from Georgia, and Gamecock football history is liberally sprinkled with great players from the state.
However, it took Spurrier to turn what was once a trickle of talent from Georgia into a flowing stream.
The Gamecocks had 28 players on last season's roster from Georgia, the most of any out-of-state school.
South Carolina recruits from Georgia in the last 10 years

| | | | | | | | | | |
| --- | --- | --- | --- | --- | --- | --- | --- | --- | --- |
| 2004 | 2005 | 2006 | 2007 | 2008 | 2009 | 2010 | 2011 | 2012 | 2013 |
| 1 | 6 | 7 | 3 | 5 | 7 | 6 | 10 | 9 | 6 |
Numbers courtesy of 247sports
Auburn was a relatively close second with 24, followed by Clemson with 15, Tennessee with 14 and Florida with 12.
Without a doubt, it's a talent-rich state, usually ranking fourth in college players produced behind the almost interchangeable big three of Texas, Florida and California.
While dozens of major colleges dip their toes in the recruiting waters in Georgia, South Carolina goes for the full immersion.
Phil Kornblut is Sports Director of the Sports Talk Radio Network, based in Columbia, South Carolina. He has been following recruiting in South Carolina since 1982 and says there are obvious reasons why the Gamecocks turn to Georgia for talent.
"There are more high schools in the Atlanta area than there are in the entire state of South Carolina," Kornblut said. "As a recruiter, you can very easily get to a lot of different schools and a lot of different recruits in a short amount of time."
Kornblut says South Carolina's proximity to Atlanta (it's a three-hour drive to Columbia, South Carolina) makes the school an attractive option for a lot of players.
"For those players who don't want to stay home, but don't want to be too far from home, it's very convenient," Kornblut said. "That's one of the factors why South Carolina has been very successful in Georgia."
Columbia's proximity to Atlanta has always been there, but it seems the Gamecocks have only recently taken advantage of it.
Spurrier's predecessor, Lou Holtz, recruited Georgia but wasn't nearly as successful.
In 2004, Holtz's last season as head coach, the Gamecocks had eight players from Georgia, including one incoming recruit—quarterback Blake Mitchell.
"When I first got here, we weren't going to beat Georgia out for hardly anybody," Spurrier said. "But in the last two or three years, I think we've actually gotten a few guys they wanted."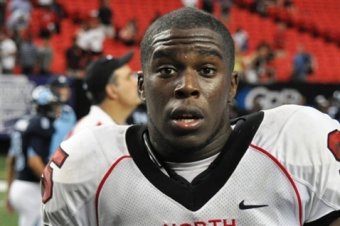 Photo courtesy of 247sports.
In this year's class, South Carolina signed six players from Georgia, including linebacker Bryson Allen-Williams, cornerback Wesley Green and defensive end Dante Sawyer. All three were rated 4-star recruits by 247Sports.
Spurrier said there are several factors that have helped the Gamecocks improve their recruiting in Georgia.
"I think it starts with our facilities here," Spurrier said. "We're winning. We graduate our players. Then we have some outstanding recruiters who work the state of Georgia."
South Carolina defensive coordinator Lorenzo Ward is responsible for recruiting Georgia, specifically the Atlanta area. He's assisted by quarterbacks coach G.A. Mangus.
Both have ties to the state. Ward coached high school football at Newnan High School in Newnan, Georgia, and his mother lives in the Atlanta area. Mangus grew up in Marietta, Georgia.
We are all so ready to see this guy, @B_Quatro4 show off his elite skills and raw talent on Saturdays this fall!!! pic.twitter.com/F8co2vufJC

— Carolina Ale House (@ColumbianaDrive) April 19, 2014
"They put Lorenzo Ward in Atlanta, and he has made some very strong contacts at some of those high schools," Kornblut said. "G.A. Mangus, having grown up in Atlanta and the Marietta area, has his strong contacts. They've got very good recruiters with very good relationships in the metro Atlanta area. You can fill a lot of needs without leaving Atlanta."
The makeup of South Carolina's roster will always be predominantly in-state players. Last year's roster had 41 players from South Carolina.
North Carolina (15 players) and Florida (14 players) are also well represented on the Gamecocks roster.
However, South Carolina's success in recruiting Georgia has been a difference-maker.
All quotes obtained firsthand unless otherwise indicated.
All player rankings courtesy of 247Sports.