Did you hear it? I'm pretty sure I did. A collective groan from boxing fans coast-to-coast late Saturday night when HBO's Jim Lampley signed off on the Manny Pacquiao-Tim Bradley rematch by suggesting that Pacquiao-Bradley III is virtually inevitable.
No thank you. That's not the fight boxing fans want to see now that Pacquiao has thumped Bradley twice, even if the judges only got it right once.
But sadly for the fight game, the expiration date has passed for the fight the public has been begging for, the one that for once truly would have been the Fight of the Century.
There was a time when putting Pacquiao in the ring against Floyd Mayweather Jr. would have trashed pay-per-view records and put a declining sport at its biggest peak since the days when Mike Tyson was the baddest man on the planet.
But at the age of 35, Pacquiao can no longer carry his end of that bargain. And at 37, neither can Mayweather.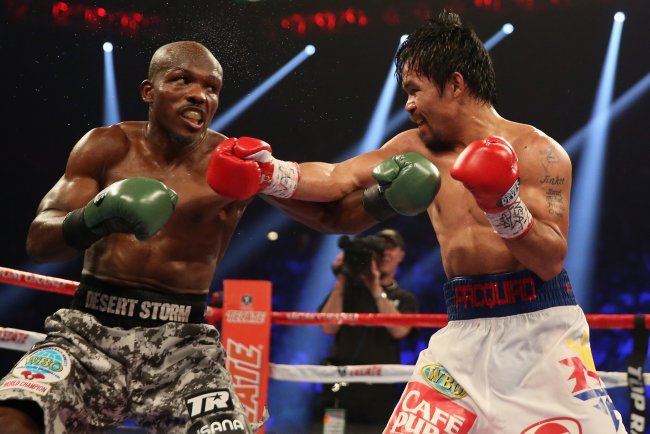 Jeff Gross/Getty Images
Yes, Pacquiao won convincingly against a flailing Bradley. My scorecard had him winning 116-112, and that was with Bradley getting the nod on two very iffy rounds.
But amid all of his high-scoring flurries, we never truly saw the Pacquiao of old, the one who could summon the anger of a kid who once lived on the streets and use it to bust a skull.
Pacquiao has been my favorite fighter of the last 10 years, and there was a time when I would have dipped into my kid's college money if that's what it took to be in the house when he fought Mayweather.
But now the only reason to make that trek would be if you want to see one of boxing's great warriors carried out on his shield. Pacquiao is younger than Mayweather, but with 63 career fights to Mayweather's 45, he has a whole lot less tread left on his tires.
He also has less horsepower.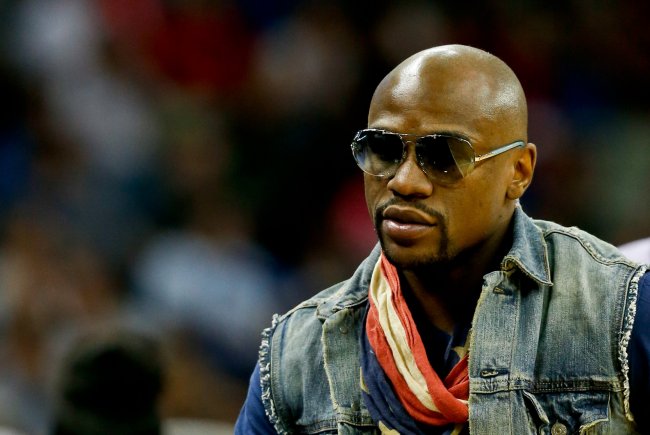 USA TODAY Sports
Saturday's brawl made it eight straight fights where Pacquiao has failed to deliver a knockout. He had 38 of them in his first 55 fights—a 69 percent KO rate—but now he's in an 0-of-8 slump that doesn't look like it will end unless he schedules cream puffs.
Even the statue he scheduled last time out, Brandon Rios, escaped getting a 10-count.
Without the home run punch in his arsenal, the fervor has gone out of the argument about where Pacquiao ranks, pound-for-pound, among the greats.
The subplot to the Bradley fight was whether Pacquiao still has the killer instinct, and the answer is no. He scored with flurries but never took aim with one of his jawbreakers from the past.
And there's no sense in wishing that the handlers of Pacquiao and Mayweather will get a sudden flash of clarity and make this fight happen while it's still at least somewhat relevant.
Pacquiao's promoter, Bob Arum, was busy sniping at Mayweather's people yet again this week in Las Vegas.
Then Arum ramped it up after Saturday's fight, calling for the public to boycott Mayweather's May 3 fight with Marcos Maidana. Interesting move, but is that what will bring the two sides to the negotiating table?
Mayweather appears determined to keep scheduling softies while he fulfills his six-fight contract with Showtime, an agenda that continues through 2015.
"@ChrisMannixSI: Arum: "The only people who can make Floyd fight Manny is the public…by boycotting the fight on May 3rd." @iambudek

— Joey (@i_am_joey) April 13, 2014
That seemingly means the earliest we could see Pacquiao-Mayweather would be in 2016, when Pac-Man will be 37. Mayweather will turn 39 that February.
For a little perspective, please note that when Muhammad Ali and Joe Frazier met for the third time—yes, the third time—Smokin' Joe was 31 and The Greatest was 33.
Will Manny Pacquiao ever fight Floyd Mayweather?
It doesn't help that Mayweather appears obsessed with protecting the big fat zero he has in the loss column, and that Pacquiao's outside interests include everything except becoming the first Filipino astronaut.
Pacquiao is expected to try and upgrade his political status in the Philippines from congressman to senator, and the talk continues that he could one day be that nation's president. Meanwhile, his wife will soon deliver their fifth child, and Pacquiao has promised to devote a lot of his future energy to helping his homeland recover from last November's devastating typhoon.
Throw in his deep religious convictions, and you have a saintly politician who's trying to be a one-man Red Cross while working the heavy bag and changing diapers.
Hey, maybe he can write a Hangover IV script during his many leisure hours.
Pacquiao's trainer, Freddie Roach, has been dropping not-so-subtle hints that Pacquiao could be headed for retirement soon.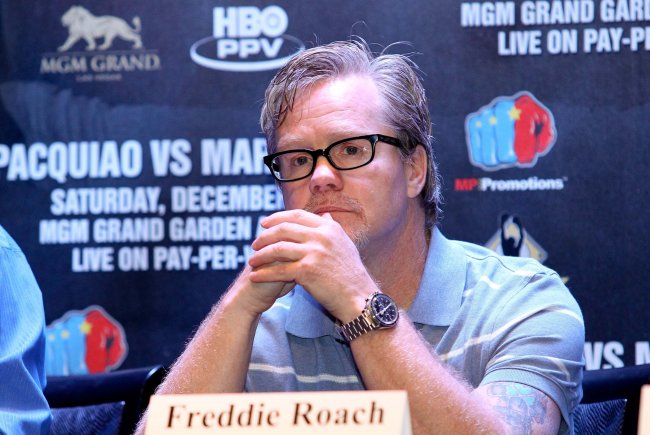 USA TODAY Sports
"It would be great if Floyd and Manny met in what could be the last fight for both of them," Roach told the Daily Mail's Jeff Powell. "Down the years all the great fights which were supposed to happen did happen. Sometimes sooner, sometimes, usually because the fighters demanded it. Those are the fights for which they are best remembered."
Roach, however, doesn't sound optimistic about that happening.
He added: "But it looks like in the future people will look back and ask why these two never fought each other."
That leaves the legacy of Pacquiao vs. Mayweather looking like it will go down in the history books under this title: The Greatest Fight That Never Happened.

Tom Weir covered numerous championship fights as a columnist for USA Today.