There are many sports records we think of as virtually unbreakable. Among them, Joe DiMaggio's 56-game hitting streak and Wilt Chamberlain's 100-point night. But one that suddenly looks very vulnerable is Tiger Woods' record as the youngest Masters champion.
Jordan Spieth, who won't reach the legal drinking age until July, will take dead aim at Woods' mark on Sunday, when he will be 20 years, 8 months and 17 days old. Woods was 21 years, three months and 14 days old when he won the 1997 Masters.
Despite his youth, Spieth was the model of composure Saturday while grinding out a third-round score of 70 that nudged him into a tie with Bubba Watson for the lead at five under.
The Texan was so good on a tough scoring day that defending Masters champion Adam Scott was left to play a supporting role in their pair while shooting a round of 76.
Youngest Masters Champions

| | | | | |
| --- | --- | --- | --- | --- |
| Tiger Woods | 21 years, 3 months, 14 days | 1997 | | |
| Seve Ballesteros | 23 years, 4 days | 1980 | | |
| Jack Nicklaus | 23 years, 2 months, 13 days | 1963 | | |
| | | | | |
CBS Sports
And there's no reason to think that Spieth will be overwhelmed by his final pairing on Sunday opposite Watson, the 2012 champion.
As Jim Nantz pointed out late in CBS' broadcast Saturday, Spieth has done shockingly well when paired with golf's marquee names. Besides outperforming Scott, he was in Rory McIlroy's group for the first two rounds at Augusta, and was seven shots better than the man who's widely considered golf's best under-30 competitor.
Spieth also totally overshadowed Woods in January, when they were paired at the Farmers Insurance Open, scorching Torrey Pines with a second round of 63 while Tiger carded a 71. And the gravity of the situation didn't faze him, as Spieth told USA Today's Steve DiMeglio after that round:
I wasn't intimidated by any means. I grew up watching him obviously, just like I did with a lot of these veterans out here, so I've idolized him, watched him win majors and whatnot. It's exciting to finally be paired with him. We played a practice round at the Presidents Cup and spent a good amount of time together, so it wasn't like the first time I ever met him.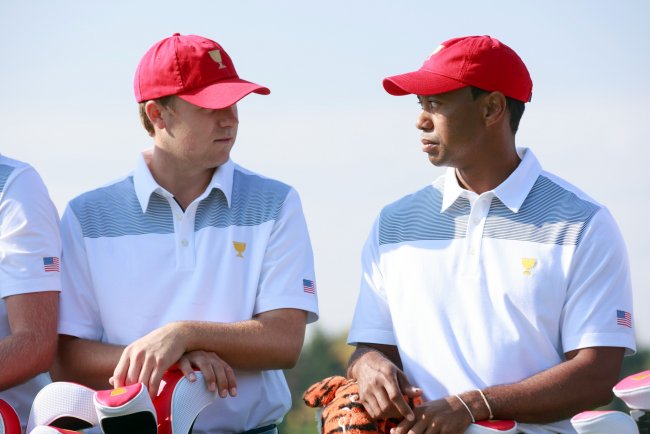 USA TODAY Sports
Spieth also made it clear before this Masters began that he firmly believed there's no reason he couldn't win in his Augusta National debut.
"I think that there's an emphasis on first-time winners—or the lack of first-time winners," Spieth told Wayne Staats of The Augusta Chronicle earlier this week. "But I don't see much of a big—I don't see that it's a big deal at all. I think that if I get my game ready, then it's possible."
Only three players have won the Masters on their first try, but that's a really deceiving statistic.
Horton Smith was the winner of numerous big tournaments when he won the first Masters in 1934. So was Gene Sarazen when he won the next year in his first attempt. That leaves Fuzzy Zoeller as the rawest of the first-time winners, but even he was 27 when captured the Masters in 1979.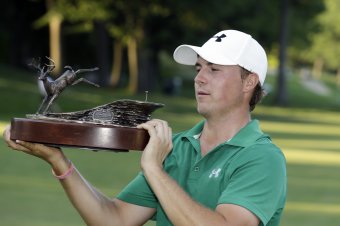 Charlie Neibergall
Spieth's ticket to the Masters was his victory at the age of 19 last year at the John Deere Classic, in a five-hole playoff with David Hearn and Zach Johnson. That made him the first teenager to claim a PGA tournament since Ralph Guldahl won the Santa Monica Open in 1931.
This year's rookie crop at the Masters has been touted as one of the most promising ever, but Spieth wasn't put at the front of the class.
Sweden's Jonas Blixt, who's tied for third at four under, had more attention coming in, as did Patrick Reed, who has won three tourneys since last August. So, too, did Kevin Stadler, Robert Castro and Australian Steven Bowditch.
But now all eyes are on Spieth, who has matched Woods' history before. The two are the only multiple winners of the U.S. Junior Amateur, a title Spieth took in 2009 and 2011.
In college, Spieth was an All-American freshman at the University of Texas and helped the Longhorns win the 2012 NCAA championship before turning pro that December.
To prepare for his first Masters, Spieth consulted with another former Longhorn, two-time Masters champion Ben Crenshaw.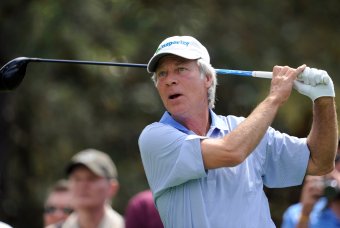 Jack Gruber-USA TODAY
"Mr. Crenshaw talked to me a lot about just the pull on the greens and just how you really need to watch out, keep an eye on where that 11th green, 12th green (pin), where they are located, not for the break of the greens but for the speed," Spieth told Adam Schupak of GolfWeek.com.
Spieth also had his caddie, Michael Greller, consult with Carl Jackson, who long carried the bag for Crenshaw.
But Spieth wasn't a total newcomer to Augusta National this week. He made his first trip last October, playing 27 holes, and reflected on that visit in his interview with CBS after Saturday's round.
"It was kind of heaven on earth for me," Spieth told CBS. "We played it early in the evening and no one else was on the course."
He'll have an earlier start on Sunday, and the course will be packed with people waiting to see whether he can handle the pressure, but he'll have a chance to make it an even more heavenly experience.

Tom Weir covered two Masters as a columnist for USA Today.