COLUMBIA, S.C. — The Black team beat the Garnet team, 28-10, in South Carolina's annual spring football game, but don't take it seriously.
South Carolina coach Steve Spurrier certainly doesn't.
For Spurrier, it's all about putting on a good show for the fans, avoiding injuries and having a little fun along the way.
Spurrier's casual approach was highlighted by his "off the bench" play.
"@DT_ONE_SEVEN: Shoutout to our best wideout @dawnstaley !!! Appreciate you coach!!! #GodisGood" thanks Dylan! We are good team! :)

— dawnstaley (@dawnstaley) April 12, 2014
This year, it was women's basketball coach Dawn Staley who stepped off the sidelines and into the end zone to catch a 30-yard touchdown pass from Dylan Thompson.
"I think the best play of the spring game had to be the catch made by wide receiver Dawn Staley," Spurrier said. "Dylan had to put up about a 45-yard throw. We were on the 30-yard line. I was hoping that we'd be on the 10 or 15, but that was all we had. He put it in the air, and Dawn made a great catch. That was probably the highlight play."
When the highlight play is a throw to the women's basketball coach, it tells you all you need to know about Spurrier's approach in the spring.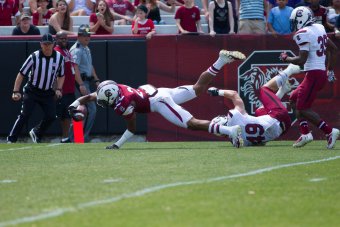 USA TODAY Sports
He remembers the spring before his first season as coach at Florida when Emmitt Smith carried the ball 31 times.
"We don't do that here," Spurrier said.
Case in point. South Carolina's starting tailback, Mike Davis, rushed 203 times for 1,183 yards and 11 touchdowns.
Saturday, he carried the ball twice for 13 yards.
Davis used one word when asked how his spring practice had gone.
"Relaxing," he said.
Even so, Davis said he put in plenty of work and got better.
"I didn't get a lot of reps," he said, "but I got a lot of mental work done. I definitely improved. I also was able to help the younger players get better."
#Gamecocks spring game photo gallery. http://t.co/maWSq1ELXG pic.twitter.com/27nECxHOlv

— GoGamecocks.com (@gogamecocks) April 12, 2014
Even playing 12-minute quarters with the clock running continuously in the second half, the Gamecocks piled up 496 yards of offense on 83 plays.
South Carolina defensive coordinator Lorenzo Ward was OK about it. He knows the deal. The Gamecocks were not allowed to blitz and were limited to three coverages.
"It's probably harder on my assistant coaches," Ward said. "They don't really understand. This is my sixth spring with Coach Spurrier. I understand what it's about. The guys understand. I understand what the game is about, and we want to make sure our fans are happy when they leave. They like to see points on the board."
It's what Spurrier likes to see also.
"It was set up for the offense to move the ball," he conceded.
Spurrier's approach obviously works. The Gamecocks are 33-6 over the last three seasons.
"It's hard to say how important spring practices are," he said. "I just feel like you let players play and practice who have not played a lot. The older players practice their position, but they don't need a lot of scrimmaging."
If it all translates to another good season remains to be seen.
"We had more players in spring practice than I can ever remember," Spurrier said. "We've got 22 fourth- or fifth-year players. That doesn't mean we're going to beat a lot of teams. We can go bad, or we can go good. We'll just have to wait and see."