In addition to winning and slipping on the victor's green jacket at the Masters two years ago, Bubba Watson made a little news off the course by purchasing a notable orange car.
The original "General Lee" was made famous on the Dukes of Hazzard TV show, and was driven by a couple of young men who comically terrorized a small Georgia town while outrunning the law in their 1969 Dodge Charger.
Friday, Watson was acting out a version of that scenario, inflicting his own brand or terror on the Masters field in the modestly sized Georgia city of Augusta. He wasn't driving a Charger, but he did charge to the top of the leaderboard with a round of 68 that saw him post five consecutive birdies on the back nine.
There's plenty of golf left to be played at the year's opening major, but Watson is the one guy at this Masters who might make the rest of the field shudder as he creeps away from the pack.
As the biggest hitter on the PGA tour Watson is built to play Augusta National, and brute force is a big part of why he holds the second-round lead at 7-under par.
2014 PGA driving yardage leaders

| | | | | |
| --- | --- | --- | --- | --- |
| Bubba Watson | 317.7 | | | |
| Dustin Johnson | 310.8 | | | |
| Scott Piercy | 307.0 | | | |
| Nicolas Colsaerts | 306.9 | | | |
PGATour.com
He has been nearly faultless off the tee so far. His booming drives made him the only player who played a bogey-free first round, when he hit 16 greens in regulation while carding a 3-under 69.
Watson was virtually just as accurate Friday, and if his tee shots remain rock-solid dependable he has the muscle to run away with this tournament.
He started his birdie binge on the par-3 No. 12, where his tee shot was within three feet of the cup. Watson was nearly as precise on the par-3 16th, getting within four feet of the flag. In between, he buried a 40-foot putt on No. 14.
Just as importantly as his big drives, Watson has the experience of winning at Augusta National, and his triumph in 2012 in a playoff was as gutsy a Masters victory as we've seen this century.
On the second playoff hole against Louis Oosthuizen, his tee shot drifted onto pine straw deep in the woods and it looked like the green jacket was lost. But he recovered with a mini-miracle that saw him hook his approach at a near-perfect right angle.
Given the relief that victory brought to a Southerner who played his college golf at the University of Georgia it perhaps makes sense we didn't hear much from Gerry Lester Watson Jr. in 2013.
But he is back with a vengeance in 2014, with a pair of second-place finishes and a victory at the Northern Trust Open in February. There, he shot back-to-back weekend rounds of 64 to nail his first tournament win since claiming the Masters.
Watson's chances for a second Masters title also are enhanced by how he approaches Augusta National. He's not a risk taker, which is usually the way to go at the Masters unless your name is Phil Mickelson.
Instead, Watson is content to let the pars stack up while waiting for others to mess up. It's the same style that won three Masters for Nick Faldo, and Watson alluded to it after his first round.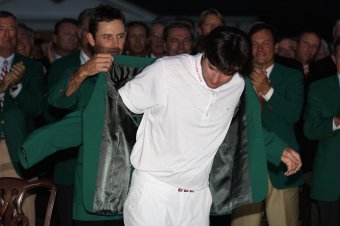 Scott Halleran/Getty Images
"I don't want to give my secret, but I'm trying to just hit greens," Watson told reporters at his Thursday press conference.
"So I'm just trying to hit greens," Watson added. "If I can hit greens that means I've hit good tee shots and I hit good iron shots, and just trying to make par from there and throw in a birdie here and there. And that's what I did (Thursday)."
Watson didn't make his first bogey of this tournament until his 27th hole.
His one big slip of the second round was missing a four-foot par putt on No. 18. But the good news for him there was that he got off the course just as stiff afternoon winds really started to pick up.
It never hurts to have Mother Nature on your side in the majors, and it possibly also benefits Watson's hopes that he's left-handed.
Lefties have won only seven majors all-time, but five of those have come at the Masters since Mike Weir got the party started in 2003.
CBSSports.com took an in-depth look at the supposed lefty edge in 2011, and Mickelson chimed in as a believer.
"I think there are a number of shots there where it is definitely advantageous for a left-hander's shot dispersion, where the misses fit the course," Mickelson said.
But much more important than which side he hits the ball from is that Watson clearly is playing more relaxed than he did last year. He has been very open about being rattled at last year's Masters, where he finished tied for 50th after a final-round 77. The pressure of being the defending champion, Watson told reporters at his Thursday press conference, got to him.
"I had it, there's so much you're doing when you're defending champ, and my mind can't handle it," Watson admitted.
He said Adam Scott seems to be handling that role well this year, "But for me it was just overwhelming. The Champions Dinner, everybody still congratulating you, so I just never got the focus. I played really bad on Sunday last year."
But if he keeps playing like he did on Friday he may well get a second chance at coping with the pressure of being a defending champion.
Tom Weir covered two Masters as a columnist for USA Today.