COLUMBIA, S.C. — South Carolina practiced on Tuesday and Thursday in preparation for Saturday's spring game, with the Thursday workout coming under the lights at Williams-Brice Stadium.
In Saturday's Garnet and Black Spring Game, the Gamecocks will play four 12-minute quarters, and in the second half, the clock will run continuously.
Full release and fan info on tomorrow's Garnet & Black Spring Game: http://t.co/PqmiFtF0aX #Gamecocks

— Gamecock Athletics (@GamecocksOnline) April 11, 2014
The game can be seen live on ESPNU at noon ET with Joe Davis, Matt Stinchcomb and Maria Taylor serving as the announcing crew.
At halftime, South Carolina will honor the seniors from last year's football team, along with the SEC champion women's basketball team and SEC champion equestrian team.
"We'll be honoring the women's basketball team," head coach Steve Spurrier said. "Our equestrian girls cannot make it. I understand they will be practicing. Practicing is more important than getting recognized in front of 40,000. Hopefully, they're getting ready to go win a national championship."
Thompson will get time
In South Carolina's three previous scrimmages, starting quarterback Dylan Thompson has played the opening drive and then taken a seat.
Spurrier says Thompson will play a bit more on Saturday.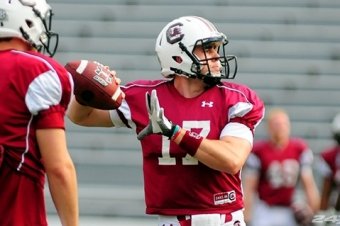 Photo Courtesy of 247sports
"We'll let some of the older guys play a little bit," Spurrier said. "Dylan [Thompson] will probably play at least a half. It should be a fun day here at Williams-Brice Stadium. We're looking forward to a good game. Hopefully nobody will get hurt."
Heading into the spring game, Spurrier said redshirt freshman Connor Mitch has moved ahead of walk-on Perry Orth for the No. 2 quarterback spot.
"Perry slipped a bit, so Connor is probably No. 2 right now," Spurrier said. "Maybe Perry read all those nice articles that were written about him. I don't know."
Williams back
Redshirt freshman running back David Williams was able to practice on Thursday and should be able to play in the spring game.
Williams has been hampered most of the spring with a pulled hamstring.
Photos: #Gamecocks No. 14 spring practice, held tonight at Williams-Brice. http://t.co/xkVgZVUph1 pic.twitter.com/AAkINoB6Uw

— GoGamecocks.com (@gogamecocks) April 11, 2014
Even so, he has impressed starting tailback Mike Davis.
"He's big, fast and strong," Davis said. "He's everything you're looking for in a tailback."
Anderson out indefinitely
Earlier in the week, Spurrier announced that starting tight end Rory "Busta" Anderson had surgery and could potentially miss the 2014 season.

Photo courtesy of 247sports.
"Dr. Jeff Guy felt like we needed to go ahead and repair a torn triceps," Spurrier said. "He could be back next year. We'll see how his physical condition is. He does have a redshirt year available if we need to do that. We'll try to do what's best for Busta and what's best for the team and go from there."
Junior Jerell Adams is the probable replacement for Anderson at tight end.
All quotes obtained firsthand unless otherwise indicated.