Is it too early to discuss the possibilities of Adam Scott repeating as the Masters champion?
Of course not. That's the nature of modern sports. As soon as an athlete does something remarkable, we wait for him to catch his breath, then instantly inquire whether he can do it again.
Scott did his part to encourage that question on Thursday, shooting a three-under 69 that was an exact duplicate of last year's first-round score. And if not for a tee shot that dribbled into Rae's Creek on the par-3 12th hole, he might have escaped a double bogey there and ended the day atop the leader board.
But the 33-year-old still used his long putter to sink five birdies, and he sits one stroke out of the lead. That definitely qualifies as the solid opening round that's usually required to win the Masters.
As Johnny Miller said on the Golf Channel: "I don't predict anything until the first round is over because, believe it or not, that's the most nervous round in the majors."
But predicting a repeat championship is quite another matter for Scott, the only Australian to ever win at Augusta National.
Only three times since it began in 1934 has the Masters had a repeat champion, and they are some of the greatest golfers in history: Jack Nicklaus, Nick Faldo and Tiger Woods.
Two legends who also came close but ended up a putt or two short were Ben Hogan and Arnold Palmer. The quests of those five show just how difficult and elusive a Masters repeat is, and also how a little luck —good or bad—can be the difference.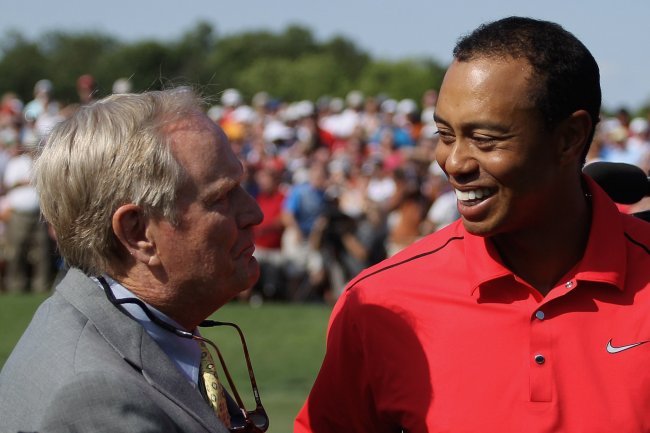 Scott Halleran/Getty Images
Jack Nicklaus, 1965-66
In 1965 Nicklaus was still more than two decades away from his final Masters championship, but he already was rising to legendary status.
He won by nine strokes, which was a record. He was 17-under, also a record. And his four-round total of 271 tied what was then the record for a major. It wasn't topped at the Masters until Woods scorched Augusta National with a 270 total in 1997.
But the Golden Bear's 1966 Masters was another matter.
At the end of regulation he was stuck in a three-way tie with Tommy Jacobs and Gay Brewer. To get there, Nicklaus had to battle back from a second-round 76 that nearly snuffed out his title hopes.
To win, Nicklaus had to prevail in an 18-hole playoff the next day, which he did with a round of 70. Jacobs hung in, but ultimately finished two strokes back. Brewer totally blew up with a round of 78, but atoned with a championship the next year.
As for Nicklaus' three-peat hopes, he was never in the hunt, missing the cut for the only time in his career from 1960-93.
Nick Faldo, 1989-90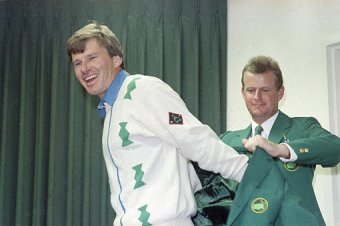 CURTIS COMPTON
Faldo one-upped Nicklaus by winning both of his championships via a playoff, and when he faced that pressure cooker, the format had changed to sudden-death.
In 1989 the British champion appeared out of contention after struggling through a round of 77. But he came charging back with a final-round 65 that left him tied with the ill-fated Scott Hoch.
On the first playoff hole, Hoch infamously missed a two-foot putt that would have won the tournament, and the cruel jokes began about his last name rhyming with "choke."
Severely rattled, Hoch bogeyed the second playoff hole, and Sir Nick was soon being fitted for a green jacket.
As Faldo pursued his repeat title the next year it was fitting that he played his final round with Nicklaus. But he opened the round with a double-bogey six that left him well behind leader Raymond Floyd.
But that played into Faldo's hands as the 48-year-old Floyd, seeking to win a major in four different decades, began trying to cruise to the championship with pars.
Floyd later berated himself for that, telling reporters afterward, "That's not my nature."
Faldo forced a playoff by making up three strokes in the final round. Both contenders made par on the first playoff hole, but then Floyd hit into water on the second, at No. 11. It was Floyd's only shot of entire tournament that ker-plopped into water, and it left him with a tournament-losing bogey.
Tiger Woods, 2001-02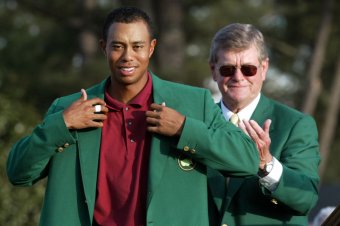 DOUG MILLS
Woods didn't come close to winning his back-to-back championships in the grand style of 1997, where he finished with a 12-stroke margin. But both times he did arrive at the 18th green with a solid comfort zone.
He won by two strokes over David Duval in 2001 while picking up a million-dollar winner's purse and then had a three-stroke cushion on Retief Goosen in 2002. The 2001 triumph also completed the so-called "Tiger Slam," giving him four consecutive wins in the majors.
In each of those Masters, Woods distanced himself from a field with a round of 66. In 2001, that surge came in the second round, and in 2002, it happened in the third.
Now then, the two greats who couldn't quite make it happen:
Ben Hogan, 1954
Hogan and Sam Snead traded off wearing the green jacket in the early '50s. Hogan won in 1951 and 1953, and Snead claimed the Masters in 1952 and 1954.
For Hogan, the potential repeat championship that got away was 1954, when his career was on an incredible tear. Besides winning the Masters the year before, he also had claimed the U.S. Open and the British Open.
But in the fourth round of the '54 Masters he let his three-stroke lead on Snead slip away and they finished in a tie. The next day Snead won the 18-hole playoff by a single stroke, and Hogan's shot at a repeat was gone.
Arnold Palmer, 1959, 1961, 1963, 1965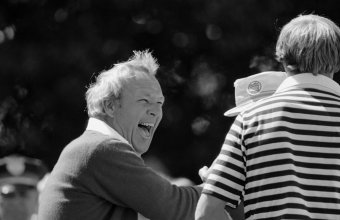 Anonymous
Palmer came to the Masters four times with a chance to repeat, having won in 1958, 1960, 1962 and 1964. In two of those opportune years he finished an agonizing second, and he was third in another.
Palmer was tied for the third-round lead in 1959, but then Art Wall stormed past everyone in the field with a closing round of 66. Wall, who claimed to have sunk a world record 42 holes-in-one, was a notoriously streaker player, and he picked the right day to get sizzling hot. Palmer finished two strokes back, in third.
In 1961 champion Gary Player left the door open by shooting a final-round 74, but Palmer's closing 71 left him one stroke back, tied for second.
The 1963 Masters saw some of Augusta National's worst weather and Palmer tied for ninth in a high-scoring tourney.
And in 1965 Palmer shot a four-round total of 280 that matched his winning score from three years before, but again finished tied for second because that was the year Nicklaus set a flock of records.
So yes, Scott is sitting pretty after Thursday's round, but there's a lot of golf left.
Tom Weir covered two Masters as a columnist for USA Today. Statistics from past Masters were taken from "The Golf Majors Records & Yearbook."