Winning the Masters is unlike winning any other championship in the world. Slipping into the green jacket can be a breakthrough; a testament to one's ability to silence the critics and shine on golf's most pressure-filled stages, much like Phil Mickelson did in 2004, officially shedding the "best player in the world without a major" label.
A Masters victory can also be a harbinger for things to come, like Arnold Palmer's 1958 win over Ken Venturi, which would be the first of four Masters triumphs and a luminous career of seven total majors.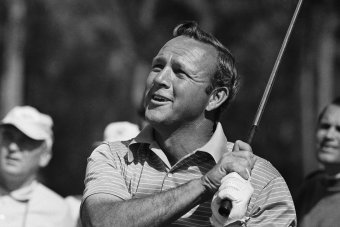 Anonymous
For golfers, whether they're professionals or the average duffer, Augusta National is sacred ground. Bobby Jones is a constant presence; his vision is palpable everywhere you look. Each hole bears its own history of magical moments and gut-wrenching missteps. And the back nine on Sunday at the Masters has all the suspense and glory of a World Series.
Many men have been made at the Masters; their legacies rooted in the pines and magnolias, speedy greens and plush, green fairways. Below are seven standouts who represent a mix of modern and past Masters victors.
Phil Mickelson
Before 2004, Phil Mickelson had garnered a world-renown reputation for his immaculate touch around the greens, a risk-reward style of play and most notably for the dubious title of "best player in the world without a major." His victory at the Masters that year epitomized the word "breakthrough."
The suspense of four competitive rounds boiled down to a final, downhill, slippery, left-to-right putt at the 18th hole Sunday, where many dreams have become reality. Mickelson drained the putt and has likely never jumped so high in his life.
The Masters victory in 2004 was Mickelson's catalyst, leading to not only another major a year later at the PGA Championship, but two more Masters (2006, 2010) and most recently a triumph at the British Open (2013).
Already a member of the Hall of Fame, Mickelson is undeniably one of the most decorated golfers in the history of the sport. He'd been a respected pro for 12 years before that first Masters victory, and since then has absolutely shined, winning 23 times worldwide and competing on various Ryder Cup and President's Cup teams.
He's captured three legs of the career Grand Slam, and while a U.S. Open victory has remained elusive to him for more than 20 years—not to mention six runner-up finishes—his three Masters victories, and especially that initial win in 2004, represent a prolific career.
Gene Sarazen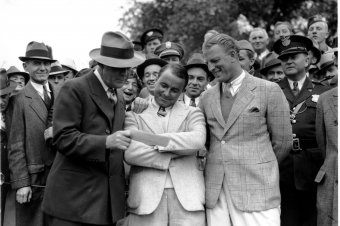 Associated Press
The Masters officially began in 1934, and in only its second year Gene Sarazen put golf and the championship on the sport's map with "the shot heard round' the world." Sarazen struck a 235-yard dagger over the water at the par-five 15th hole for a double eagle, two, also known as an "albatross."
As if the feat itself wasn't miraculous enough, the moment couldn't have been more star-laden. Sarazen was paired with Walter Hagen, the winner of 11 major championships, the third most behind Tiger Woods (14) and Jack Nicklaus (18). Bobby Jones, who founded the course and was already hallowed for his golf prowess, had come down to the 15th hole after his round to watch Sarazen and Hagen finish. Lastly, a young Byron Nelson had hit an errant drive on the adjacent 17th hole, not far from where Sarazen's ball had come to rest.
It was a quartet of golf legends before they were legends, and they were all present for one of the most rare moments the sport knows.
The truth is, Sarazen was already a prolific golfer before this moment; he'd already won six majors. The famed double eagle, though, would not only help him secure his lone Masters victory, but it allowed him to complete the career Grand Slam, a feat accomplished by just five players in the history of golf.
Bubba Watson
Before winning the Masters in 2012, Bubba Watson was the tour's jolly giant who pummeled the ball with a homemade, Happy Gilmore-esque swing. He'd been on tour seven years, won a handful of tournaments, but the jury was still out on whether he could translate his talent to the biggest stages in golf.
Then, not only did he prove he had the versatility and poise to compete with golf's elite at Augusta National, but he pulled off what is rightfully considered one of the greatest recovery shots in recent major championship history.
On the second playoff hole against Louis Oosthuizen, Watson hooked his drive deep into the trees, making his second shot virtually blind to the green. Sure enough, Watson, who'd never had a single instruction in golf mechanics, blasted his second shot out of the trees with a left-to-right draw that hooked on cue. His ball came to a halt about 10 feet from the hole and two putts later, Watson was a winner.
The Masters seems to be a magnet for magnificent moments and Bubba's ranks up there with the best of them. With that shot, and ultimately with the green jacket, Watson evolved from pretender to contender. Only in the conveyance of history will we be able to truly gauge how spectacular that recovery shot was and what it meant for Watson's career.
Arnold Palmer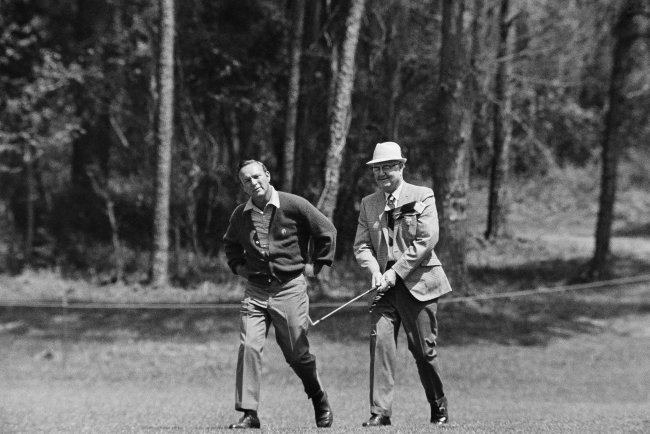 Anonymous
Arnold Palmer's first major championship came in 1958 at the Masters and would be a harbinger for one of the most thrilling and successful careers in the history of golf. Already a budding star in golf, Palmer won the Masters in the third official year it was televised. Between his stylish look and humble background, Arnie became golf's first star to shine on television.
The victory at Augusta was symbolic of Palmer's persistent, never-let-down personality. In an interview with Bob Harig at ESPN, Palmer looked back on that '58 Masters and remembered how even then, there was a sense of strategy as to how to conquer the giant. You won the Masters with a blend of high-arching iron shots and tempered, precise putting. As Palmer said:
I always hit the ball low and on the line. Very rarely did I ever hit it up in the air like Jack [Nicklaus] does or some of the players that were successful at Augusta. And that made me determined to win Augusta even more, because I figured that if there is a way to get to where you have to get on all of the holes at Augusta, hitting a low ball still made it possible to win and it worked for me.
Palmer would go on to win four green jackets (1958, 1960, 1962, 1964) and seven majors in total. A trailblazer in the sport, Arnie grew the game and was the face of golf in the 1950s and '60s.
Zach Johnson
In 2007, the mantra for winning the Masters had become the Tiger Woods way: overpower the course. Then a 5'11", 160-pound kid from Iowa named Zach Johnson brought the house that Bobby Jones built to its knees by doing the exact opposite.
Short off the tee, but known for his deadly accuracy, Johnson won the 2007 Masters by emphasizing precision and playing to his strengths. That year, Johnson ranked eighth in driving accuracy, eighth in greens in regulation from 125-150 yards out and fourth in putting on the PGA Tour.
Throughout his four days at Augusta, Johnson continued to stripe the fairways, put himself in yardages he was comfortable with, especially on the par fives, and made confident, aggressive putting strokes on the notoriously deceptive greens.
The Masters not only forged Johnson's name in golf lore, but it was the catalyst for what's been a consistently competitive career. Since 2007, Johnson has won at least one event in six of the last seven years on tour. He's become an elite player, a threat every time he tees it up, and there's no denying how crucial his Masters victory was for his confidence and ultimately for his legacy.
Tiger Woods
Take your pick as to how, why and when Tiger Woods' legacy was built at the Masters. He's been as consistent, competitive and mesmerizing a presence at the Masters over the last 19 years as any player in the history of the sport not named Jack Nicklaus.
You can rewind to 1997 when he was just 21 years old and scorched the field by 12 strokes to capture his first major championship. Or perhaps the fact that he opened that very championship with a front-nine 40 (+4), followed by a back-nine 30 (-6). From there, everyone else was playing for second.
To say the back-to-back Masters victories in 2001-2002 were special would be an understatement. In fact, the 2001 win made him the first player to hold all four major professional golf titles at the same time, although not in the same calendar year. It'd be a disservice not to mention his pitch from just off the 16th green in 2005, which was, as Sports Illustrated's Alan Shipnuck wrote, "a seemingly impossible chip-in that instantly became one of the greatest shots in Masters history."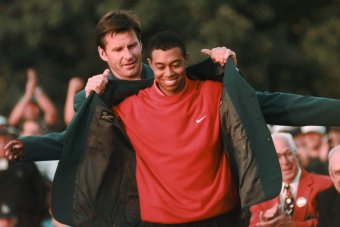 DAVE MARTIN
Woods knows Augusta National like the back of his hand. His games fits there. His name belongs alongside those who've shined brightest there—Jones, Sarazen, Hogan, Palmer, Nicklaus. If you have any questions, just reference his numbers there: 19 starts, 13 top 10s, 11 top-five finishes, four victories.
Jack Nicklaus
If Jack Nicklaus hadn't won the Masters in 1986 at the age of 46 for the sixth time, his career and reputation would burn just as bright in golf history as the one of the greatest of all time. Except he did. It was a victory so unthinkable and unforeseeable that it prompted some of the best sports writing of the late 20th century.
Thomas Boswell covered Nicklaus' win for The Washington Post and wrote:
Some things cannot possibly happen, because they are both too improbable and too perfect. The U.S. hockey team cannot beat the Russians in the 1980 Olympics. Jack Nicklaus cannot shoot 65 to win The Masters at age 46. Nothing else comes immediately to mind.
Ken Bowden, author of One For the Ages: Jack Nicklaus and the 1986 Masters, wrote:
There have been prettier swingers of the club than Jack Nicklaus. There may have been better ball-strikers than Jack Nicklaus. There have definitely been better short-game exponents than Jack Nicklaus. Other golfers have putted as well as Jack Nicklaus. There may have been golfers as dedicated and fiercely competitive as Jack Nicklaus. But no individual has been able to develop, combine and sustain all of the complex physical skills and the immense mental and emotional resources the game demands at its highest level as well as Jack Nicklaus has for as long as he has.
Nicklaus just clicked with the Masters. He won it a record six times but could've won 10 times! Don't forget that he also had four runner-up finishes at Augusta as well. He defined consistency under pressure, not only at the Masters, but all majors. From 1960 to 1987, Nicklaus won at least one major or earned one top-five finish every year but one (1984).
There's a reason they call him the "Golden Bear."