A Manny Pacquiao highlight film easily could last hours, but perhaps the best moments of his career came during a 15-fight winning streak from 2005 to 2011.
But now the question is whether the eight-time champion can still close the deal the way he did while knocking out Ricky Hatton in two rounds, registering a TKO against Miguel Cotto and beating the legendary Oscar De La Hoya into submission during that untouchable stretch.
"Killer instinct" is a topic that has arisen often for Pacquiao as Saturday's WBO welterweight title fight with Timothy Bradley Jr. approaches. At their "HBO Face Off" last month to promote the MGM Grand bout, Bradley himself said he believes Pacquiao no longer possesses it.
Said Bradley: "The only thing is that hunger that he's looking for, it's no longer there, and he can't get it back, and it's gone ... The killer instinct man, that's what I'm saying."
Pacquiao heard the put-down loud and clear, and he doesn't hesitate to acknowledge it's the central theme of Saturday's rematch with the undefeated Bradley (31-0).
"Yes, I think that's the important part of this fight, to prove I still have that killer instinct," Pacquiao told Bleacher Report in a phone interview last week. "But for me, in my opinion, I never lost it."
Pacquiao contends the proof of that came in the fight that raised so many doubts about how much longer the 35-year-old's career can continue: the sixth-round knockout at the hands of Juan Manuel Marquez in December of 2012.
The Marquez defeat came six months after his wildly controversial loss by split decision to Bradley and dealt him the first consecutive defeats of his 55-5-2 career. What people forget, Pacquiao said, is that he was going for the KO when Marquez leveled him.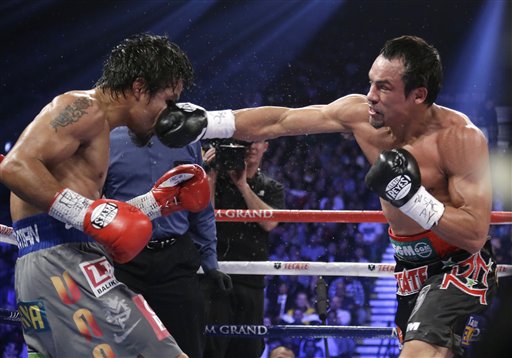 Julie Jacobson
Pacquiao had backed Marquez into the ropes and was hoping to unleash his jab-jab-straight left combination. But Marquez ducked the second jab, which left Pacquiao vulnerable to a devastating right hand to the mouth.
The blow sent Pacquiao to the mat face-first and ended the fight. The referee, Kenny Bayless, didn't even bother to count out Pacquiao.
"I was still trying to knock out opponents," Pacquiao said of the Marquez fight's sudden conclusion. "That's why I got caught with that punch against Marquez."
Marquez was respectful toward Pacquiao afterward, telling reporters he "threw the perfect punch."
But that didn't hush the doubts about Pacquiao.
Now, Pacquiao said, he feels rejuvenated after taking nearly an entire year off between the Marquez loss and last November's comeback victory over Brandon Rios.
"There were times when I was fighting three times a year, and maybe I got tired two, three years ago," Pacquiao said. "After taking a year off I missed boxing. Now I'm excited to fight again, and I'm enjoying it. My determination to keep fighting is still there."
Pacquiao's final weeks of training have been conducted in a newly constructed private gym beneath the main workout area of trainer Freddie Roach's Wild Card Gym in Los Angeles. As a member of the Philippine House of Representatives, he has political opportunities waiting for him in his homeland, but he doesn't sound anxious to retire and pursue that career full time.
"I'm enjoying my fighting career," Pacquiao said. "I really love boxing, and this is what God has chosen for me, so I have to do it to the best of my ability."
With eight championships already won, there's not much more left for Pacquiao to accomplish.
Who will win the Pacquiao-Bradley rematch?
With that in mind, he said his biggest remaining goal is "to just provide fans with the best fight, to make them satisfied, because they are the ones who have always been supporting me, and they have always been there for me."
The deeply religious Pacquiao says he'll rely on his faith to deliver the message about when it's time to retire.
"I think it will just come when it comes," Pacquiao said. "God will say when. When that happens of course I will accept it, because that's God's will for me, and I will follow."
Until then, Pacquiao intends to keep fighting hard. But he hasn't ended a fight with a knockout or a TKO since crushing Cotto in November of 2009, and he has avoided predicting one against Bradley.
"I'm fighting heavier guys now, bigger, stronger guys who are 150, 154 pounds," Pacquiao said. "It's just different styles of the fight. So it's not as easy to knock them out with one punch."
If there has been any change to his boxing, Pacquiao said, it's that he has become wiser in the ring.
"I've learned to listen to my coach even more," Pacquiao said. "Also, just to be more smart, be a smarter fighter, by using my combinations properly, by training properly."
In addition to the private training area, the one other change to Pacquiao's preparation has been bringing back his former strength and conditioning coach, Justin Fortune, an Australian who worked with Pacquiao from about 2002-07.
But while Pacquiao said he's cagier these days, he emphasized that his "aggression is the same as it's always been."
He admits, however, that against Bradley, he "was too nice last time."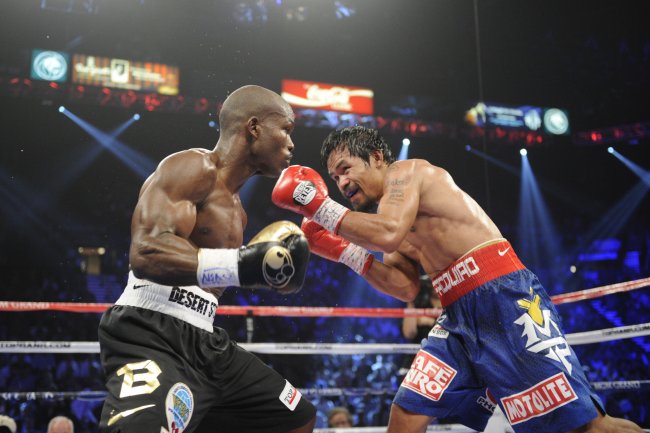 Chris Carlson
In the rematch, "The key will be throwing lots of punches."
Pacquiao also is looking at this bout as a chance to take care of unfinished business. Pacquiao didn't protest much in the immediate aftermath of his split-decision loss to Bradley, but over time it's clear the controversial judging has gnawed at him as much as it did to his legion of fans.
Said Pacquiao: "I'm okay with that decision. I was disappointed, but I accept it and it's okay. But I felt I won 12 rounds of that fight. I felt like I dominated. So my goal is to show I can dominate again for 12 rounds."
And if he wins?
"It will mean I fought a good fight, and that I won that first fight against him also," Pacquiao said.
Tom Weir covered numerous championship fights as a columnist for USA Today. All the quotes in this story were gathered firsthand unless otherwise noted.