COLUMBIA, S.C. — South Carolina finishes up spring practice with its annual spring game on Saturday, and then the Gamecocks will enter the voluntary offseason workouts phase of their preparation for the 2014 season.
South Carolina coach Steve Spurrier will enter a different phase as well.
He calls it "golf season."
"I don't play at all during the football season," Spurrier said. "So it's my time to get out and enjoy golf, although I don't play nearly as much as people seem to think I do."
A nice picture with the Head Ball Coach today in Augusta. #hestheman #gococks pic.twitter.com/SEQwAtiyHT

— George Bryan IV (@GeorgeBryanIV) April 10, 2014
While other coaches brag about their around-the-clock work habits, Spurrier realizes the importance of down time.
It seems to work for him.
Spurrier will begin his 25th season as a college head coach with a record of 219-79-2, including a 77-39 record in nine seasons at South Carolina. He's only had one losing season, and that was his first one at Duke, in 1987.
Apparently, he doesn't lose much at golf, either.
Golf season for Spurrier begins just after the end of spring practice and carries on through most of the summer until the team reports in the fall.
Although he is not a member of Augusta National, he plays the course once a year as a guest of a member. This year, he's bringing along Gamecock defensive coordinator Lorenzo Ward.
And then there is the ongoing "Spurrier challenge." Any current player who wants to take Spurrier on in a round of golf is free to do so. The player gets one chance only.
He has never lost to a current player.
"My latest victim was [former Gamecock placekicker] Ryan Succop," Spurrier said. "Of course he played on the golf team in high school, hits it about 300 yards. So we went out, I shot 77 that day and he shot 79. He triple bogeyed one of the par-three holes.
"Those guys get a little nervous when they're playing the head coach."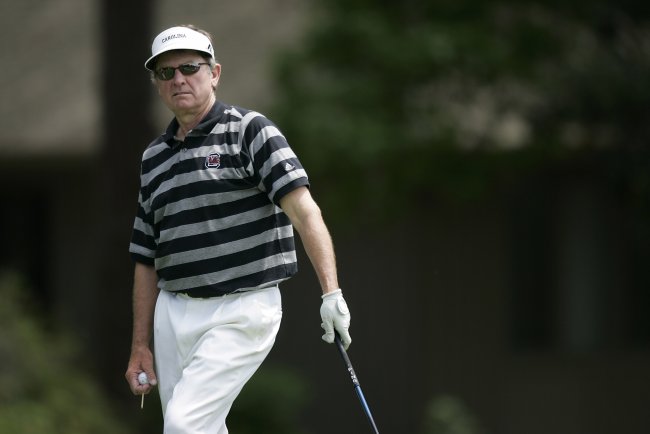 Mike Ehrmann/Getty Images
If Spurrier is nervous about the Gamecocks continuing their recent success, he doesn't show it.
South Carolina has finished 11-2, including two bowl victories, and ranked in the top 10 each of the last three seasons. It's an unprecedented run of success for the Gamecocks, who prior to Spurrier's arrival had one 10-victory season and three bowl victories to their credit in more than 100 years of football.
Has the wave crested? Can the Gamecocks keep it up, or even improve on what they've done? Can they win a conference championship? Compete for a national championship?
"That's the next thing we haven't done," Spurrier said. "Winning the bowl games and finishing in the top 10 three years in a row, we're proud of what we've done here. But we still want to win the SEC. If you win the SEC, you'll be in the final four of the national championship playoff."
Are the Gamecocks good enough?
"You never know until you start playing the games," Spurrier said. "We lost a lot of key players in [quarterback] Connor Shaw and [wide receiver] Bruce Ellington and [defensive end] Jadeveon Clowney. But we've got some players coming back, so who knows how it's going to be?"
As lead SEC writer Barrett Sallee notes, they can be good enough.
South Carolina spring game Saturday. Biggest question, can they contend? I think so, as long as HBC figures out that DL.

— Barrett Sallee (@BarrettSallee) April 11, 2014
The players are taking their cue from Spurrier.
"Of course the talent is here," said junior tailback Mike Davis, who rushed for more than 1,000 yards last season. "We have a great quarterback in Dylan Thompson, talent at wide receiver, a lot of guys who stand out. We've got to see how it all looks in a game. You can never rule us out."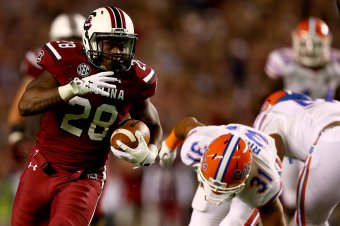 Streeter Lecka/Getty Images
Thompson, a fifth-year senior, gives the Gamecocks an experienced hand at quarterback.
"We've got a chance to be good, but a lot of teams right now have a chance to be good," Thompson said. "At the same time, I think it's really important what we do from right now until August 28th. We want to put in the work until then and focus on that."
Neither Davis nor Thompson is likely to get much work in Saturday's spring game, which will follow a casual format. The game will be played in 12-minute quarters.
Ready to watch @DT_ONE_SEVEN and the rest of the squad at the Spring Game on April 12! #Gamecocks pic.twitter.com/xMpD2gCpzP

— Gamecockology (@Gamecockology) April 1, 2014
"The year before I got to Florida, they divided up into teams and had a steak and beans game," Spurrier said. "Emmitt Smith carried 31 times in the spring game trying to win it for his team. We don't do that.
"We'll let the younger guys do most of the playing. It's a chance for most of the young guys to show the coaches they can play. The defense will only rush four guys, so hopefully we'll get off some passes."
The game will also feature what has become a spring-game staple for Spurrier: a receiver stepping off the sideline to illegally catch a long pass.
"It's going to be a little different this year," Spurrier said. "It's going to be a surprise. We have a surprise, celebrity catcher on the off-the-bench play."
There's one other note on the spring game. It begins at noon, and the clock will run continuously in the second half.
Chances are, the head ball coach has a tee time.
Unless otherwise indicated, all quotes obtained firsthand.