Following back-to-back trips to the Elite Eight, the Michigan basketball program now has to wait and see which of its top three players will return for another season in Ann Arbor. Glenn Robinson III, Nik Stauskas and Mitch McGary could all elect to bolt for the NBA draft, but regardless of what they decide, the Wolverines are primed for yet another run at a Big Ten Conference title and NCAA tournament success in 2014-15.
Sure, if all three were to return, Michigan would undoubtedly be one of the trendiest picks to win its first national title since 1989.
Just imagine what head coach John Beilein could do with that trio of NBA-caliber juniors. Comparisons to the 2006-07 Florida Gators or 2008-09 North Carolina Tar Heels would be a bit of a stretch, but few teams would have as many experienced, sure-fire pros on their roster as the Wolverines.
McGary is DraftExpress.com's No. 39 overall prospect. Robinson is ranked No. 45. Both could do wonders for their draft stocks with standout junior campaigns.
Despite being projected as one of the top prospects in the draft by TNT's David Aldridge and ESPN's Chad Ford, at least one outlet, NJ.com, believes Stauskas will return for one more year. However unlikely, it is fun to imagine how great Michigan could be with him back in the fold.
This alone is making it tough for Stauskas to just pack up and leave his teammates behind, which he alluded to on Sportsnet 590 The Fan in Toronto (h/t MLive):
Knowing that if all of us decide to return, and we would kind of have that same core group that we did this year, you can't help but imagine what that would look like and the success that we could possibly have. That's definitely one of the tougher parts of this decision is knowing how successful we could be and how much fun we could have if we all decide to come back and make a run again.
Soon enough, Beilein will know exactly what he has to work with next season.
Even if all three make the jump to the professional ranks, there is enough talent returning for the Wolverines to reload.
For starters, rising junior Caris LeVert is expected to take a massive leap forward this offseason. Last summer, he went from being a defensive specialist to a shooting guard able to break down just about anybody one-on-one. The Ohioan averaged 12.9 points, 4.3 rebounds per game and shot 40.8 percent from three-point range. Those numbers earned him second-team All-Big Ten honors.
That massive leap forward, combined with Beilein's knack for player development, have some thinking next year will be LeVert's best yet.
Michigan's Caris LeVert named a 2014-15 first team All-American by @GoodmanESPN http://t.co/ekQm4yT8Jg

— Brendan F. Quinn (@BFQuinn) April 8, 2014
Same goes for Zak Irvin, a former 5-star prospect who eased his way into the rotation as a true freshman.
The Fishers, Ind. native put up 6.7 points per game and shot 42.5 percent from beyond the arc. He also made at least two three-pointers in 17 contests. If Stauskas does declare, Irvin will get a major bump up from 15.4 minutes per night.
Once he is able to attack the lane off the dribble, he will be a lethal threat on the perimeter with LeVert.
Also coming back are point guards Spike Albrecht and Derrick Walton Jr. While the former has likely reached his ceiling in terms of potential, the latter still has a significant amount of room for growth.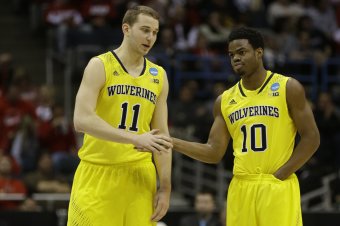 Jeffrey Phelps
Under the tutelage of assistant coach LaVall Jordan, Walton is primed for a breakout season. He already proved he can shoot the three (41.0 percent) and showed the ability to get open shots for teammates. It seems as though his scoring will come in spurts, but LeVert and Irvin could take care of that. If any combination of Robinson, Stauskas and McGary come back, there is even less of a need for him to score.
The addition of Kameron Chatman would fill the lone void on the wing. His style of play is similar to Robinson's, and the 4-star prospect could make the same kind of impact he did as a true freshman.
There would be plenty of doubters if the Wolverines were to roll out that lineup, but as everyone learned this year, betting against Beilein is a risky proposition.
Considering the fact that there could be more athleticism on next season's team than any group he has coached before, it is difficult to see Michigan taking a step back.
By the time the early entry period passes, look for McGary to be back in a Wolverine uniform. Stauskas and Robinson will likely find themselves on NBA rosters and watching Michigan from afar. McGary's return alone would be a significant boost, though.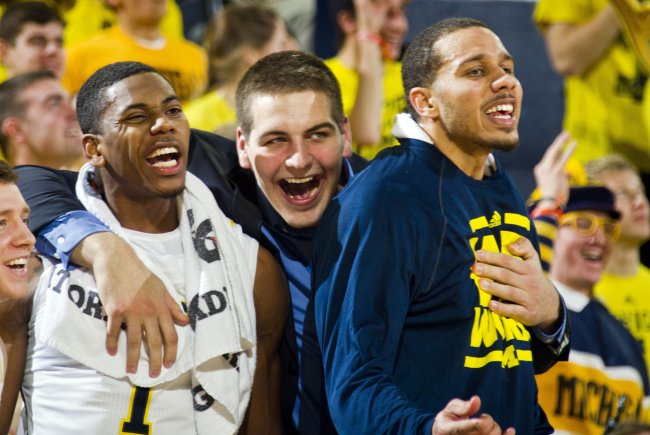 Tony Ding
Getting a preseason All-American back is the equivalent of bringing in a blue-chip prospect. It would also cover the Wolverines' weakest position, which would be center.
No matter what happens in the coming weeks, though, the Maize and Blue faithful should rest easy. Beilein will find a way to make sure his team is a contender in the Big Ten and on a national level.