Before No. 1-ranked player in the world and 14-time major champion Tiger Woods dropped out of the 2014 Masters due to back surgery, shifting the entire framework of the competition, Rory McIlroy was lurking in the shadows of Augusta's magnificent magnolias.
In a sense, the 24-year-old has been there since the Masters on Sunday in 2011. That day, he let his nerves erode a four-shot lead, resulting in the most brutal collapse at Augusta since Greg Norman's fatal fall in 1996. Now, three years later and with two majors under his belt, as well as a boatload of experience in majors, world golf championships and a victorious Ryder Cup, McIlroy is the odds-on favorite.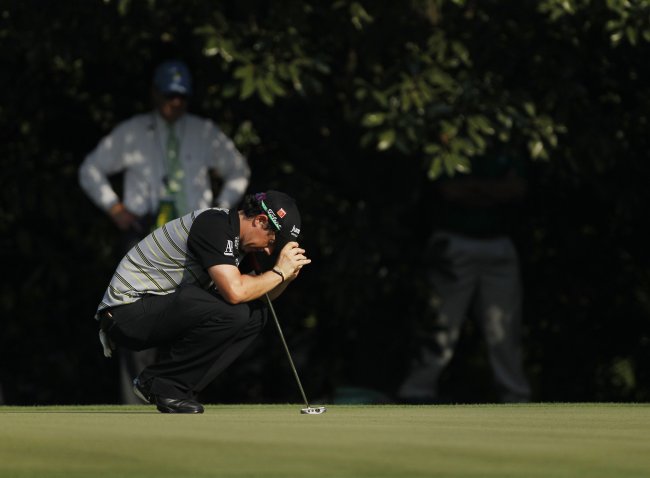 Matt Slocum
But McIlroy has never been an imposing figure. Never given off a killer instinct. Can he win the Masters without it?
The collective golf psyche can't help but compare any up-and-comer—any player with the potential to usurp golf's throne like McIlroy—to Woods, who epitomized and even redefined what it meant to have a killer instinct.
It was that exact instinct that made him a constant contender. Face it—he would have been the favorite this week despite the worst start to his professional career in 2014 and a six-year drought in majors.
That's because Woods brought a Michael Jordan-esque, take-no-prisoners mentality to a sport most commonly known as a gentleman's game. He was a freak of nature in his prime. Watching Woods on Sunday at a major used to feel like watching a lion attacking its prey. You knew the outcome before it began, but you were compelled to watch because the suspense was electrifying.
McIlroy has never intimidated his peers just by his mere presence on a leaderboard. Or by wearing a blood-red shirt.
And the one time McIlroy attempted to change his demeanor from his natural calm, cool and collected personality to extremely absorbed in every facet of his game was Sunday at the Masters in 2011.
McIlroy said the following about that performance (via Chris Gay of Augusta.com): "I came out and was trying to be this player that I'm not. I was trying to be ultra-focused, tunnel-visioned, which just isn't like me. I'm usually pretty chatty and sort of looking around and being quite relaxed about the whole thing."
Perhaps that's why Augusta's architect, Bobby Jones, said, "Golf is a game that is played on a five-inch course—the distance between your ears."
Before last week's Shell Houston Open, McIlroy spoke to the media about the state of golf in Tiger Woods' absence (via Golf Channel's Ryan Lavner): "It's almost like golf is waiting for someone to stamp their authority on the game and be that dominant player. It would be nice to see someone sort of break away."
Then, McIlroy added with a smile, "I hope it's me."
Well, Ror, I hope I get an Aston Martin dropped off at my house with a million bucks in the driver's seat. (Email me for my address.)
There's a difference between being humble and being oblivious. McIlroy's making a pretty good case for the latter.
His passive response to the question of who can and will fill Tiger's void ("I hope it's me.") was classic Rory. Tepid and boyish. Uncommitted and uncertain. Did he fear saying his own name would cause a viral video and media storm like Patrick Reed's bold claim that he was a top-five player in the world after winning the WGC-Cadillac Championship?
Will Rory McIlroy win the 2014 Masters?
Or is he just not positive that he's the man for the job?
The reality is that McIlroy has every right to be confident.
He was nine holes away from winning the Masters three years ago before imploding with an 80 on Sunday for a T15 finish. Since then, he's won two major championships, a Ryder Cup, and a pair of money titles on the PGA and European Tours. He was also recently catapulted to the forefront of Nike's golf campaign.
At the age of 24, McIlroy has more professional wins (11) than Phil Mickelson (4), Adam Scott (4) and Justin Rose (2) had at that age combined.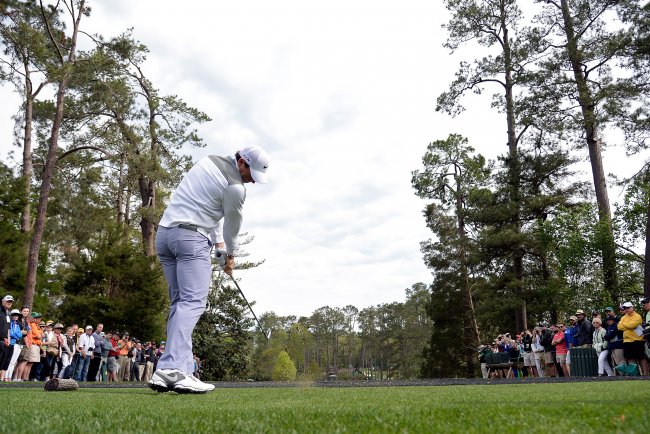 Harry How/Getty Images
If there was a theme to his pair of major victories, it was demolition. He won the U.S. Open in 2011 and the PGA Championship in 2012 by eight strokes…apiece. That's not just special; that's like Kobe Bryant-scoring-81-points-in-a-single-game-against-the-Toronto Raptors-in-2006 special. It just doesn't happen.
McIlroy at the Masters

| | |
| --- | --- |
| 2009 | T20 |
| 2010 | CUT |
| 2011 | T15 |
| 2012 | T40 |
| 2013 | T25 |
http://www.pgatour.com/players/player.28237.rory-mcilroy.html/season
McIlroy has all the momentum this week to grab the third leg of golf's Grand Slam, a feat so rare that it's been accomplished by only five other golfers in history. He's coming off a bogey-free 65 on Sunday for a T7 finish at the Shell Houston Open, marking his third top-10 finish this season on the PGA Tour and his sixth worldwide.
His game looks balanced, and he's optimistic about what Sunday's round means for Augusta (via Kyle Porter of CBS Sports): "I don't think there's any better way to prepare than getting yourself into contention and playing golf under pressure because that's ultimately what you want to do next week."
McIlroy must now blaze his own trail at this Masters, and that begins with reversing the trend of his last three Masters appearances: at least one round of 77 or higher.
The competition will be beyond fierce. For casual golf fans to assume the Masters has lost its ferocity just because of Tiger's absence only reaffirms their "casual" title. Major champs such as Phil Mickelson, Adam Scott, Jason Dufner and Zach Johnson can never be overlooked, and young talents such as Jason Day, Jordan Spieth, Patrick Reed and Harris English are hungry for a place in golf history. Not to mention the bevy of players who've never won a major, such as Dustin Johnson, Matt Kuchar and Sergio Garcia, who will be vying for the green jacket as well.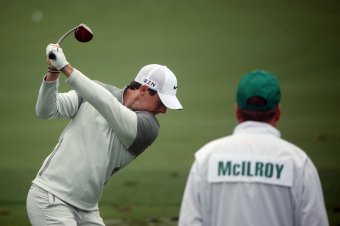 Andrew Redington/Getty Images
McIlroy has left a season of wild inconsistency in 2013 in the dust. He's played with poise over the last few months, and, despite not winning in 2014, he's shown all the right signs that his game is peaking just in time for the Masters.
This is a precarious moment in golf. It's an open door for somebody who isn't named Tiger Woods to "stamp their authority on the game." McIlroy has proved he can win on golf's biggest stages with his own form of killer instinct. He may not have the swagger of Tiger, but he can be just as effective and dominant.
If he shows that side, he will emerge from the shadows and rewrite his Masters history.