As Florida took the court Saturday night there was a sense that the Gators had arrived in the Dallas area in Superman style—aloft and flying all on their own, no jet engines needed, capes fully extended.
That illusion stayed neatly in place for the first 11 minutes of their NCAA tournament semifinal, as the Gators raced out to an early 12-point lead that seemed to confirm superheroes were indeed in the house at AT&T Stadium.
But then Connecticut broke out the kryptonite and watched its allegedly unassailable foe wilt to the floor during a 63-53 defeat.
Okay, so you might prefer to refer to UConn's lethal weapon as defense instead of kryptonite. Either way, the Huskies beat the No. 1-ranked and No. 1-seeded Gators for a second time this season, and ended Florida's bid to become a mini-dynasty with three national championships in nine years.
Had there been a big red "S" on the Gators' chests it would have stood for "stunned," just as they were the last time they played UConn.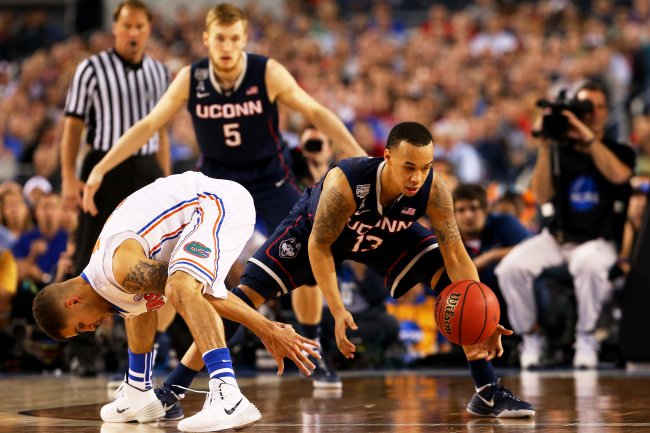 Ronald Martinez/Getty Images
That was way back on Dec. 2. According to the popular narrative, UConn's Shabazz Napier got a lucky offensive rebound and hit a lucky buzzer-beater.
Total fluke, according to every man, woman and child in Gainesville. A lot of sportswriters concurred as well.
Since then, Florida rose to the role of Final Four favorite via a 30-game win streak. That set the stage for Florida to set the record straight against UConn with the nation watching.
Uh-oh. Aside from the rapid start the Gators did little else right, and now their winning binge has losses to UConn as bookends, proving that basketball lightning can strike twice.
This was supposed to be a showdown between two amazing point guards, Napier and Wilbekin. But someone forgot to remind the Gators that Ryan Boatright gives UConn two point guards in its starting lineup, and that his skill set meant Wilbekin was harassed wire-to-wire.
What's your final opinion of this year's Gators?
UConn's monster edge in the backcourt shut down the passing lanes so thoroughly that the Gators ended the night with only three assists, a season low.
Wilbekin managed his one and only assist 10 seconds into the game, and then never set up another score in the remaining 39 minutes and 50 seconds.
At Florida's post-game press conference, Wilbekin's reaction to learning his teams assist-to-turnover ratio was 3-to-11 was outright bewilderment.
"That's crazy," the Southeastern Conference's Player of the Year told reporters. "That's not usually what we do. All credit goes to them and their guards and the way they were denying and putting pressure on us. We weren't taking care of the ball. When we would get by them, we wouldn't keep the ball tight and they would reach from behind. We were just being too loose with it."
That lone Wilbekin scoring pass did generate a three-point basket for Michael Frazier II, but that's another thing that never happened again for the Gators. The rest of the way they never hit again from long distance, going 0-for-9 the rest of the night.
And this time no one in Gator nation could blame a loss to UConn on luck.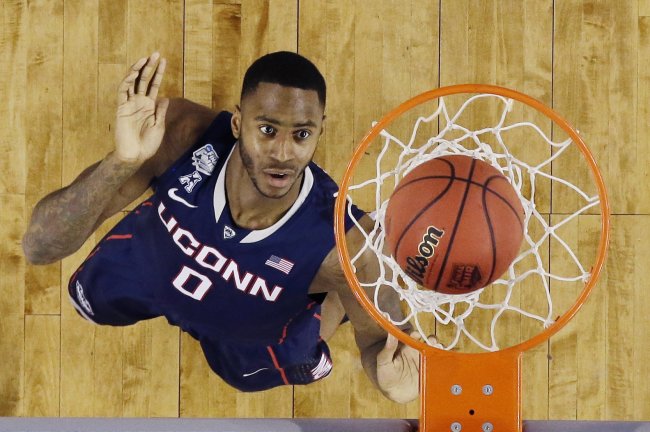 David J. Phillip
Florida was simply beaten on both ends of the court in this high-stakes rematch. Florida's senior-laden lineup came to Texas on the heels of finally breaking its Elite Eight jinx on its fourth try, but clearly wasn't ready to get over the next hump.
Nor was their coach, at least not this time around.
Billy Donovan entered this Final Four with a chance to solidify his growing reputation as the next Mike Krzyzewski. But when UConn's Kevin Ollie went to a small lineup with four ball-protecting guards, Donovan had no answer.
Instead of becoming the next Coach K, his strategy was knocked for a loop by UConn's Coach K.O.
Even with the size advantage handed to them, the Gators couldn't rule the lane. With five minutes left they had been outscored more than 2-to-1 in the paint, by a 30-14 margin.
"The difference in the game was Scottie Wilbekin couldn't live in the lane like he had all year long for us," Donovan told reporters at his post-game press conference. "He had a really, really hard time getting in the lane around Boatright. He had a hard time getting around Napier, which inevitably made our offense very, very difficult."
Added a humbled Donovan: "I thought the difference in the game was our backcourt guys could not get into the lane at the rate that Boatright and Napier could."
Facing the seventh-seeded Huskies, Florida seemingly had the easiest path to Monday night's championship game. After all, the Gators had won all of their NCAA tourney games by double digits. But that's the margin they lost by to UConn.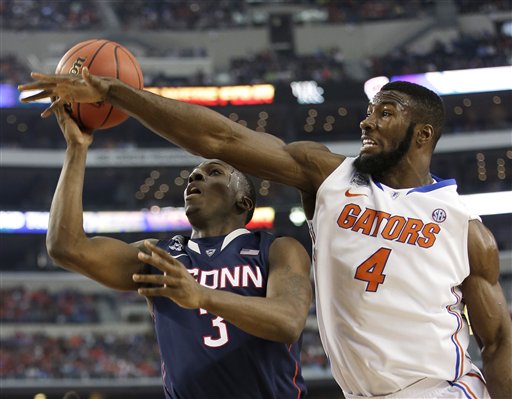 David J. Phillip
The Gators were believed by many to have the nation's best defense, but they couldn't stop UConn from hitting nine consecutive field goals over an 11-minute stretch in the second half.
And it would have been much, much worse for Florida if Patric Young hadn't muscled up and scored 16 of his 19 points for Florida in the second half.
At the Florida press conference Young reflected on his final college season: "Just this team was so special, something I'm never going to forget for all my life. We accomplished a lot just by loving each other and being really committed and loving playing with one another."
Yes, they accomplished a lot, but not the one thing they wanted most.

Tom Weir covered 15 Final Fours as a columnist and reporter for USA Today.