COLUMBIA, S.C. — On a warm, sunny spring day, Jadeveon Clowney stepped onto the playing field at South Carolina's Williams-Brice Stadium for the last time.
It could be argued that he saved his best for last.
On South Carolina's pro day Wednesday, Clowney turned in another superlative effort that should do nothing but enhance his chances of being the No. 1 pick in the NFL draft.
He was all smiles afterward when he addressed a large media contingent.
South Carolina issued 125 media credentials for this year's pro day. Sports Information Director Steve Fink said 35 would be about average.
Then again, it's not every year that a school is showcasing the potential No. 1 pick on pro day.
"I wanted to show them that I move well laterally, how quick I can move my hips, drop in coverages and my cardio, show them that I've been working out, staying in shape," Clowney said. "I thought it was pretty good today."
Clowney didn't do any lifting and didn't run the 40, limiting his participation to position drills. Official times and results from South Carolina's pro day may not be available until Thursday.
McNab: "I think we just saw the number one overall pick." #Gamecocks

— Willie Smith (@willie_t_smith) April 2, 2014
NFL personnel in attendance included Houston coach Bill O'Brien and general manager Rick Smith. The Texans have the first pick and like what they see in Clowney, who they project as a linebacker—but not exclusively so—in their 3-4 scheme.
"Absolutely he can play outside linebacker," Smith said. "There's so much nickel defense, so there's a lot of fourth-down stuff. It's not like he would exclusively play standing up. He can also play with his hand in the dirt as well. We know he can do that.
"We have talked to him about our scheme and where he would fit in it. He's open to doing it. He's got some linebacker in his history, so it's not foreign to him. He certainly has the athleticism to do what we would ask him to do at that spot."
O'Brien and Smith had dinner with Clowney Tuesday night.
"We were able to spend some time with him," O'Brien said. "He's a fun guy to talk to. He's a team guy. Another chance to get to know him better."
Both O'Brien and Smith were in agreement that there are no lingering questions about Clowney's work ethic.
"I am satisfied with what I know about his work ethic," Smith said. "What I've seen, what we've talked to the coaches about, what he said to us. So I'm comfortable with that."
Clowney says he relishes the chance to play linebacker.
"I'd love it," he said. "I haven't played it in awhile, but I really want to go back to that. I always told my teammates, if I ever get a running start off the edge, it will be easier to pass rush. I'm looking forward to playing it."
Clowney also said he was favorably impressed by O'Brien.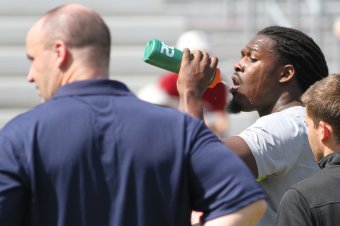 Mary Ann Chastain
"Great guy," Clowney said. "He wants you to work. He's all about working and wanting you to be that guy. He wants you to be a great player. He is already talking about his locker room.
"They have a good group of guys in there and he doesn't want any bad vibe in the locker room. I'm like, 'I'm not that guy.' I like to smile and have fun and crack jokes a lot but when it's time to play, I'm on top of that also."
Clowney is tentatively scheduled for an individual workout with the Texans later this month. He also has workouts scheduled with the Atlanta Falcons and St. Louis Rams.
The Texans aren't tipping their hand as to what they will do with the No. 1 pick. They also need a quarterback and are high on UCF quarterback Blake Bortles.
"It's wide-open," O'Brien said when asked what direction the Texans would go in with the No. 1 pick.
Clowney, meanwhile, didn't shy away from a bit of campaigning.
Clowney believes he should be No. 1 pick, do you?? @clownejd @GamecockFB @UofSC #Gamecocks #NFLDraft #ClowneyProDay pic.twitter.com/xfRsSimTff

— WLTX - On Your Side (@WLTX) April 2, 2014
When asked if he thought he deserved to be the No. 1 pick, he said, "Yes. What do you think? You ask a guy that and he says no, I don't know what they're doing out here. Yes, I do feel like I should be the first pick."
He also was quick with an answer when asked why he should be the No. 1 pick.
"I can pretty much do it all," he said. "I can be a playmaker. I've got what it takes to go out and set the tone, help my team out and win games. Every team I ever played on, we never had a losing season."
Just another nugget of information for the Texans to file away for further review.
To hear O'Brien tell it, there's a lot for information to be gathered.
"This is an exhaustive process, so we have to make sure we leave no stone unturned with respect to research and how we feel about him not only as a player—that part is done—but as a man," O'Brien said.
"So we'll spend as much time as we can with him."
All quotes obtained firsthand unless otherwise indicated.